Note: This is a mishmash of both the 2017 and 2019 races – Yes, it's that good that we continue to go back every year possible!
With three half marathons behind me, and finding myself in the middle of training for my first marathon, I made the very last minute decision to sign up for the Wineglass Half Marathon with my friend Heather, aka Meatball, and her family.
It was so last minute in fact, that the race was already sold out and I was put on a wait list.
Their family has been running various distances at this race weekend for years, and assured me most people end up clearing the wait list, so I would likely make it in.
I knew absolutely nothing about this race other than "it was super fun, and you get glass medals at the end". Um, okay. Sold!
I feel as though I should mention that I had already signed up for the Baltimore Half Marathon that was only 21 days later. Anyone who knows me now, knows I wouldn't even bat an eye at this scenario currently, but back then, this might have been one of the dumbest things I have ever done.
One month after adding myself to the waitlist, I got the coveted "We have a spot available for you" email, to which I shrieked out loud and immediately sent a screenshot to Heather!
Entrance fees for the Wineglass series of races are not cheap, especially if you are signing up at the last minute. I paid $125 in 2017 and $135 in 2019, yes, also getting in last minute off the wait list. The highest entrance fee was $140 for 2020, before COVID shut everything down. I opted for the cheaper 8K event for 2020 instead, as $140 for a virtual race was a bit bonkers. Okay, it's a bit bonkers for an in person race as well, but always a fun weekend that is worth the money!
Honestly, one of these years I might get smart and sign up early, but it is unlikely.
With the race occurring only three weeks after officially signing up, there was no real attempt at changing my training plans to accommodate this. The plan was more just to use it as another long run for marathon preparation. Most of my long runs were well over 13.1 miles at this point anyway, so I was actually cutting that day's training short.
Heather's family had already rented a house right on Seneca Lake for the weekend, and thankfully had room for me to stay with them. If you are planning to go with a small group and prefer to stay closer to the race area, book your hotel rooms early! Corning is a very small town and hotels are limited. The surrounding towns are all roughly 30 or more minutes away, which can create a very, very, early wake up on race day, if you don't get lodging in Corning.
With the race weekend upon us, and my vacation days being very limited thanks to my Cuba trip/stomach bug debacle earlier in the year, I was not able to take any days off of work for this trip. Not a huge deal, but also a bit of an inconvenience, since the race is always on a Sunday and it is a four plus hour drive from where I live.
Thankfully, Heather's husband Charlie and her friend Sarah were coming up for the weekend to spectate and needed to be home Sunday as well, so I hitched a ride with them. The thought of driving four plus hours home in the dark, after running a half marathon, seemed like a worse idea than signing up for two of them three weeks apart!
So off the three of us went Friday after work, road tripping it to the Finger Lakes for the weekend.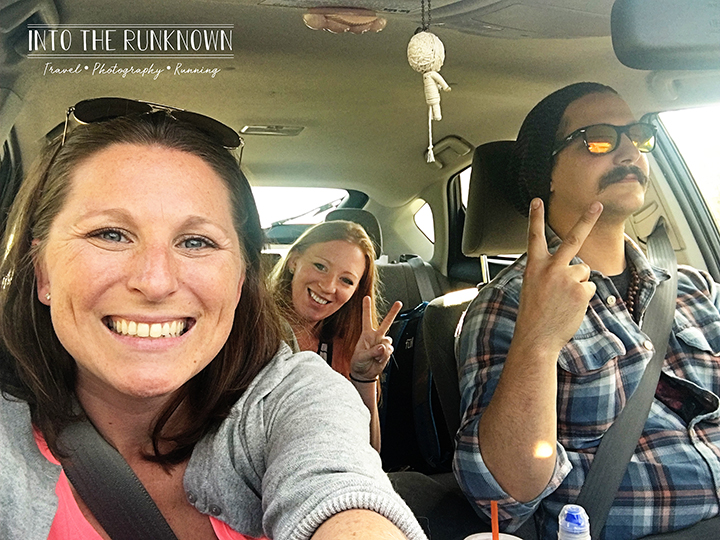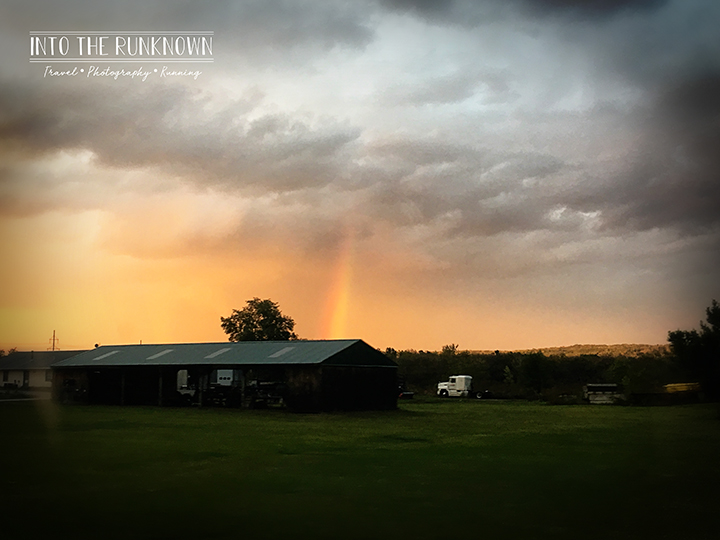 The cabin they rented was very cute, and quite large, as we had nine adults and one child staying in it for the weekend. There was a deck out back, as well as a dock and fire pit in the lawn, which came in handy for staying warm and cooking s'mores at night.
The majority of the group had arrived earlier in the day on Friday, as most were running the 5K the next morning and needed to pick up their packets. They grabbed mine as well. With the cabin being a solid 30+ minute drive to Corning, this was greatly appreciated!
We spent the evening snacking and hanging out around the fire pit, before an early turn in for bed.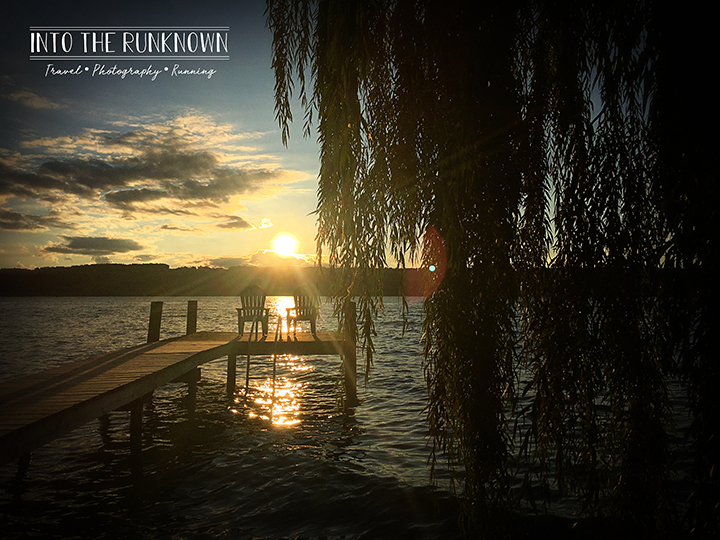 Those of us not racing the 5K that next morning opted to carpool separately into town so that one, we could sleep in a little, and two, we could try and find some breakfast before going to cheer.
The problem with a small town, is that not much is open that hour of the morning. We managed to find a coffee shop to grab a muffin and drink, as well as waste some time where there was heat until the start of the race. Being upstate New York in October, mornings there can be quite chilly, before the sun warms things up come afternoon.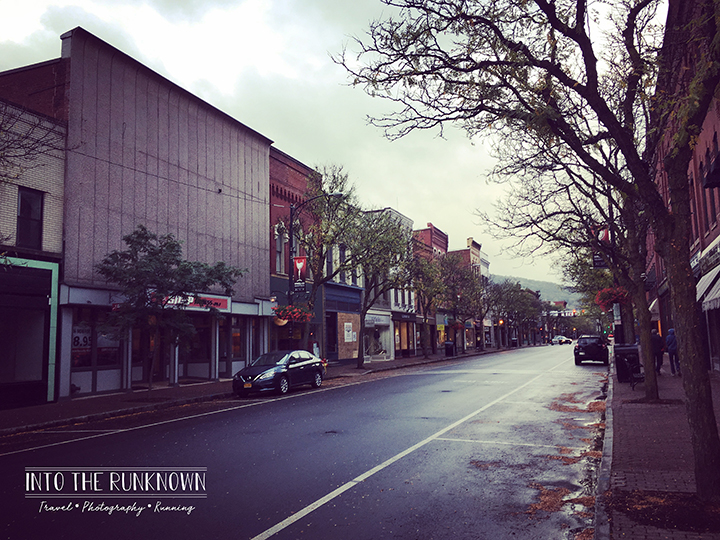 We finally headed over to the bridge that crosses the Chemung River near the High School, where the 5K race starts and finishes.
The 5K race if you are not familiar, is a quick out and back course on the outskirts of town that is held on Saturday, the day before the Half and Full Marathons. In recent years, they have created challenges where you can run their 8K in summer and/or the 5K in October, plus either the half or full marathon the next day, and earn lots of extra bling.
The course has pretty views of the river and the mountains that are a little ways off in the distance. The start and finish are both at Corning-Painted Post High School, and while a shorter race, it does not lack any of the enthusiasm of it's longer counterparts on the following day. If you are lucky, you may even find yourself running shoulder to shoulder with running greats Meb Keflezighi and Bart Yasso, who are ambassadors of the event every year!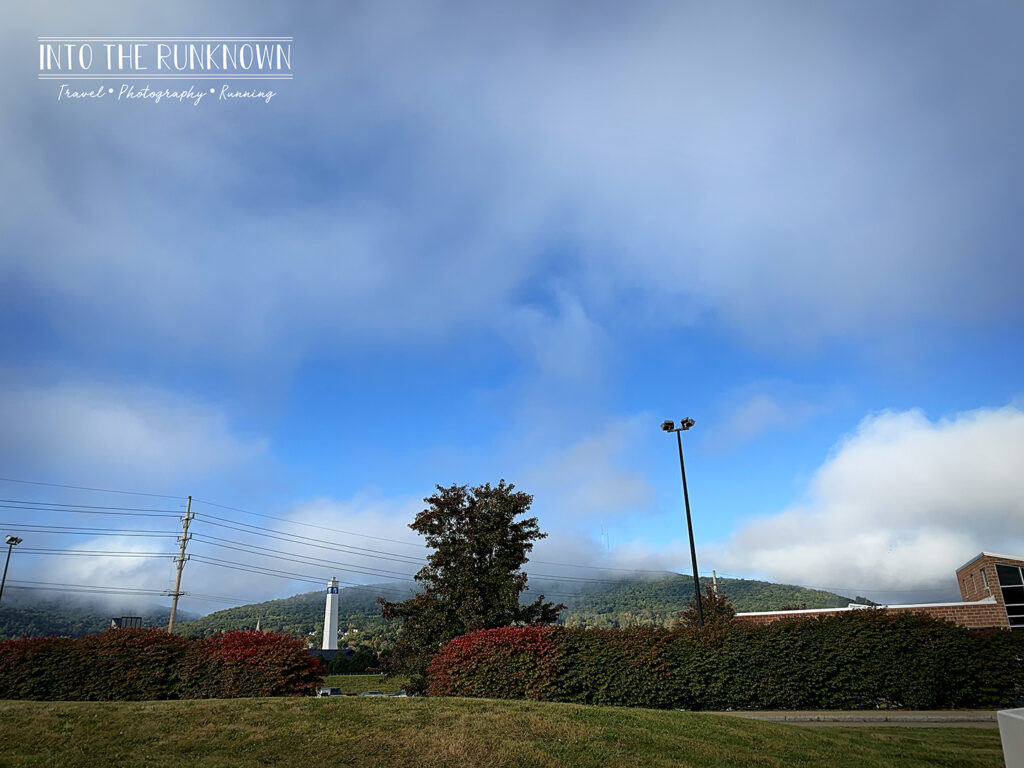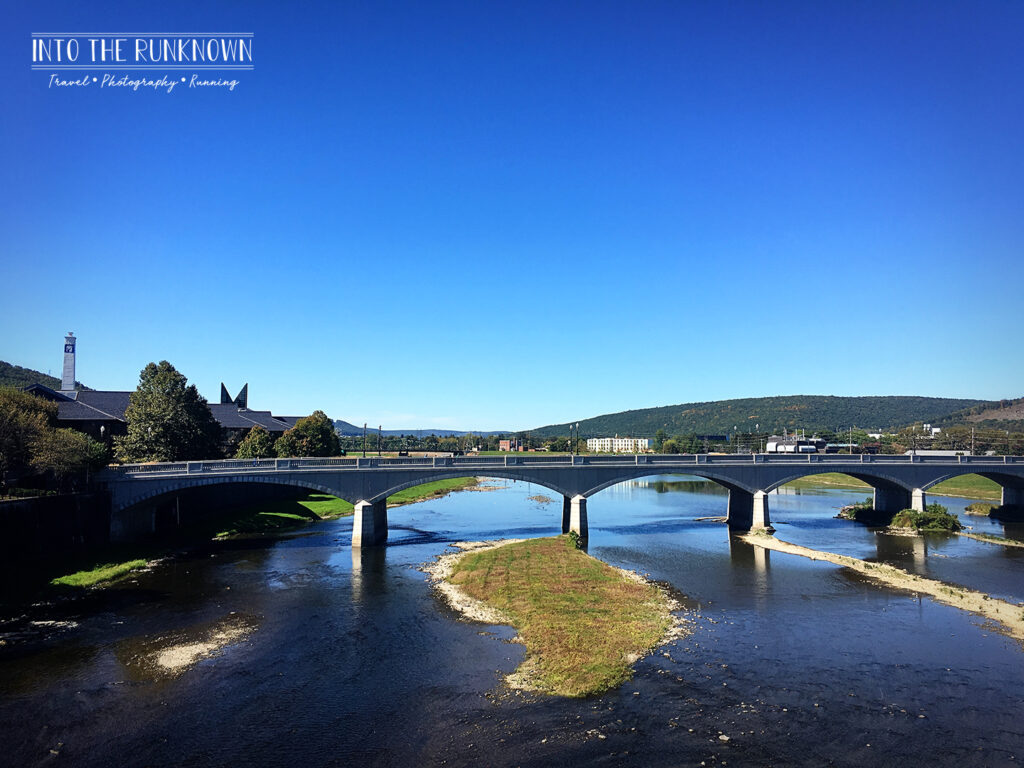 Thanks to iPhone technology, we had a general idea where some of our crew was out on the race course, but this is not an exact science, as we found out many times this weekend. Rather than drain cell phone battery using the various RaceJoy type apps, we have gotten in the habit of using the Find My Friends app on iPhone, with the understanding that sometimes the updates can be questionable at best.
Charlie's beacon on our app froze around the halfway mark, leading us all to panic and think he got hurt or stopped running. Turns out neither of those things happened, we just happened to look up and poof, there he was on the bridge running past us. We cheered for him and then waited for Heather's mom Mary to come past, as well as Heather's aunt and cousin, before making our way up to the finish line to collect everyone.
Once everyone had recovered from their race, we headed over to the Corning Museum of Glass where the expo is held, so I could take a peek at that as well as stroll through the large gift shop at the museum.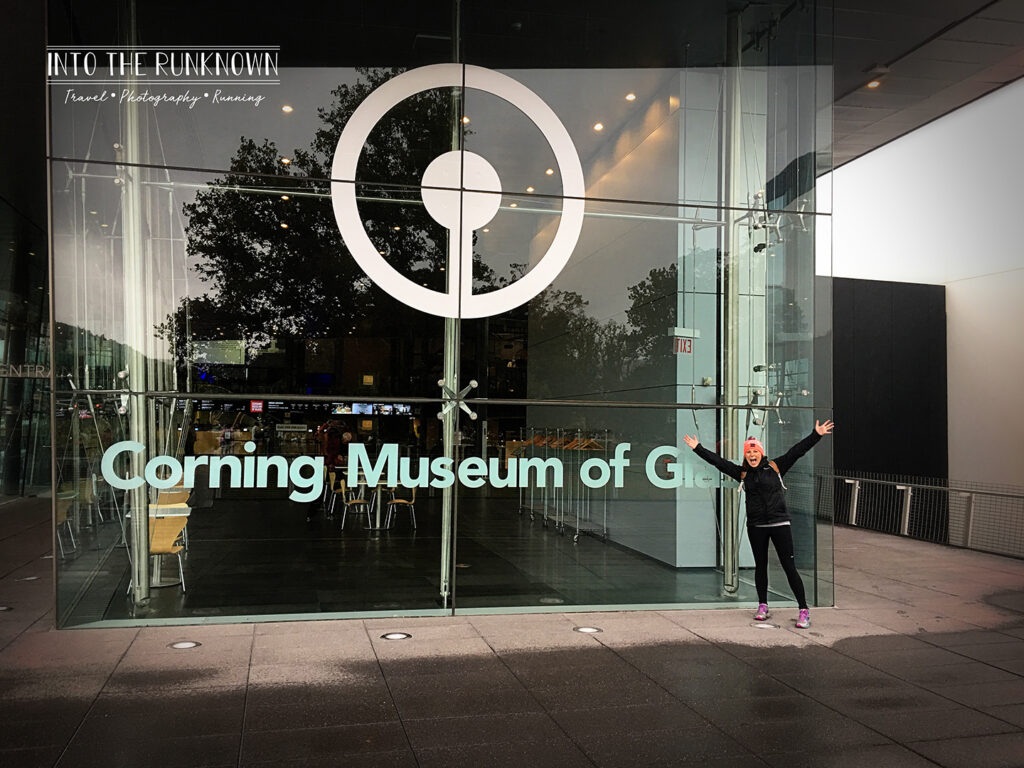 The expo is a decent size for being such a small race. They have a large selection of Wineglass branded gear, ranging from clothing and hats, to cow bells, and of course insulated wine cups. There are also booths with your standard running needs of nutrition and clothing, all at expo rates.
You enter into the expo room, and the first stop is to collect your bib, your quarter zip long sleeve shirt, a drawstring tote bag, and the real prize, a stemless Wine Glass with the race logo as well as a small personal size bottle of champagne! Seriously, what race hands out champagne with your race packet.
Once you have collected your race goodies, you can wander the expo and if you time it right, get your photo with Meb and Bart!
They, as well as the occasional Des Linden, are staples at the Philadelphia Marathon weekend. In 2018, we won passes from Dietz & Watson to be in the VIP tent at the finish line, which included getting to meet the three of them! Being the slowest in my group, I was still out finishing my half marathon, when the rest of my group got a group photo with them. Let's just say for the entire year that followed, there was some serious pouting about it.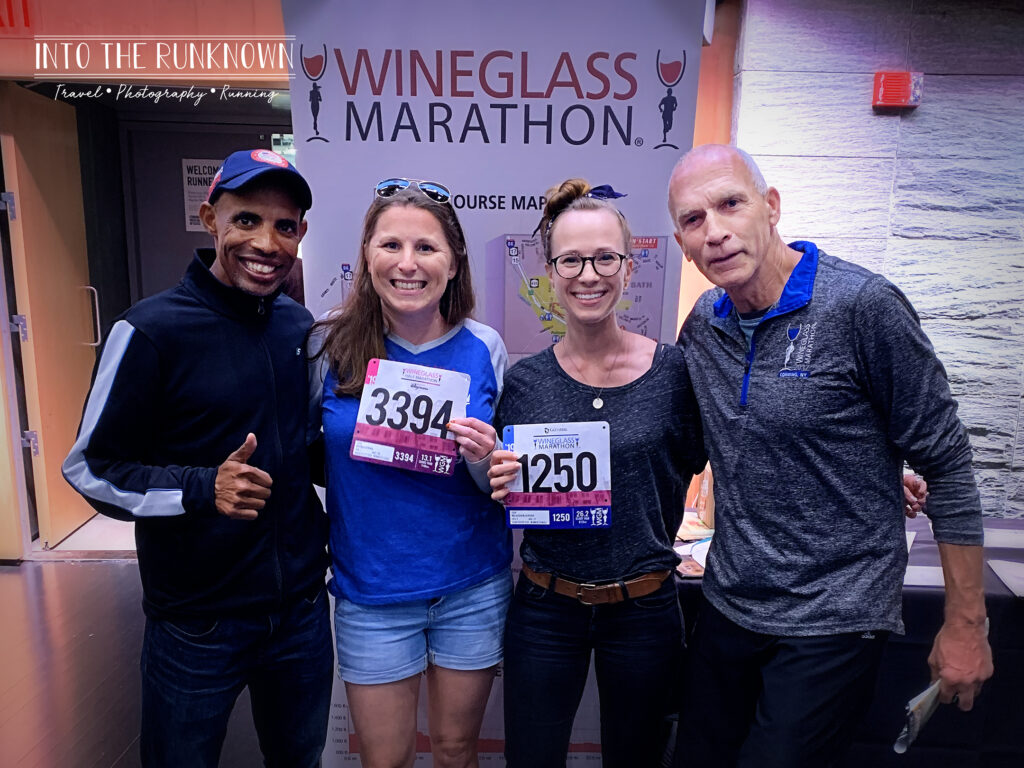 On my way to the 2019 Wineglass weekend, Heather called me when I was roughly 30 minutes outside of Corning, and was yelling into the phone that Bart & Meb were at the expo! She said to hurry up because she wasn't about to get another photo with them and not have me in it!

Needless to say I made it, and am cheesing SO hard in this photo!
We strolled around for a bit, then ran into Mary's good friend Nancy on our way out of the expo. She was there volunteering with her trademark smile on grinning from ear to ear. We chatted with her a bit and told her this was my first Wineglass race, to which she of course exclaimed, "that I was going to love it!". She let us know she too was running the half marathon the next day, so we made plans to meet up at the starting line, and of course to find each other after for photos. After some hugs, we wandered off to the Museum Gift Shop to check out the famous hand blown glass pumpkins that are sold there.
Every year, local artists hand blow thousands of glass pumpkins that are then sold at the Museum. While some are available inside, be sure to check out the "Pumpkin Patch", located in the back courtyard area behind the gift shop. Despite being glass, they are all set up like a traditional pumpkin patch, where you can select pumpkins and gourds of various sizes and colors, carefully placed in baskets and on bales of hay.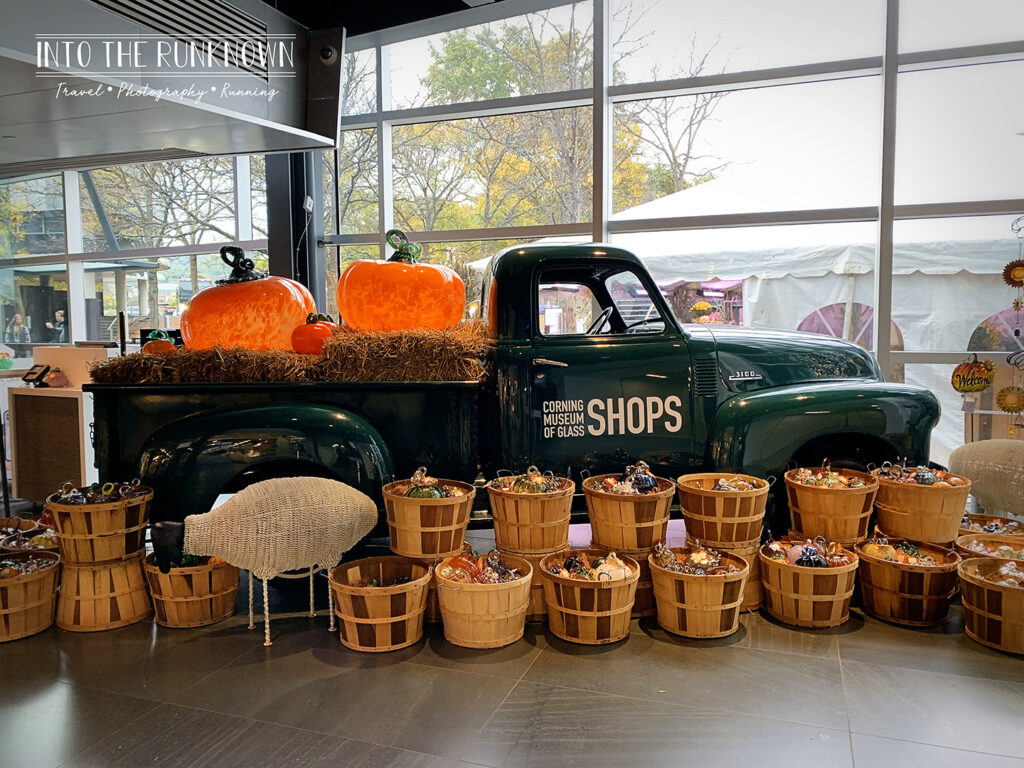 If you are a bit adventurous, you can actually sign up to make your own hand blown glass pumpkin! This sells out on race weekend VERY quickly though, so you will want to sign up at least a month in advance to secure your spot. I learned the hard way in 2017, but snagged spots for my mom and I to take the class in 2019!
Once I purchased more glass pumpkins than any one person should own, we made our way over to Wegmans around the corner, to pick up some food for lunch and dinner, and of course the special sugar cookies their bakery makes every year for race weekend! They are all decorated with the race logo, runners, and the various race distances.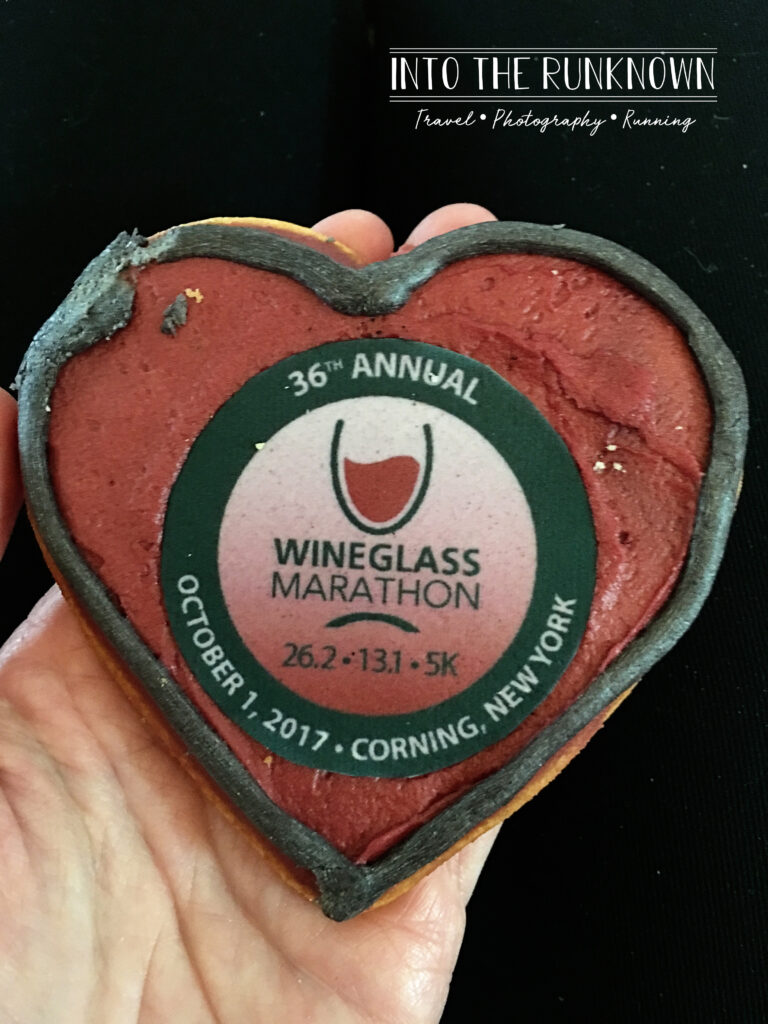 We made the 35 minute trek back to the house to eat, relax, and get all of our gear prepped for the race the next morning.
Race Day
Race day morning for Wineglass starts painfully early! Being a point to point course, all runners are required to take an official race bus to the start line for both the Marathon and Half Marathon. The buses leave from either Corning or Bath, and start rolling out to the respective start lines at 5:00am for the half marathon and 5:30am for the full marathon. The buses only run for an hour and a half. If you miss them, well, you miss the race. The starting area for both races is very small, and simply cannot accommodate the extra traffic of runners driving themselves or being dropped off.
With a 35 minute drive from the house to town, that meant we had to be out the door by 4:15am latest, to be safe. Back that up a bit further to allow time to get ready, and we are now waking up around 3:30am.
I was assured that the loading of the buses was a well oiled machine, and would be quick and smooth. Unfortunately that was not the case in 2017. The parking lot at the pickup area had 20-30 individual lines, where the volunteers in the front would point to a line and everyone in that line would hop on a bus until the bus was full. It would pull away, a new bus waiting behind it would pull up and the process would repeat.
The problem however, was that each line had more people than would fit in a bus, and new people arriving would cut and fill in those shorter lines, so those of us staying put would never move forward.
We stood in line for at least 45 minutes to an hour, without moving forward. It was beyond frustrating!
I will point out though that this had been fixed when we returned in 2019! Instead of small lines all leading to buses, they had one long line that snaked around the parking lot like that of an amusement park ride. Runners were now loaded on a first come, first serve, basis. It was fixed so well in fact, that we ended up having over an hour wait inside the High School instead. I would much rather be out at the starting area waiting however, than in line in a parking lot at the finish!
As the number of people decreased, we moved up and were finally able to get on a bus, to be dropped off at the High School in Campbell where the Half Marathon starts.
Our enthusiasm only lasted a short amount of time though, as we were about to be dropped off at the start line roughly 20 minutes before the race was to begin. This did not leave a lot of time to use the porto-potties or drop our bags in the UPS vans, that shuttle your belongings to the finish line.
We decided getting in the lengthy porto-potty line first was best, but just like the bus line, the porto-potty lines were also a disorganized mess. Lots of short lines and lots of people taking a long time to do their business, further holding things up.
We quickly realized we are running out of time, so everyone stripped down to tank tops and shorts in the brisk 40 degree morning air, and I ran all of our bags over to be checked in for transport to the finish line.
I sprinted back to my spot in line for the porto-potties, where Heather ever so kindly wrapped herself around me like a blanket. I did not think to bring a throw away shirt and was absolutely shivering.
We finally had our turn to use the facilities, and ran over to the starting area, which thankfully is just next to the parking lot of the high school.
Like many races, Wineglass provides pacers for a variety of expected finish times. Knowing my previous half marathon finishes were around 2 hours and 25 minutes, I reluctantly started with Heather and her Aunt Susan in the 2 hour and 15 minute area. That ten minutes is a big jump in pace over the course of 13.1 miles, so I was not 100% sold on this plan.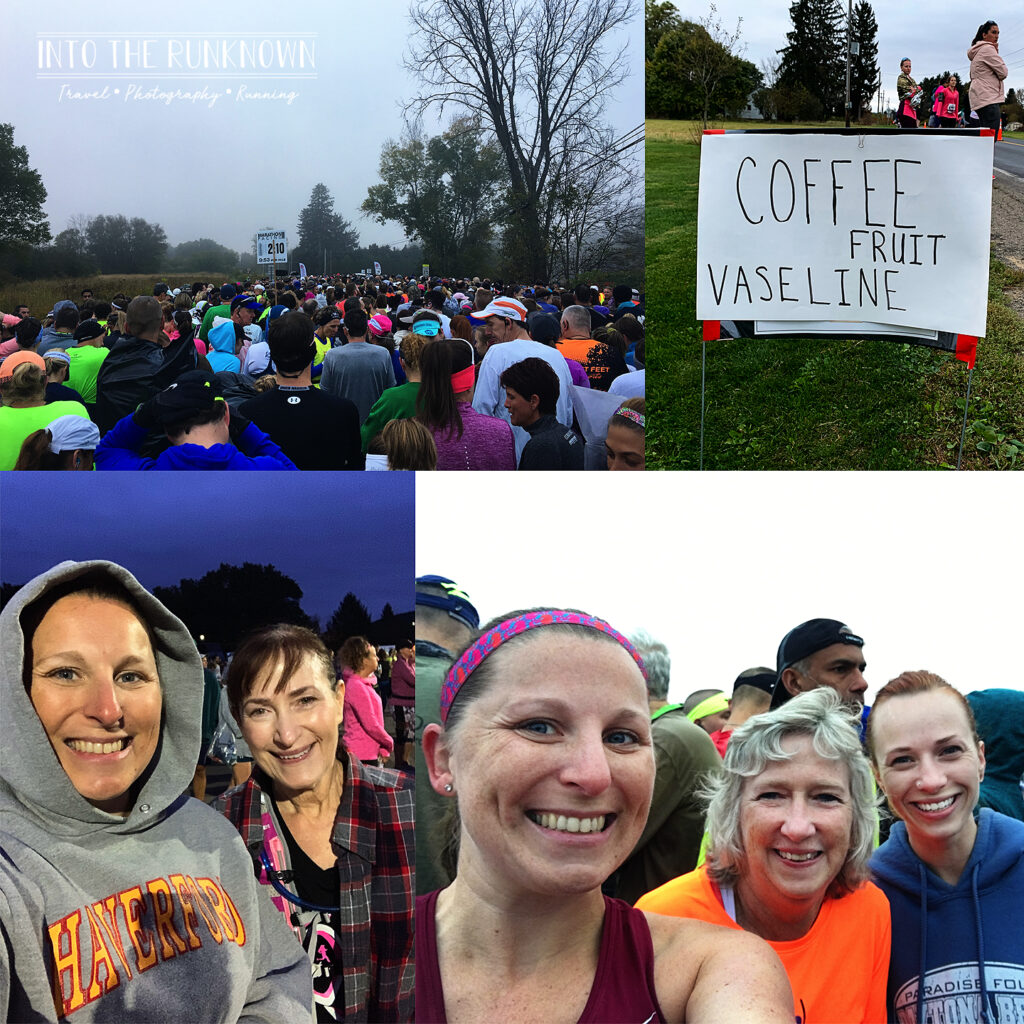 Before I had time to think about it and move further back though, the race had started.
The course itself has a net downhill, dropping about 100 feet in total elevation from start to finish. There are a few very minor short hills, that if you are prepared for, you will barely even notice. Because of the net downhill, this course is FAST!
The first half mile of the race can be a bit slow and congested, as you have to make two sharp turns before you get onto Tannery Road. Be patient though, as things will open up somewhat quickly after that.
Once on Tannery Road, a small rural farm road, you will run parallel to Route 86 for another 3.5 miles. On your right side, the road is lined with spectators who live along the route and come out in droves to cheer and set up their own personal front lawn aid stations for you. I have never seen such support at that hour of the morning, and in those temperatures, then I have at Wineglass.
By default, Route 86 is on your left, which becomes its own form of entertainment. Drivers catch on very quickly to the race going on alongside them, and will drive for miles honking their horns and cheering out their windows for everyone!
Mile two of this stretch of road is where you will see your first hill. It is a long but gradual climb, that once you crest the hill at the top, has a pretty steep drop in elevation on the back side. Sorry shins and quads!
Tannery Road is open to traffic, but has cones down the center line to ideally keep runners and cars separate. At that hour of the morning though, traffic is almost non-existent, so everyone tends to spread out a bit across both lanes for more elbow room. Just be mindful to cut back into the running lane if a car does come along.
Tannery Road will eventually dead end at Route 4 where you will make a left, cross some railroad tracks and make a hard right onto Curtis Coopers Road. Be sure to keep an eye out for the horses where Tannery ends. They like to run this stretch of road with you along the fence!
Around mile five, you eventually make your way onto Route 415/Victory Highway, via Main Street in Coopers Plains. Here you run along the right lane of the highway through a fairly commercial area. The left lane of traffic is open to cars, but they again have cones and course Marshalls diving the two lanes to keep everyone separate. It seemed a bit scary at first, but I have never heard of any issues with cars coming into the runners lane thus far.
As you leave Coopers Plains and head into Painted Post, you will approach the official spectator cheering section! I'm fairly certain the race officials never intended for it to be 5 blocks long, but without fail every year it's jam packed for blocks!
At mile eight and a half you welcome your next hill, when you run up the on-ramp and loop around Craig Park. This takes you on a quick loop past Corning-Painted Post Middle School, which is where things start to get really fun!
You think the spectators along Tannery Road and at the designated spectator spot were enthusiastic, wait until you encounter the never ending line of elementary and middle school students, each holding up poster board signs they made themselves and giving out high fives! Do not, I repeat, do not leave the small children hanging on a high five!
After your quick loop around town, you find yourself on a walking path, complete with a tunnel, a community park, and you guessed it, another never ending line of enthusiastic students cheering away with their giant signs.
This is where the sheer power of crowd support starts to kick up a notch, and really gives you that energy boost you need to make it through those last 2.2 miles to the finish line.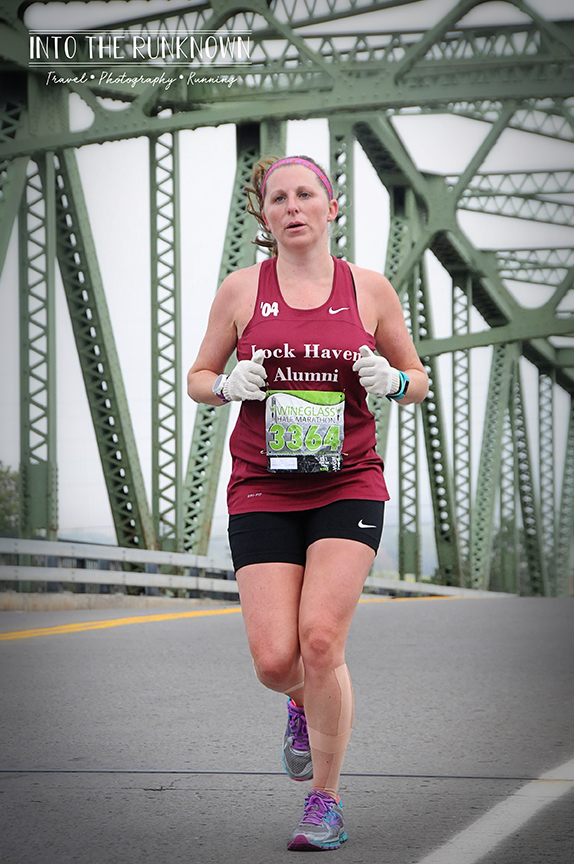 Miles eleven and twelve bring you into the town of Corning, winding through more spectator filled neighborhoods and eventually along the river. It's just past mile 12.5 when you make the right onto Bridge Street and cross over your final hill (the bridge), that you begin to hear the deafening sound of the crowd waiting for you along Market Street, to guide you home to the finish line.
I have been running for almost thirty years, and I have never seen anything that compares to the final three blocks along Market Street on race day.
We are talking wall to wall people, lining both sides of the street, screaming their lungs out, and ringing cowbells for every runner that goes by…for three blocks…all the way into the finish line!
I honestly get chills just thinking about it.
Maxed out running as hard as you can, those three blocks are the longest three blocks of your life. Seriously, do not start sprinting when you first make the turn onto Market Street.
I know it's exciting. You are almost done, you may spot your cheer squad on the side of the road. The overall noise of the crowd is hypnotizing and you want to finish strong! Trust me, I feel you!
Real talk though, it is close to a quarter mile from that turn all the way into the finish line at Pine Street. We are talking one and a half to two minutes or more, depending on your pace, to run those three blocks. I have seen many a runner start their final kick WAY too early along this stretch, and completely run out of steam long before the finish line.
Once you do get to the finish line though, be sure to look up and soak it all in! Besides winning the award for the loudest finish line, they also get the award for the prettiest. The last 100 or so feet of the course is lined with mums, hay bales and pumpkins, as well as the massive "FINISH" banner overhead. Combine this with the already existing charm of small town America and it's one heck of a finish line scene.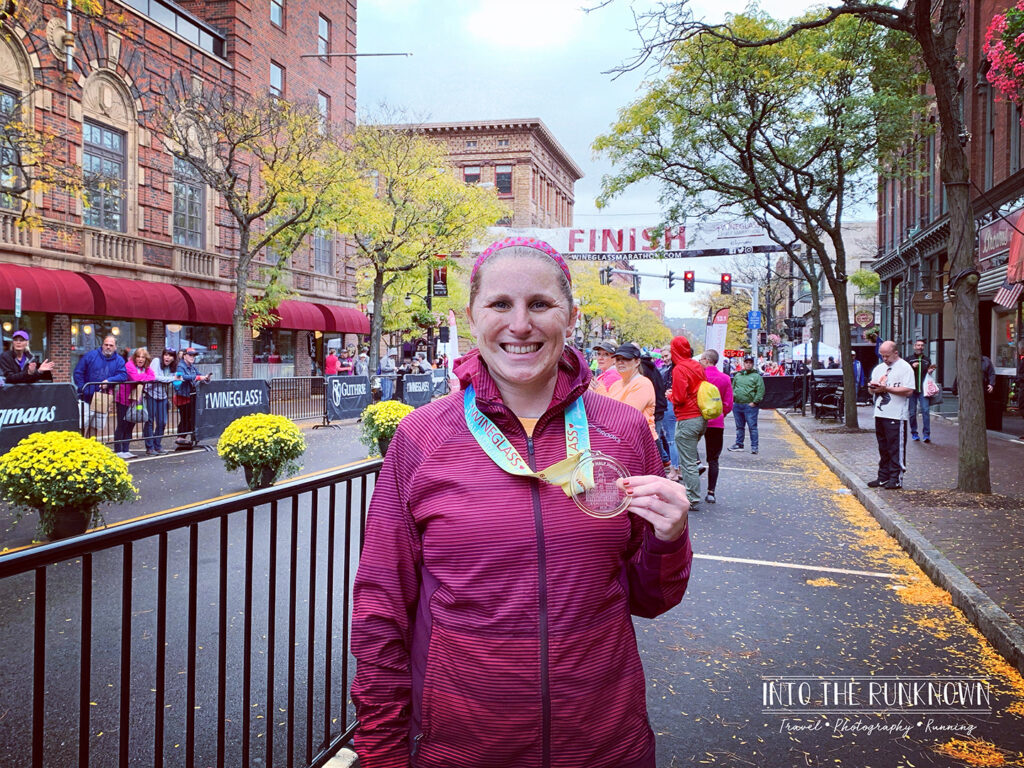 Once you do finally make it across the finish line, you still have a lengthy walk to get out of the fenced off area to find your friends and family. This is partially because continuing to walk and move lets your body settle down, so you don't pass out. But it's also so they have room to lay out the insane amount of food you will receive.
Before you make your way to the food though, you need to collect your medal, and what a medal it is! All finishers receive a hand-crafted collectable glass medal. Yep, you read that correctly! Hand-crafted, glass medal!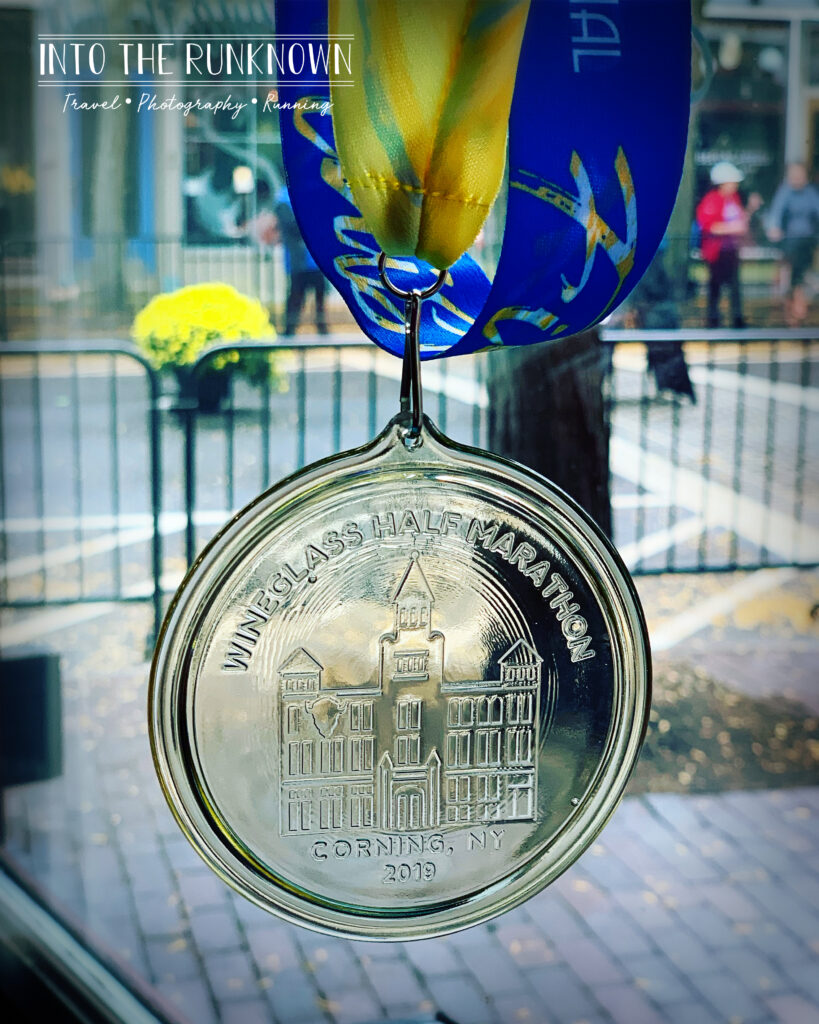 Each distance receives a different color glass and ribbon, which changes from year to year along with the raised design, which has become a bit of a collectors item. It's honestly one of the coolest medals I have ever earned, and that's keeping in mind my Philadelphia Marathon medals are Liberty Bells that actually ring.
Once your medal is carefully secured around your neck, and they wrap you in your shiny silver burrito blanket (aka warming blanket), smile big and get your photo taken from the official race photographers! Also, if you are lucky enough to hit a new personal record that day, be sure to stop and ring the PR bell as Heather and I both got to do in 2017, with Nancy's help. By help, I mean she stood there and laughed as we attempted the world's most uncoordinated combined ringing of the PR bell possible. Note to self, one person rings it at a time from now on. Coordination is hard after running 13.1 miles.
We finally made our way down to the food tents, which thankfully they give you a shopping bag at the beginning of, to collect what becomes a full meal! They have your standard bananas, oranges, bagels etc. but also have warm broth. Trust me when I say, take the broth! It is the best thing in life, once the post-race sweaty chills kick in.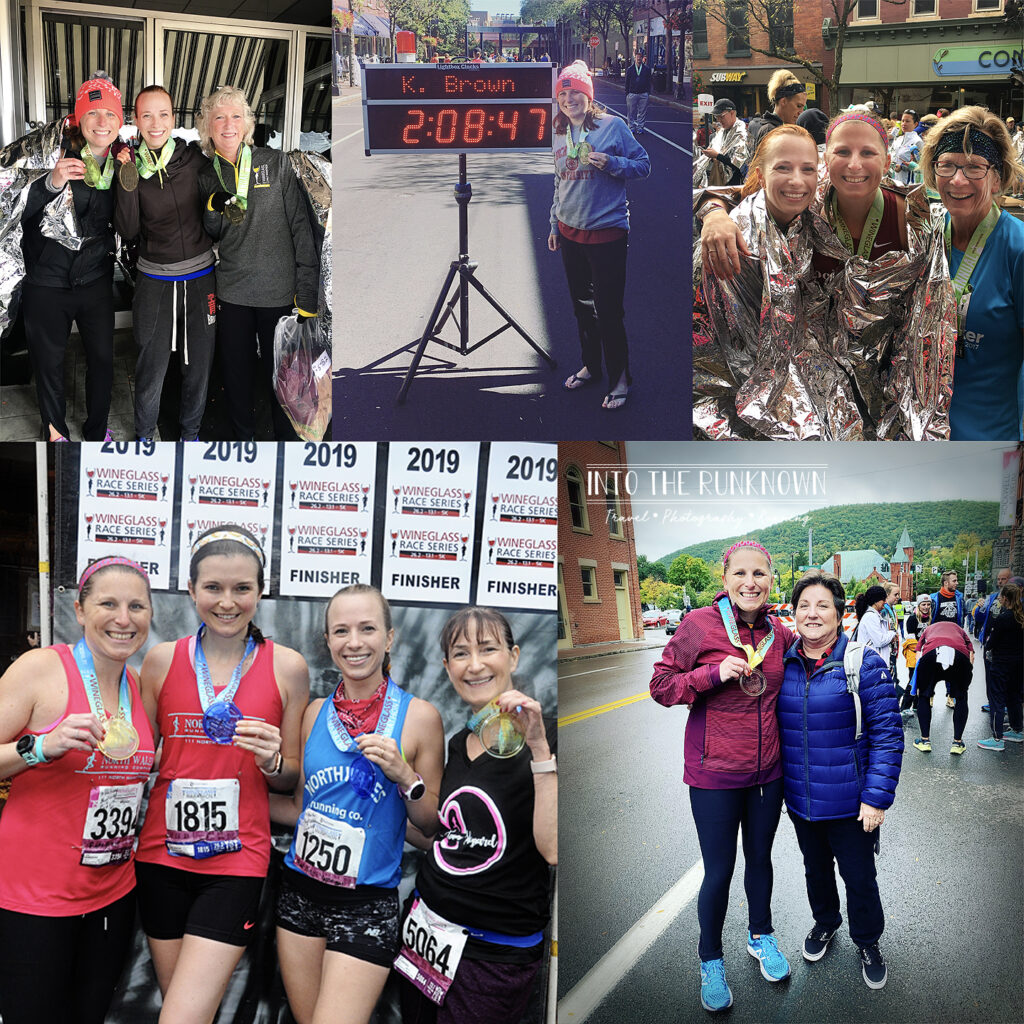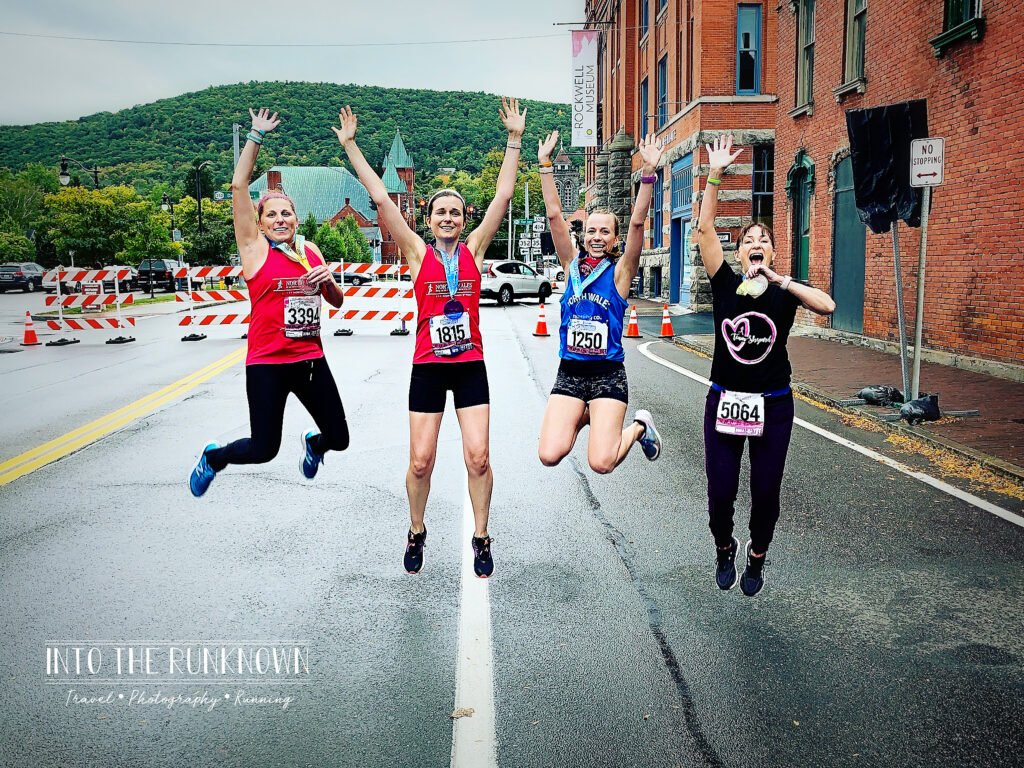 With our fancy glass medals around our necks, shiny foil blankets around our shoulders, and arms falling off from our bag of food, we exited the finish line area and found our cheer squad to meander back down along the finish area to snag a table for brunch.
Related side note, Corning is a very small town, and despite the huge crowds that travel in for race weekend, the restaurants do not budge on their open and close times or their breakfast menu times. If you are looking for actual breakfast like I usually am post race, you are going to be sorely disappointed.

Poppleton Bakery on Market Street does make crepes, which were amazing! Just don't dilly dally getting there, as their batter supply was limited by the time my mom and I headed in to order after my 2019 race.
Once our bellies have been filled, and legs rested, our post race tradition is to head to the Corning Museum of Glass for a proper tour, and yes, buying a few additional glass pumpkins, as if I even have anywhere to put them.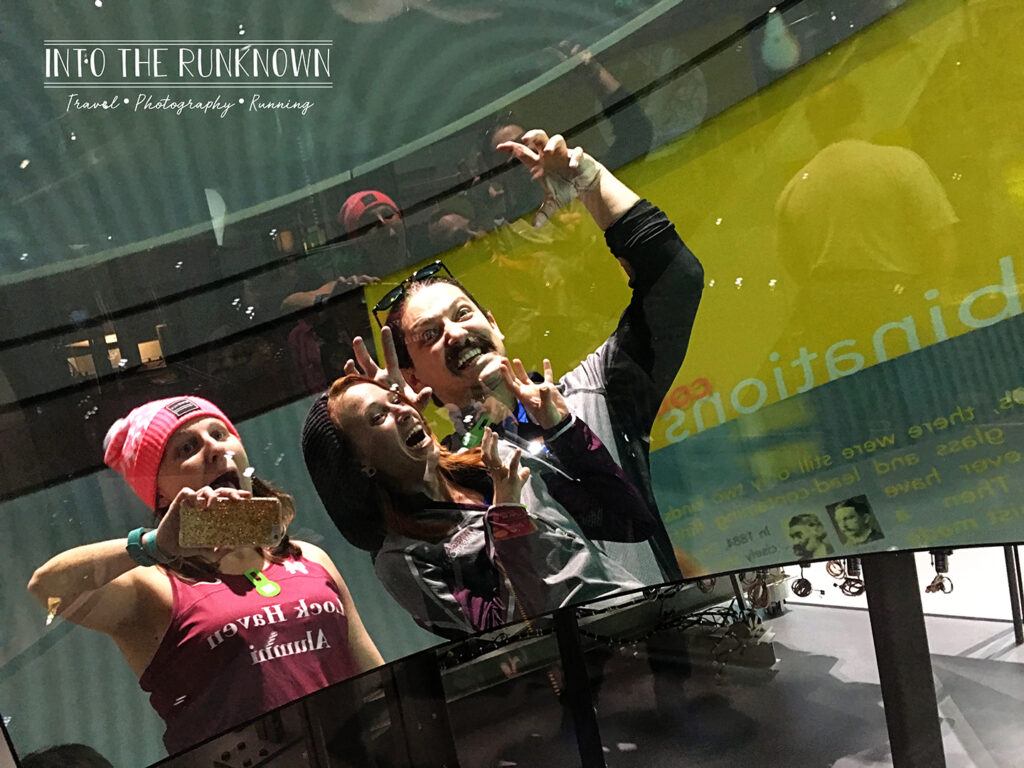 After the museum we all headed back to the house, so those of us who had to leave that evening could get our belongings packed up and hit the road. It was a long drive home, and the three of us were delirious by the end. We may have all thought the "Reptiland" sign in Williamsport said "Rectiland", which resulted in two hours of non-stop laughter and poop jokes. Sorry, not sorry.
Wineglass weekend, regardless of which distance you choose to participate in, is an amazingly fun time! This is for sure one race I will continue to make the trip up to New York for!
Lastly, I would be remiss if I didn't give a special dedication to Nancy, who sadly passed away in March of 2020, after a long battle with ALS. She was a local legend at the Wineglass race, and many other races around the area.
Not only did she run the races herself, but she also coached and volunteered. She continued to walk a number of 5K's, and even Half Marathons, when she no longer had the energy to run. I had the pleasure to join her and the rest of Team Shepard, bringing her home for the last stretch of the Philadelphia Half Marathon in 2018.
The last few times I saw her before her passing, long after she was able to verbally communicate or eat solid foods, she was still plugging along with that contagious smile on her face. She is an inspiration beyond words, and all Wineglass races from here on out will be run in her memory!
Logistics
Race Website: https://www.wineglassmarathon.com
Registration: This race is VERY popular and sells out every year! If you know you want to run, get yourself registered as soon as it opens. They do typically hold a wait list, which I have been lucky enough to get in off of both years. You will be paying top dollar for registration fees though at that point. Don't say I didn't warn you!
Lodging:
Hotels – Being a fairly small town, hotel options are limited in Corning. The Radisson which is typically the host hotel, is right next to the area where you load the buses. A full list of hotel suggestions can be found here.
Airbnb – Both times we have participated in this race, we rented houses through Airbnb, as we had large groups going, and hotel rooms for everyone would have been very expensive. This also allowed us to cook our own meals and relax as a group. Just be mindful of the very early start on race day. The further out of town you book, the earlier you will need to get up to make the buses to the start line.
Airports:
We are lucky enough to live close enough to drive to Corning, but if you do not, Elmira-Corning Regional Airport is roughly 10 miles from Corning. You best bet though is to fly into either Greater Binghamton Airport or the Greater Rochester International Airport and rent a car.
Things to do:
In town
Corning Museum of Glass – Tour & Blow Your own Glass Pumpkin
The museum itself is huge! You start out touring a few very large rooms with temporary installations of what I will call large scale, fine art, glass sculptures, which have a very modern aesthetic to them.
Be sure to check out the "35 Centuries of Glass" section, which is my favorite in the museum! While the modern works of art are still interesting and fun to look at, it's the insanely intricate beaded wall pieces, that you think are an oil painting until you look closer, that are mind blowing. The colored chandeliers are quite magnificent as well! This area is also loaded with artifacts such as bowls, vases and jewelry all made of glass, which are equally as impressive!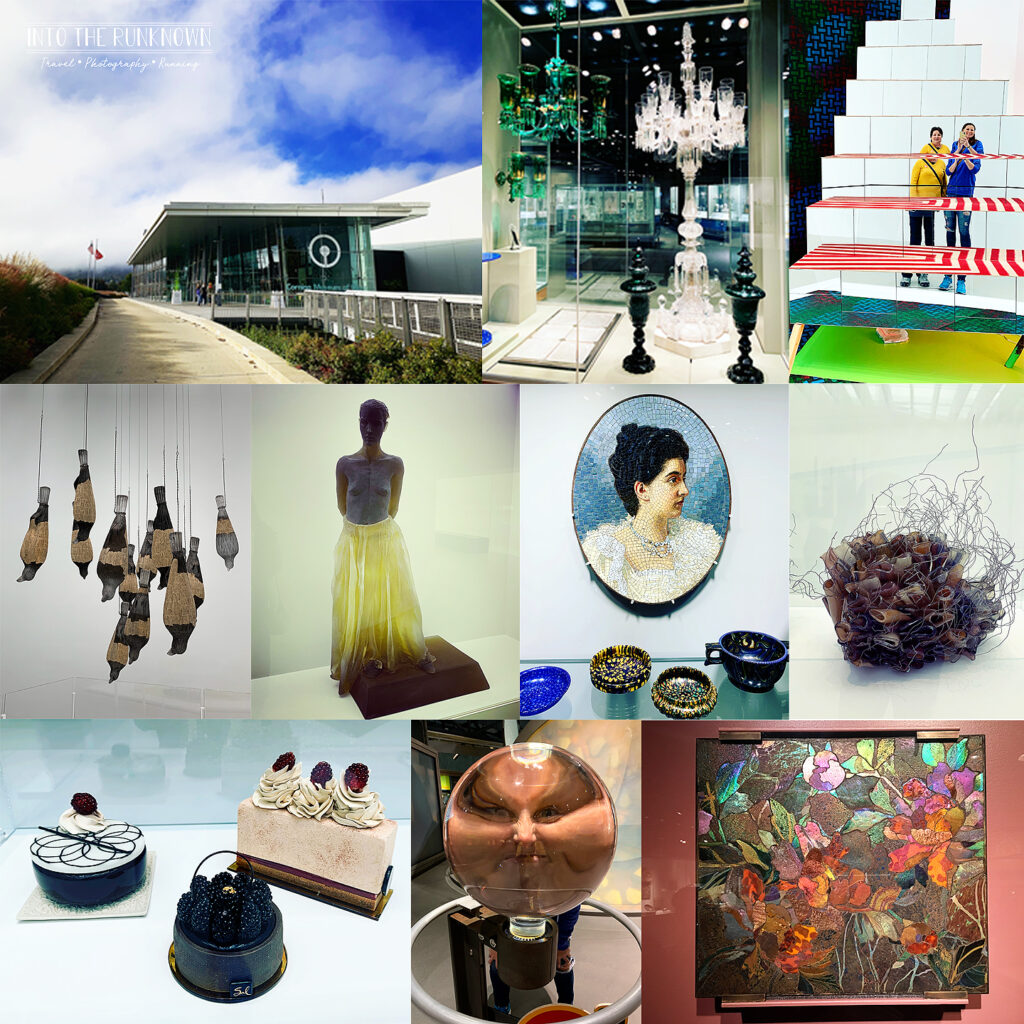 There is also a large section of Contemporary works of glass on display. To be honest though, this is one of my least favorite rooms in the museum. Not that the work isn't good, I am just so burned out by the expansiveness of the museum, that by the time I get to that area my brain and legs have had enough. The work is worth a walk through as it does show an important 25 year period where glass making was greatly advanced with new techniques, but after seeing all of the super intricate and shiny things in the room prior, this room is always a bit blah to me.
The last and final area of the tour in the main building is the Innovation Center. This area is fully hands on and very science based, showing you how various glass is made, and how it is used. It's basically the Franklin Institute of glass for you Philly area peeps. It's definitely the most fun area of the museum, after rooms filled with very delicate things you aren't allowed to touch!
When you are done with your tour (or even if you skip the tour) be sure to head downstairs to the Museum Gift Shop, where you can take home your own hand blown works of art. They sell small items such as tiny glass animals or glass Christmas ornaments, to one of a kind fine art pieces, that can cost you thousands of dollars.
If you are lucky and there at a slow time of year, or are there for Wineglass weekend and were on the ball booking a class early, you can make your very own hand blown glass piece to take home with you! They offer a variety of items to choose from, that change depending on the time of year. The hand blown pumpkin as you can imagine, is the most popular during Wineglass weekend. Be sure to book your class at least a month or two in advance! Also, since the glass needs time to cool, you will need to go back a day or two later to pick it up, or pay to have it shipped home if that is not possible. The pumpkins are fairly delicate though, so taking it home with you is the most ideal option.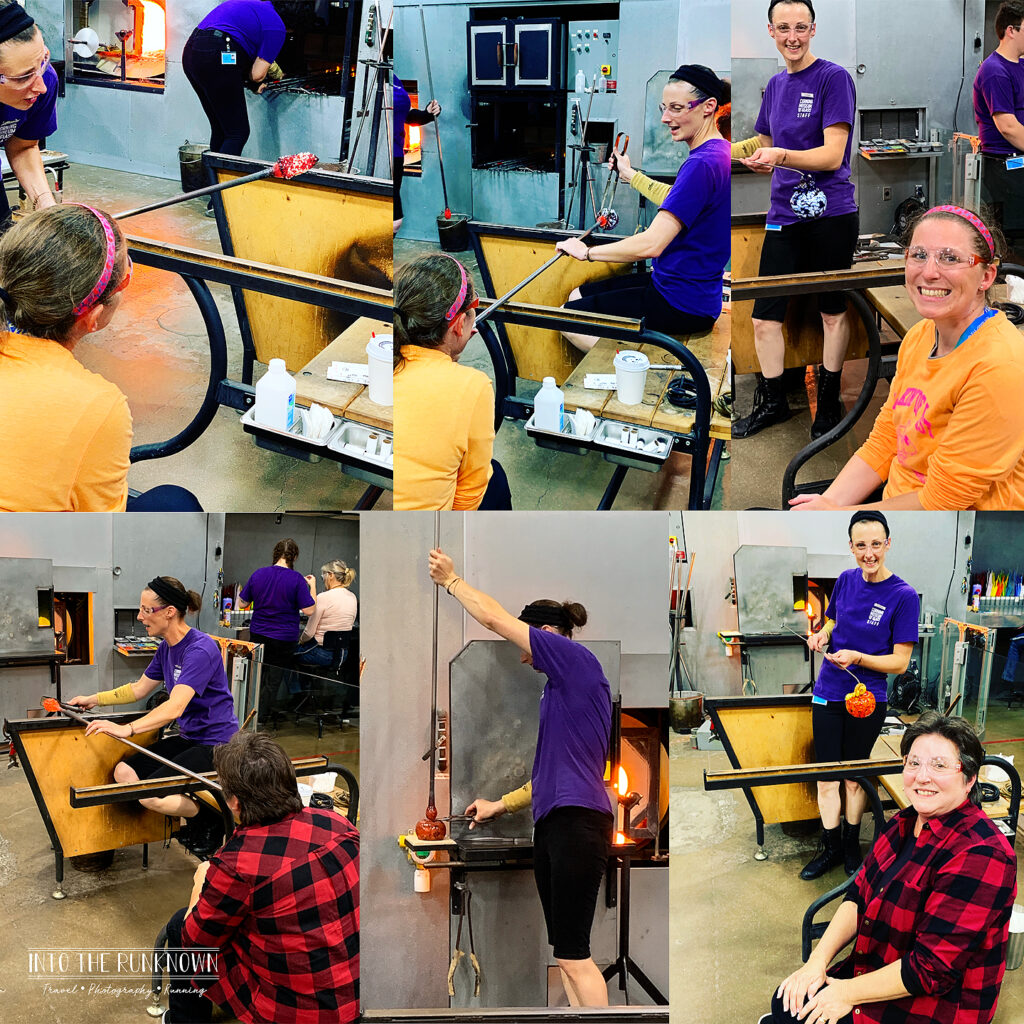 The Gaffer District is the downtown area of Market Street, spanning the four blocks between Chestnut Street and Wall Street, as well as a small area across the bridge near the intersection of Bridge Street and East Pulteney Street. It is made up of all local small businesses, restaurants and museums. Due to the entire same four block area being barricaded off for race day on Sunday, this area is best explored on Saturday or Monday, if you are still in town. A few of the restaurants and stores are highlighted below.
Not only can you get brochures and information for things to see and do around the area, they also have a gift shop, AND on race weekend, they have bins of past year's race shirts that you can purchase dirt cheap! Like 3 for $20 dirt cheap. That's a steal for a nice thick quarter zip long sleeve!
A delicious bakery/cafe with all items made fresh from scratch! Their crepes are amazing! You can find them on Market Street, about a half block from the finish line on the left side (if you are facing the same direction as the runners).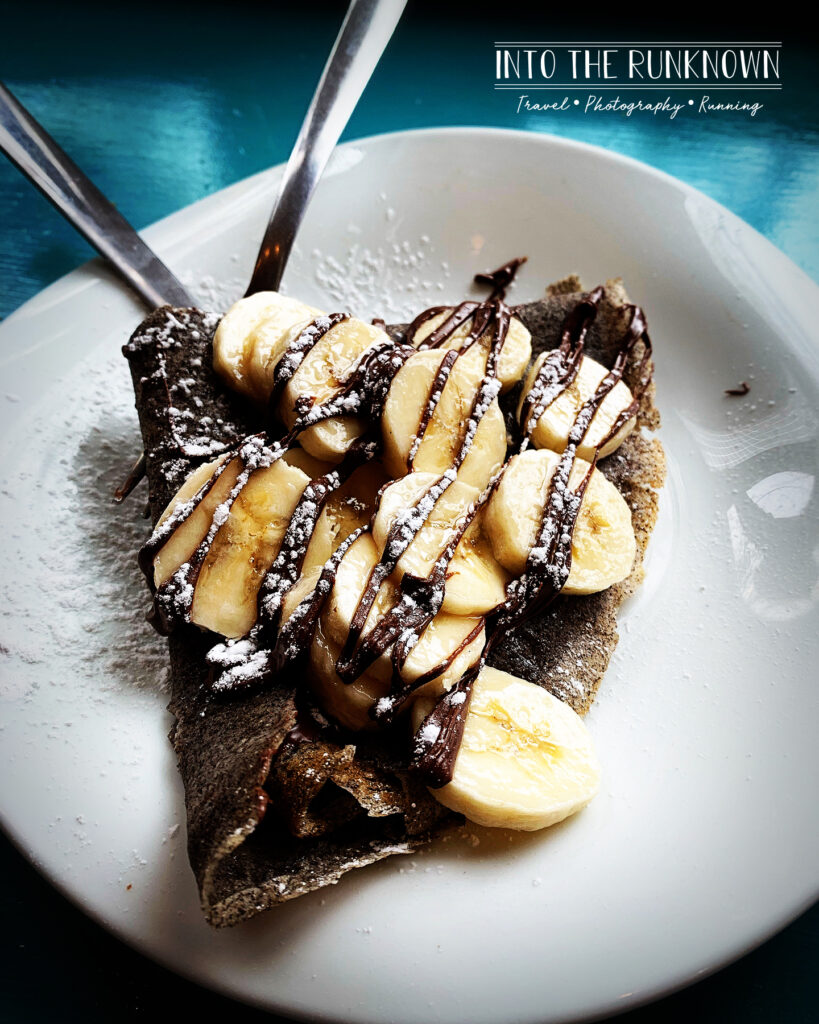 If you like Corning products, be sure to stop by their factory store on Pine Street, just up the block from the finish line! It's a fairly large store with everything you could possibly want from the Corelle brand, and more! This is also where you go to pick up your free branded Corning bowl if you ran the 5K race.
Any time I am in a new town or city I always look to see if they have a local mom and pop type running store there. While I typically run in the singlet of my hometown running store, I still like to pick up other stores' singlets or tee shirts to support local business, and have a fun souvenir to bring home. You won't have to look too far to find Confluence Running on race day. They are right on the same block as the finish line, across the street from Poppletons! Stop in and say hello!
Outside Town
Vineyards, Breweries & Distilleries
Ya'll, there are so many vineyards, breweries and distilleries in the Finger Lakes Region of New York, I could probably do an entire blog post just on those. But not really, because I would be passed out on a lawn somewhere from drinking all day. If you have the time, and are into the whole tasting thing, I highly recommend sticking around for an extra day or two if possible, to check some of these places out. Please drink responsibly though! Don't be that girl we saw black out drunk around 4pm, being carried out over the shoulder of her friend, and definitely do not drive drunk. Designate yourself a sober driver, or use a driving service like Uber or Lyft.
Vineyards & Breweries Cideries and Distilleries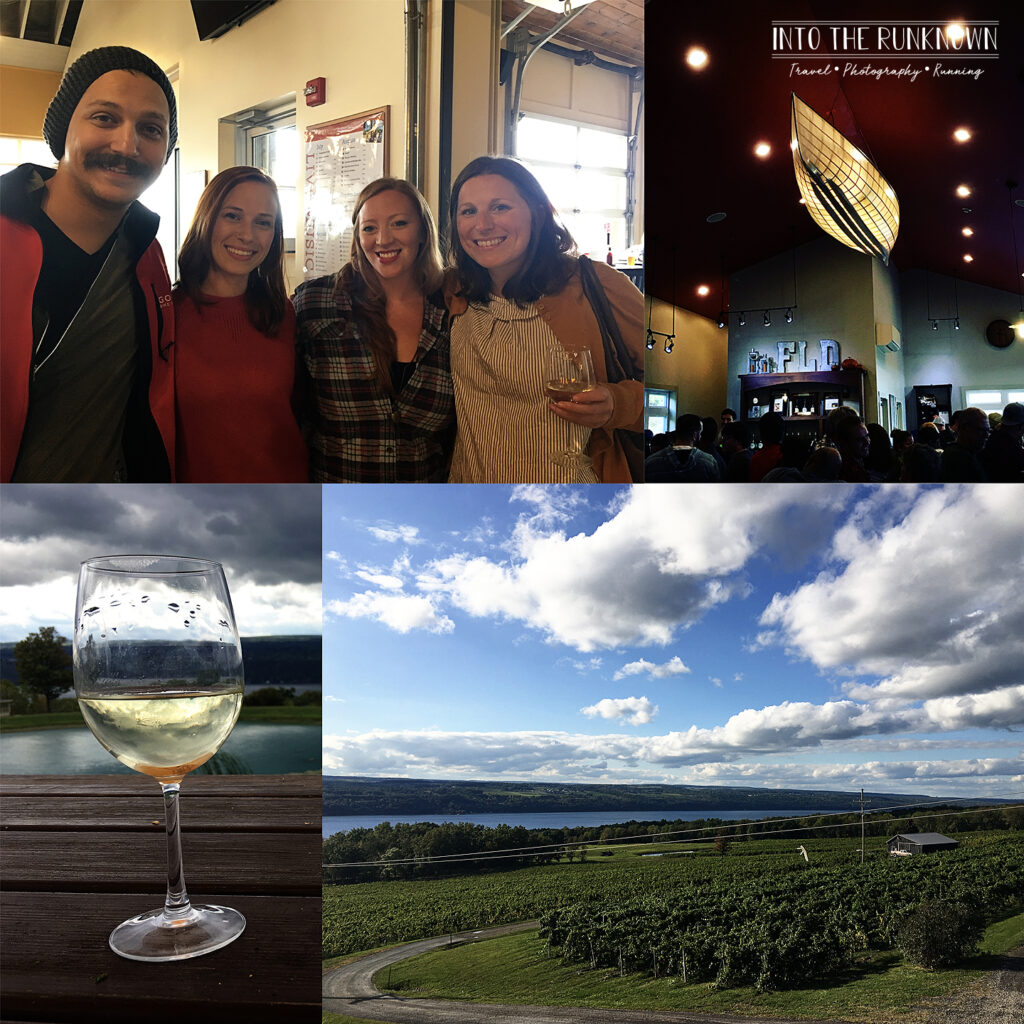 If you aren't big into drinking, and an outdoor hike is more your speed, Watkins Glen State Park is a must do! It's about 20 miles Northeast of Corning, and well worth the detour. It's still up for debate if this hike is best done before or after race day, as the entrance and trail up to the biggest falls is more like a stair climb of a zillion slate steps, versus a leisurely hike on a dirt trail. The views are worth it, but you will certainly wear your legs out! Be sure to wear sneakers or shoes with good traction, as the steps and walkways can get quite slippery from the rouge water. I attempted in once in flip flops. It is not advised.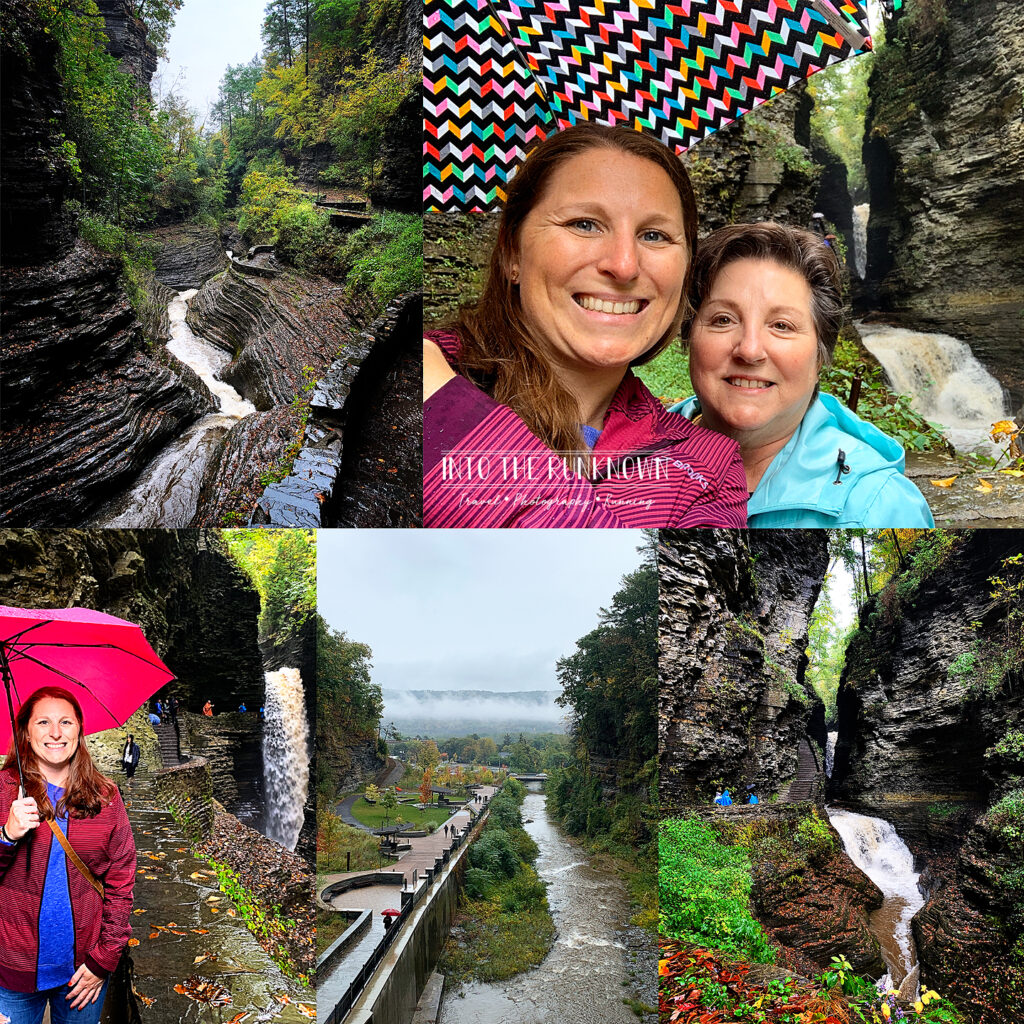 Other waterfall and park options
Many other New York State Parks have waterfalls and hiking, so if you can't make it to Watkins Glen, here is a list of other options to check out:
Waterfalls and Parks