Day seven was fairly low key, but came with a big surprise for me! As some of you may know, Philip who I traveled with, was my photography and drawing professor in college. As a studio art major with a concentration in photography, he and I spent a lot of time together working on photo projects and perfecting skills in the wet lab.
I knew he was able to go on this trip with grant money from the university, and had various assignments to photograph the area. His photos would be used in lecture art classes at various universities back home, so I knew he had brought a decent amount of camera gear with him.
What I did not know is that we were going to be having an old school film shooting contest, and that once we returned home, I was going to be allowed to make a trip back to college and use the wet lab to develop my roll of film and print my own photos!
This was beyond exciting, as it had been a number of years since I had even shot film, let alone had the opportunity to get in the lab and develop it myself.
Our final full day in Cuba was my day to take the film camera around and shoot my little heart out. Well, for 24 frames anyway. An immediate reminder of how nice the technology of digital photography is with large memory cards!
We started the day off with breakfast at a restaurant in the Habana Libre Hotel. I ordered a combo meal of scrambled eggs with ham, toast, french fries (their alternate to home fries), hot tea and pineapple juice. All of this was a whopping $8 and quite delicious! I highly recommend giving their breakfast a try if you are in the area!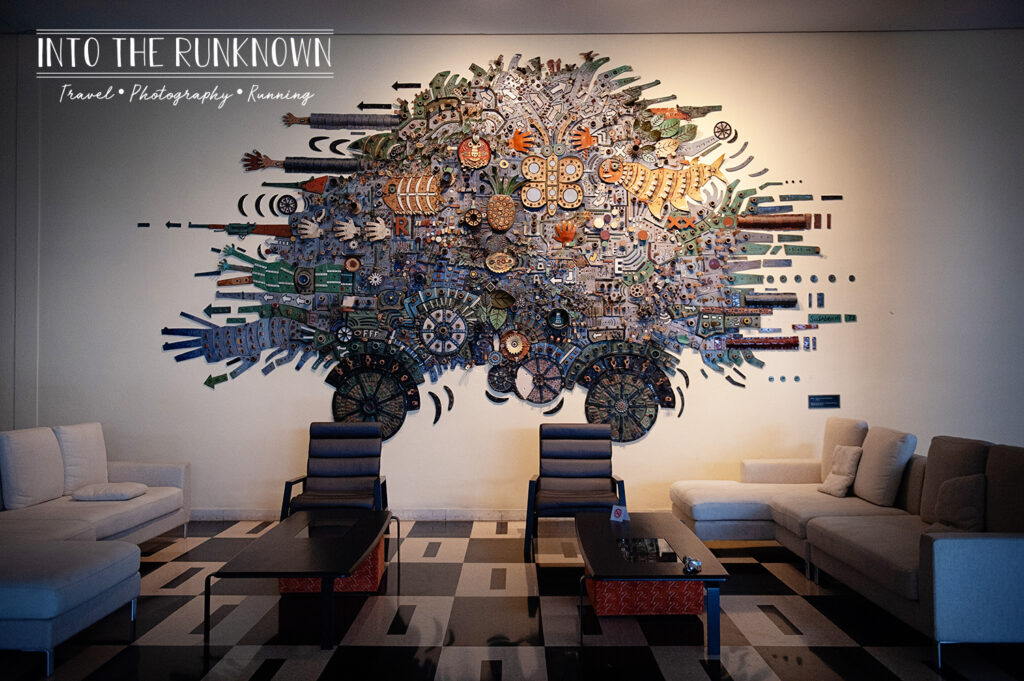 After we were done eating, our plan was to venture back to Old Havana to find some souvenirs and explore the area a bit more, but mainly so I could take some film shots. The old gritty section of the city was perfect for black and white film.
The wind was still whipping, and the air temperature had dropped significantly. Being almost entirely out of clean clothing options at this point, I wore shorts and a tank top with a light weight sweater. I was a tad chilly, but still fairly comfortable. The locals had switched to wearing jeans and down jackets at this point.
Not only did I get some looks, but a number of people approached me pointing at my outfit saying "mucho frío", and rub their hands up and down their arms as one would do to get warm. I then had to attempt to explain that it was snowing where we lived, so even weather in the low 60's felt warm.
We originally wanted to check out the Ceramics Museum, but sadly like everything else, it was closed. Instead we headed over to the Universidad de la Habana, as we had heard that the architecture was worth seeing. We heard correctly!
Founded in 1728, the University was originally built as a religious institution. It now offers degrees in fifteen different areas including an exchange program with Rutgers University in New Jersey!
The buildings reminded me of something you would find in Greece or Rome! Grand staircases and tall columns made of stone everywhere! It also in typical Cuban fashion had a tank on display in the one lawn, because why not!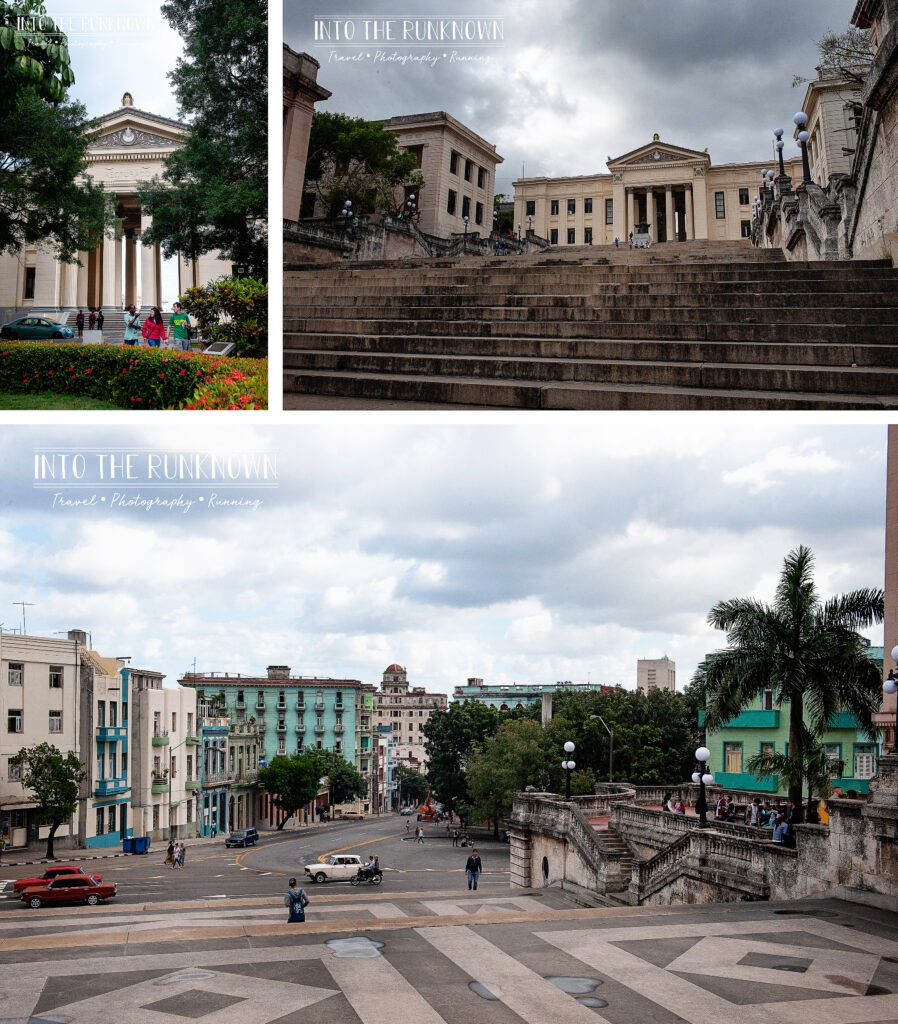 With our film contest in full swing, I really wanted to walk back along the one stretch of the Malecón where we were on our first day's lengthly walk. The spot where the buildings were real crumbly from the sea air, and the old cars were driving down the road along the sea wall. I really wanted some of those magical, but gritty, black and white shots of what you picture when you think about Havana.
We strolled north and made our way down the Malecón towards this area. As soon as we made the turn and started walking along the ocean, I was quickly reminded of the wind and the large waves crashing over the sea wall. Yep, the sea was still angry.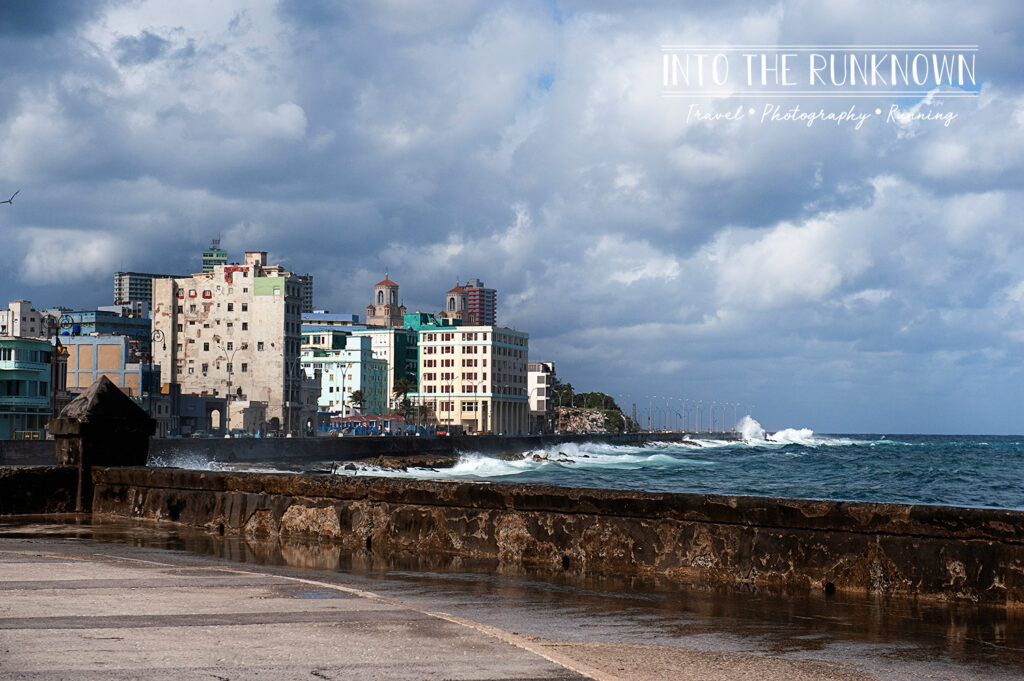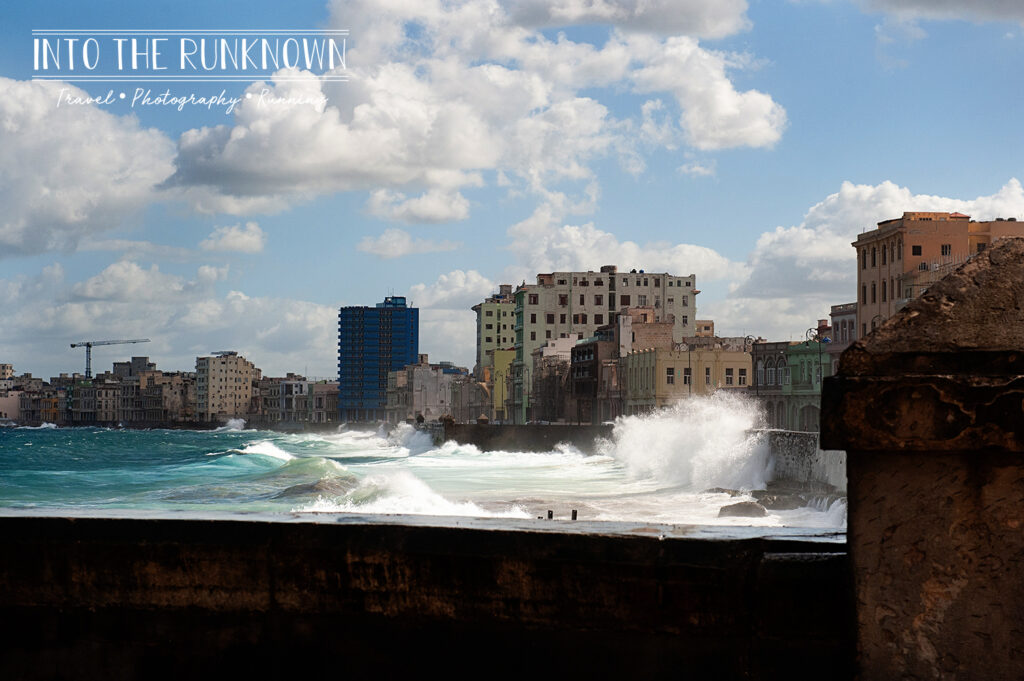 Knowing getting the shot I wanted was now impossible without getting drenched in salt water, I asked if we could stroll up that direction anyway. Due to the lack of traffic I was able to walk in the roadway at times and snag a couple of quick shots, but nothing like I got back on day one. The lack of classic cars driving by and my having to dodge rogue waves up over the seawall every minute or less made it an impossible task. Getting soaking wet a few days prior when it was hot out would have been fine. Getting soaking wet when it was low 60's was less than ideal.
Bored with the lack of photo ops and having super tired legs from a week of non-stop walking, we opted to flag down a taxi to drive us the rest of the way into Old Havana. There was one more town square that we had not yet seen, Plaza Vieja, meaning Old Square. It was created in 1559 and originally called Plaza Nueva or New Square.
The plaza is surrounded by homes once owned by the wealthiest of citizens, who all had a front row seat to fun occasions such as executions, processions, bullfights, and fiestas. Quite the combination if you ask me. Nothing I enjoy more than a good execution in my front lawn.
Oh, colonial times.
Even though the history was a bit mucky, the square was still very pretty to look at, and is considered one of the most beautiful in the city.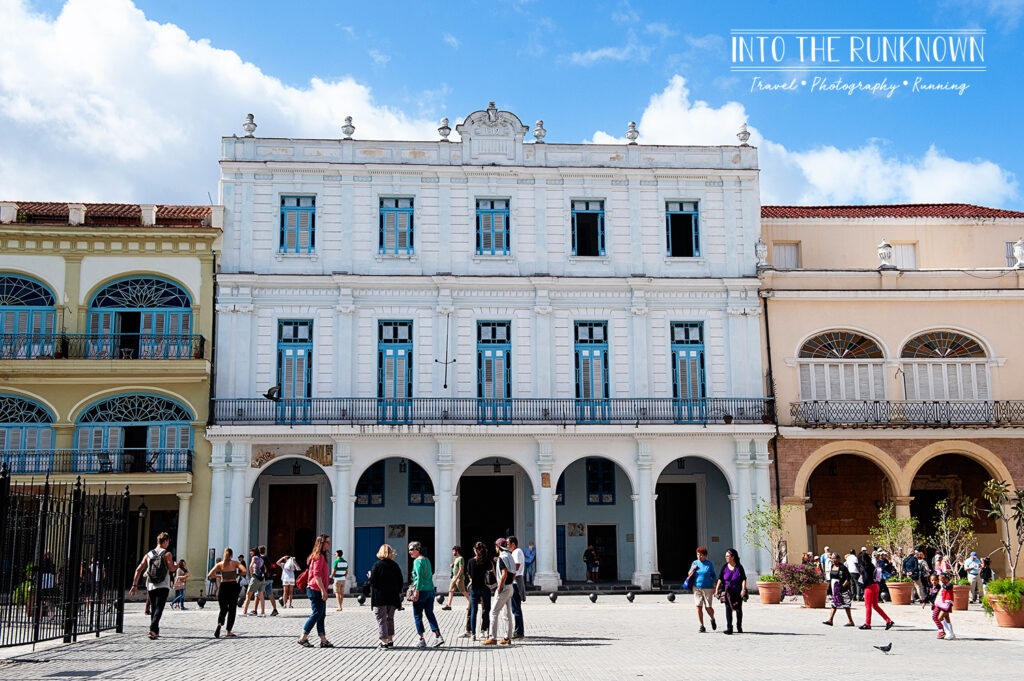 We found a little cafe called Cafe Bohemia for a light lunch. It is tucked away in the central courtyard of the large white building with pale blue trim, which is also an apartment building of the same ownership.
The courtyard where you eat was just gorgeous! The three story tall walls were painted a bright white, and had pale cerulean blue wood balconies jutting out from the upper floors. Potted ferns and other plants were hung between them. It was a very calm and mellow vibe, which is about what you would expect from a place called Cafe Bohemia!
We all ordered their fresh squeezed lemonade, and shared two $5 plates of hummus with pita bread and vegetables. It was a nice relaxing break to prepare us for our shopping spree at the craft bazar around the corner!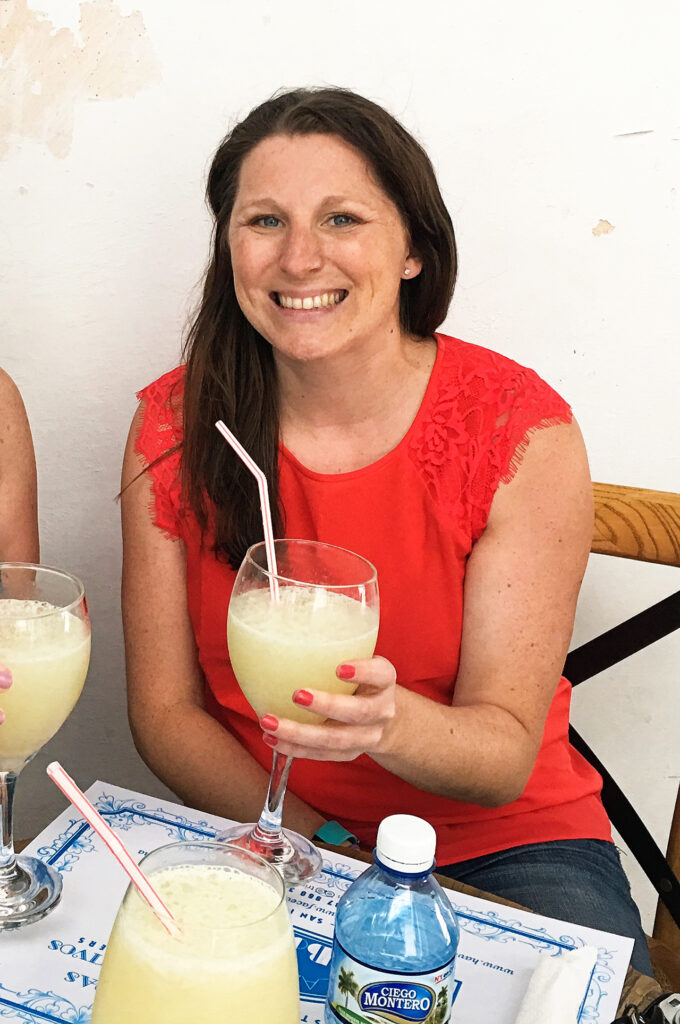 While it does have its share of small craft vendors and artists set up randomly around the city, Havana is not like going to New York City, where souvenir shops can be found on every corner. I had bought some drawings and prints from a few artists on the street earlier in the week, but we hadn't really found anything to take home to friends and family.
In our early travels around town, we had passed this craft bazaar and made a mental note to go back and check it out. The place was huge! It was an indoor warehouse that looked as though it may have been an old department store the way the entrance was set up.
Sadly I don't remember the name of the craft bazaar, but thanks to taking a million and one photos, I am pretty sure it was on Boulevard de san Rafael in between Aguila and Amistad. There was a guy selling birds in small wood cages out front.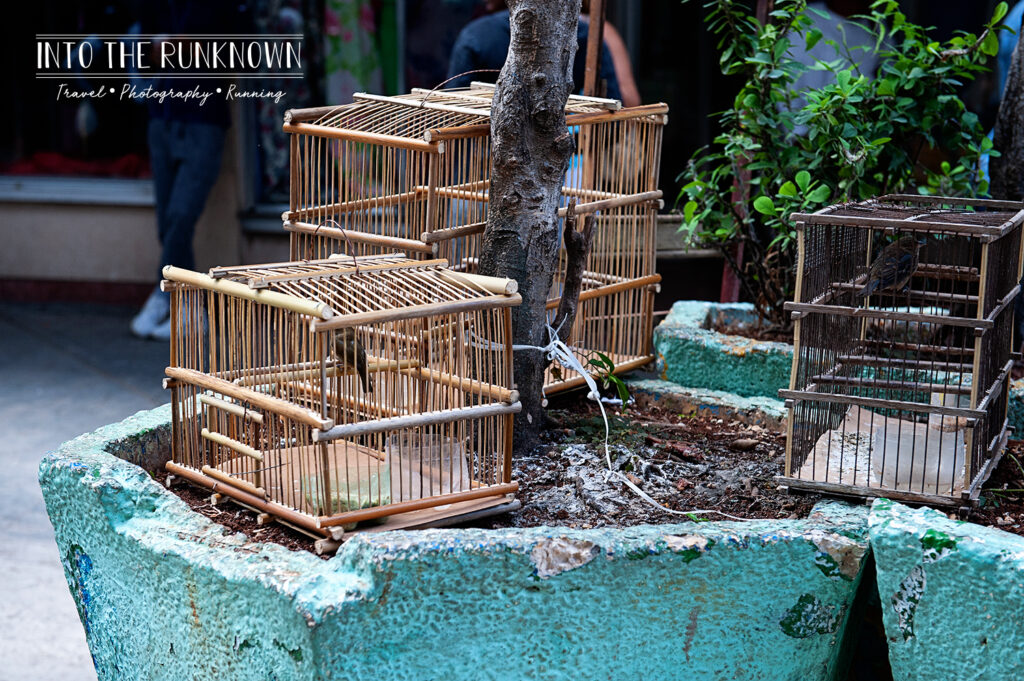 Inside was overwhelming. It was row after row, filled with vendors selling crafts ranging from wood carved coco taxis, to bright colored silk scarves and purses, to games, to wall art. There was quite the range and as we strolled we noticed many vendors were selling the exact same items but not necessarily for the same price.
It is common practice to haggle with the vendors at places such as this, but that's not really my cup of tea, especially when walking around with a camera that is worth more than these people will make in a lifetime on my shoulder.
You want $8 for 3 coca taxis. Cool. Here's your $8.
I ended up with like 6 coco taxis, as well as other wood carved classic cars, some small wood dolls that were made of wire on a round wood base, and had traditional outfits like those in the parade we saw earlier in the week. I also purchased some wood boxes that were carved and decorated with shells. It was a solid variety of trinkets to give out as gifts when I came back home…and of course some to keep for myself.
Once we all found each other again, which was quite the task with all of the chaos and no cell service, we decided to stroll around the area a bit more. We headed back towards the Cathedral area where we had seen a few other souvenir shops that we wanted to check out.
Since most of the museums we planned to visit were closed, we were left with a bit more extra money than we had planned on. With the hefty exchange fees to swap back to American currency, it was easier to just spend the money on souvenirs than to try and exchange what little we had left.
Along the way, I spotted a gentleman with a table setup near the Cathedral. He was selling sketches he had done of various city scapes around the area, using a simple black marker . A couple was standing next to us and the gentleman would keep picking a drawing up, and indecisively putting it back down. He did this multiple times.
When it comes to choosing things like this I am very decisive. I take a quick look at the options, find one I like, pay and am on my way.
While I was scanning over the options, the gentleman set down a sketch of my favorite alley way on the side of the Cathedral including a classic car and a nice big palm tree. It was perfect! Before the guy could pick it up again, I snatched it, handed the artist my $20, and was on my way. Sorry, not sorry.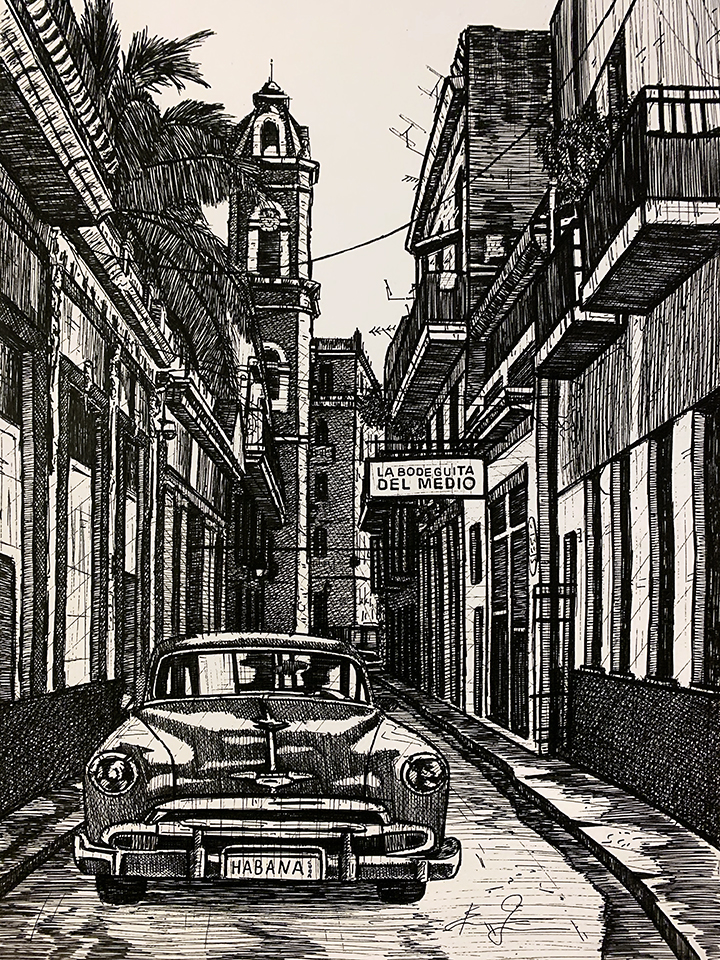 By the way, $20 for an original, hand sketched, piece of art is a complete and total steal.
We wandered through a few more shops in the Cathedral area, and a few more random back streets, trying to soak in every last bit of the city we could. We then took a taxi back to our neighborhood to drop off all of our goodies and get ready for dinner.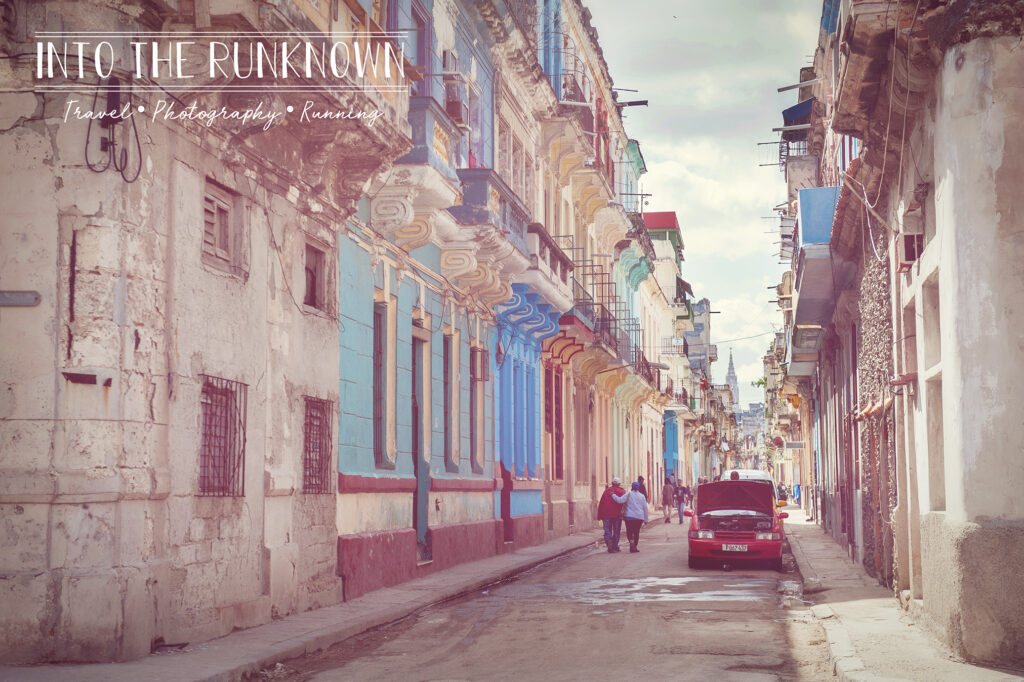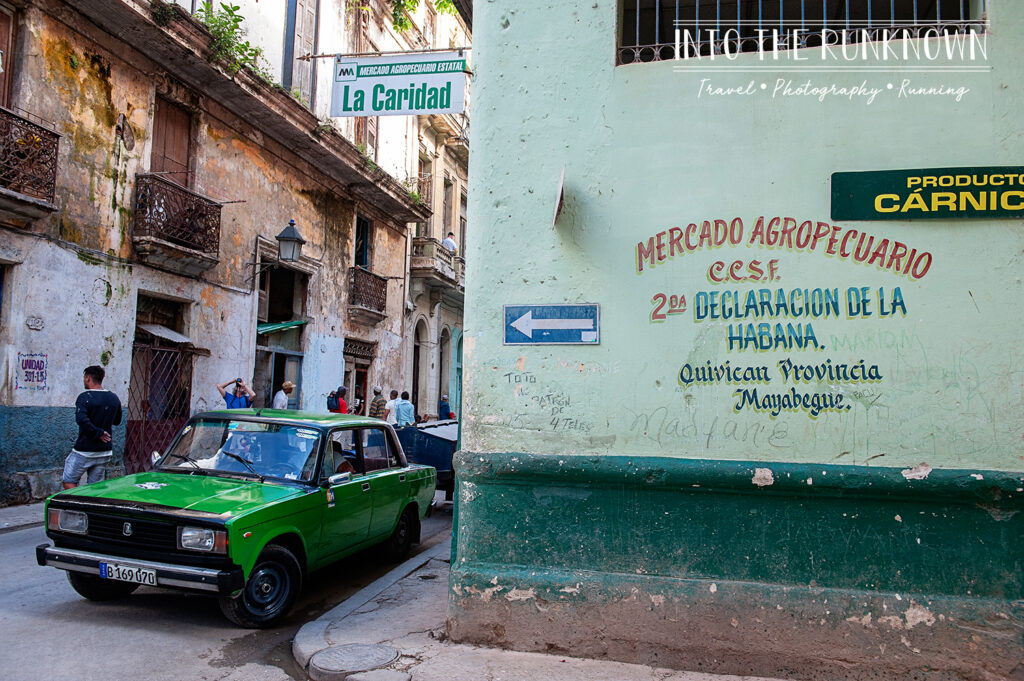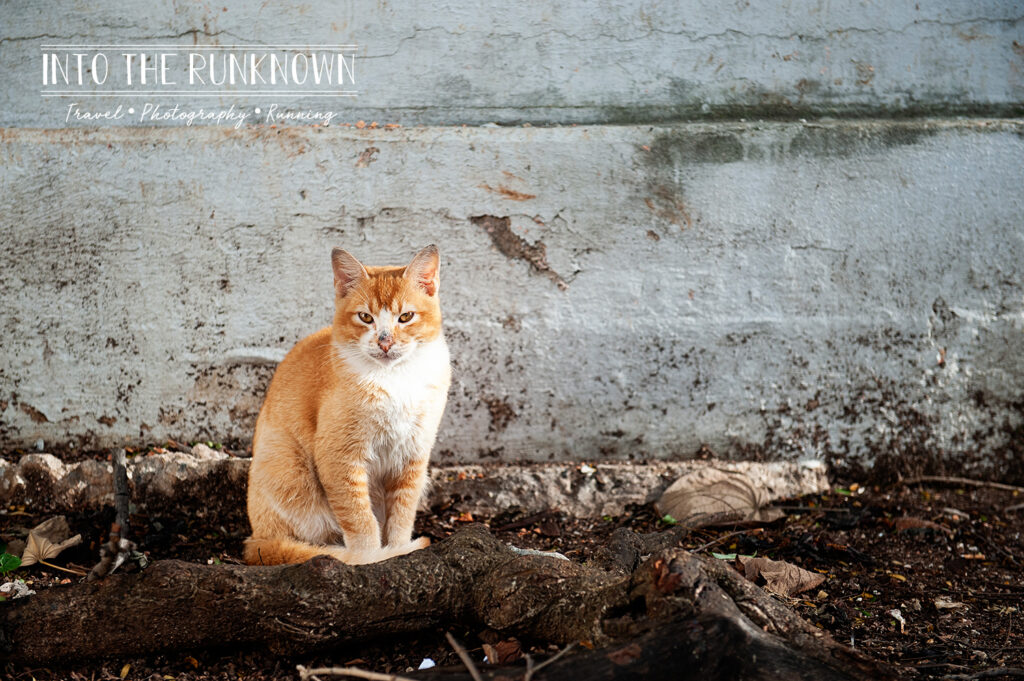 We found Philip at the apartment who asked if we wanted to try one of the cigars we had purchased earlier in the week on our tour of Viñales. Let's keep in mind, neither Kelly nor I smoke, but when in Cuba, right?
It was nothing short of a comedy show. The cigar took just shy of forever to even get lit, and neither of us knew how to even smoke one properly. We both tried it just long enough to get a picture and called it quits!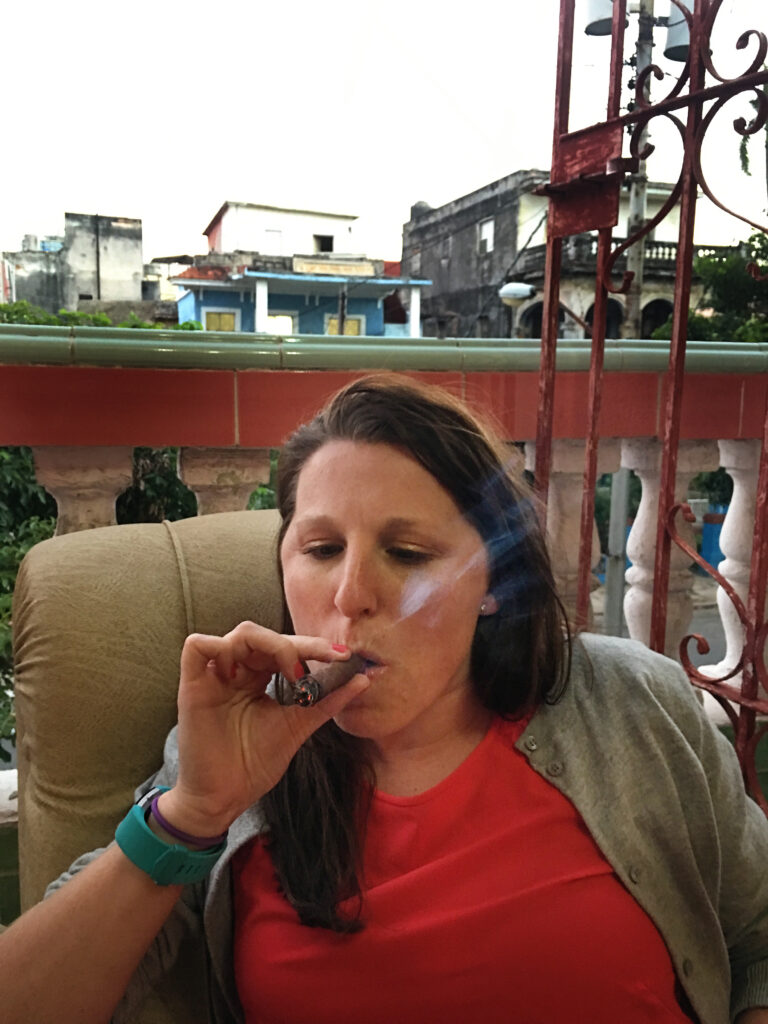 Post cigar adventure, we strolled back up the Malecón for one final sunset, before we headed back to Cafe Presidente for our last dinner of the trip. This is the restaurant where I had the amazing fish earlier in the week, so we were fairly certain it was going to be a safe and yummy choice for dinner.
Prior to coming to Cuba, I had made some notes from friends who had already been, or blogs I found online, and everyone said find a place that makes Ropa Vieja! What is Ropa Vieja you ask? It's a dish of stewed shredded and pulled beef with vegetables, usually served along with rice and beans. It was absolutely delightful and a perfect final dinner! I of course washed it down with frozen daiquiri number 4,5002,001, in case you were keeping count.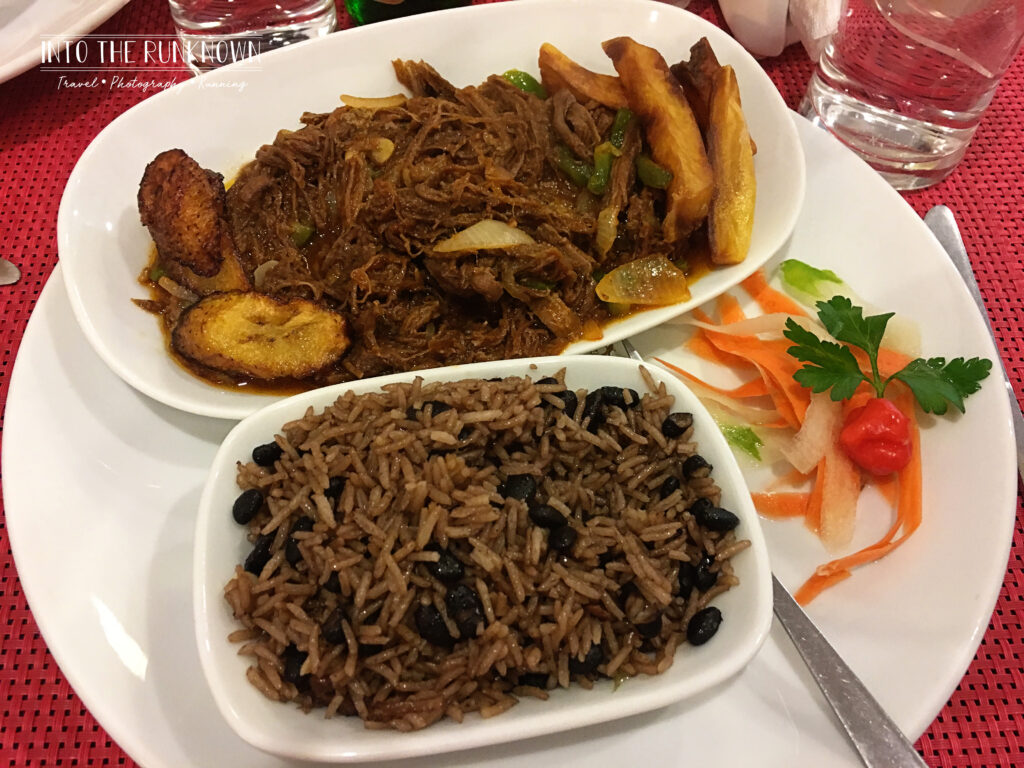 Finally it was time to head back to the apartment and pack all of our belongings to fly back home the next afternoon.
Day 8
Our final day in Cuba involved yet another early wakeup, partially thanks to the neighborhood rooster and partially because we needed to eat breakfast before our taxi picked us up at 9:30am to head to the airport.
Since we were up much earlier than we wanted to be, we had time to walk back down to our favorite cafe next to the Habana Libre hotel for more donuts and juice. Not that we had much in the way of other options nearby.
On our way back to the apartment, we decided to stroll up past our building a bit to see just where this rooster lived that was waking us up every morning. Turns out there was a pretty neat farmers market right on the corner of our building. We never actually walked that direction on our street in the days prior, and it sat back off the street a bit, so we didn't notice it until this final day.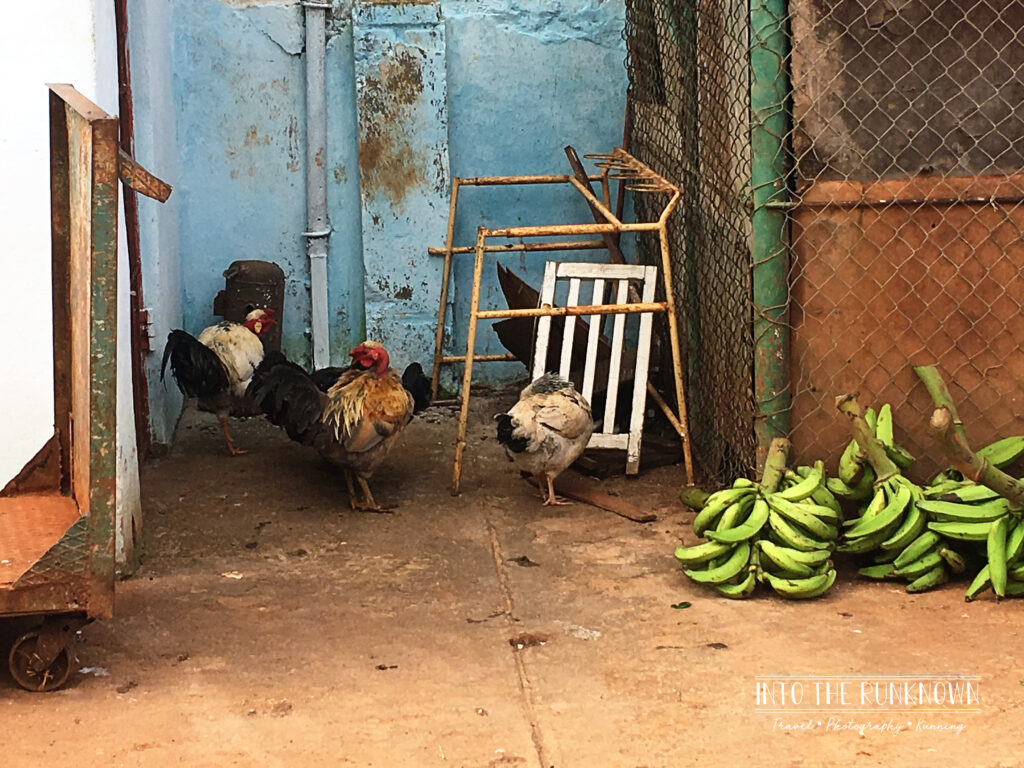 The market was a decent size and had numerous farmers selling fruits, vegetables, bags of beans, a whole fenced area of potted succulents and plants, as well as meat. Like unwrapped, hanging in the open air raw meat. You're welcome for not taking a photo of that. It also had a group of roosters running around all over the place, which now made sense as to why we heard them every morning.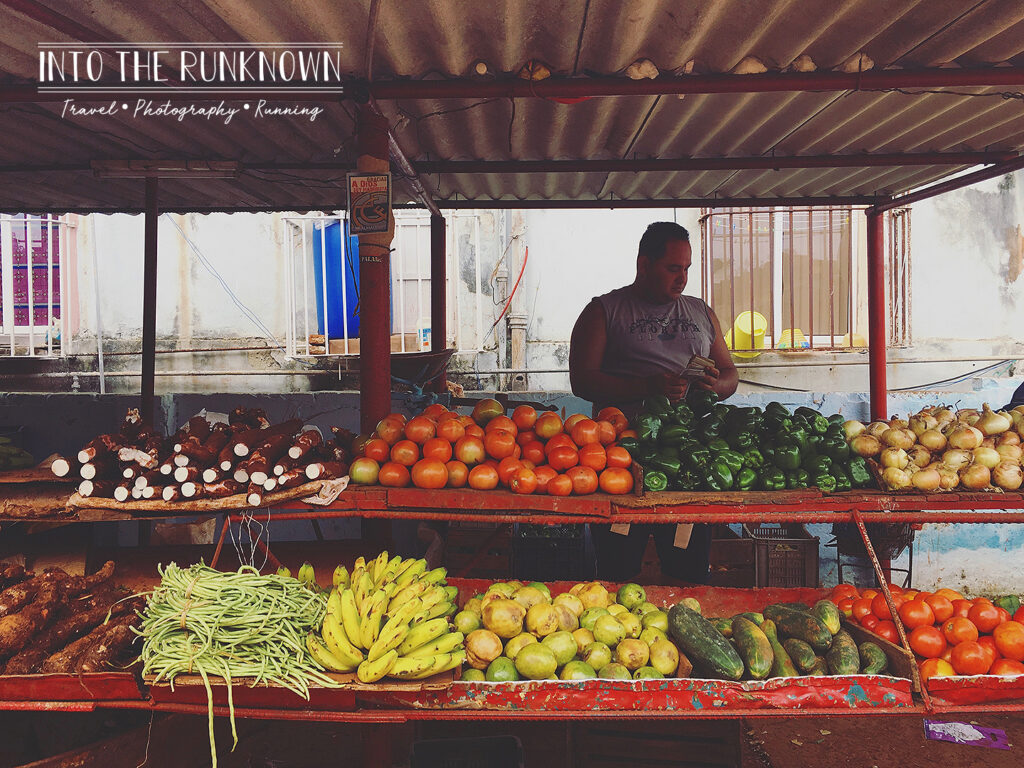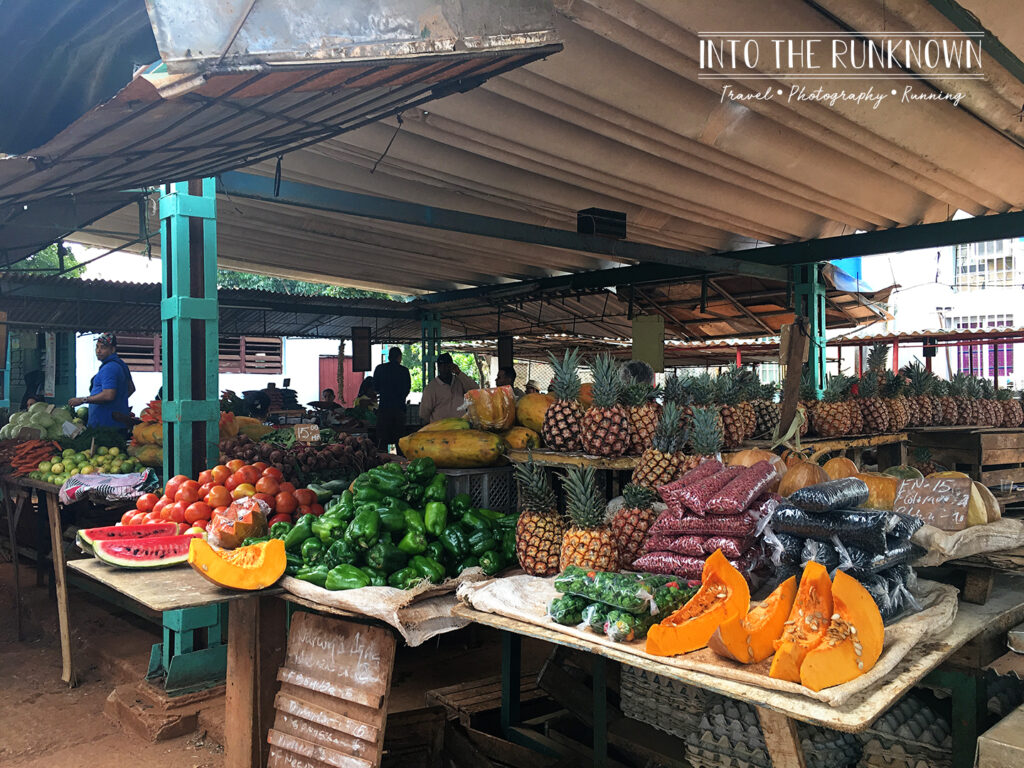 And just like that, it was time to head to the airport. We said our goodbyes to Diana, who had come in early that morning to see us off and start cleaning the apartment for the next guests, and hopped in our taxi for the airport.
Check in was fairly uneventful, though not the procedure we were used to in the United States. Example A, not realizing you were allowed to bring a bottle of water through security with you to the gate. Out of habit we all threw ours out. I came to fully regret this mishap later on, when I realized the only drinks available in the airport past security consisted of Coca Cola and Alcohol. I despise soda, especially any of the brown colored sodas and 10:00am seemed a bit early for alcohol, even if I was still on vacation.
Once we passed through security, we had to provide our boarding pass, passport and the other half of our tourist visa to their customs officers. They added a stamp and recorded that we were leaving the country. It is very important you do not lose this tiny slip of paper during your travels there! Thankfully none of us did!
After that, we found some seats in the main waiting area for the airport and got comfy. Being very unfamiliar with the procedures and the airport, we wanted to arrive excessively early compared to the required time, so we had no issues getting home.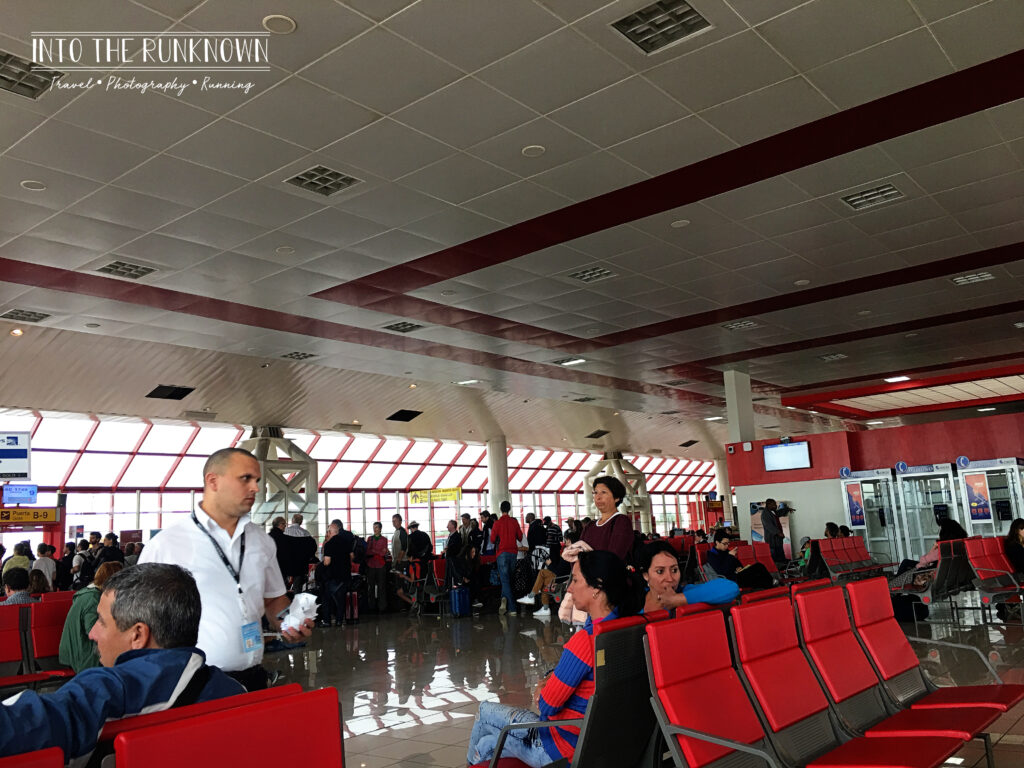 This too became regretful very quickly. We were through security and seated in this main waiting area by around 10:30 am…for a 3:00 pm flight. A long wait, but tolerable with a book and some snacks, keeping in mind we still did not have any cell service or wifi, so no wasting time by scrolling through social media.
As our flight time inched closer, we kept an eye on the departures board so we knew which terminal we needed to relocate to when the boarding process started. I read a book on my kindle for a while, trying to ignore the fact that I was insanely thirsty and also now getting hungry. It's only a few more hours I kept telling myself. Once we are in the air, JetBlue will give me a nice shiny cold cup of water and a snack.
Only one problem, our flight was now delayed to 4:45 pm.
It was inevitable, I had to go find something to eat that wasn't chocolate or other candy from the gift shop.
There appeared to be some sort of food located downstairs, so I followed the signs to see what I could find, and came across the one and only food stand in the airport. It was basically the equivalent to a snack stand at a high school sporting event. You had an option between two pre-made sandwiches that were plastic wrapped and all sitting mixed in a basket on the counter.
Yep, lunch meat and cheese. In a basket. On the counter.
I reluctantly bought one, and a bottle of carbonated water, and wandered back to our spot in the main waiting area. I guess possible food poisoning was better than being hangry, so I reluctantly ate my warm ham and cheese sandwich and drank my carbonated water, and hoped for the best.
4:45 pm had now come and gone, and we still hadn't been called to a terminal to start boarding yet.
Finally around 5:00 pm, seven hours after arriving at the airport, they called for our flight to board. We made our way over to the gate, boarded the plane and proceeded to wait another 50 minutes before pushing off the gate for take off.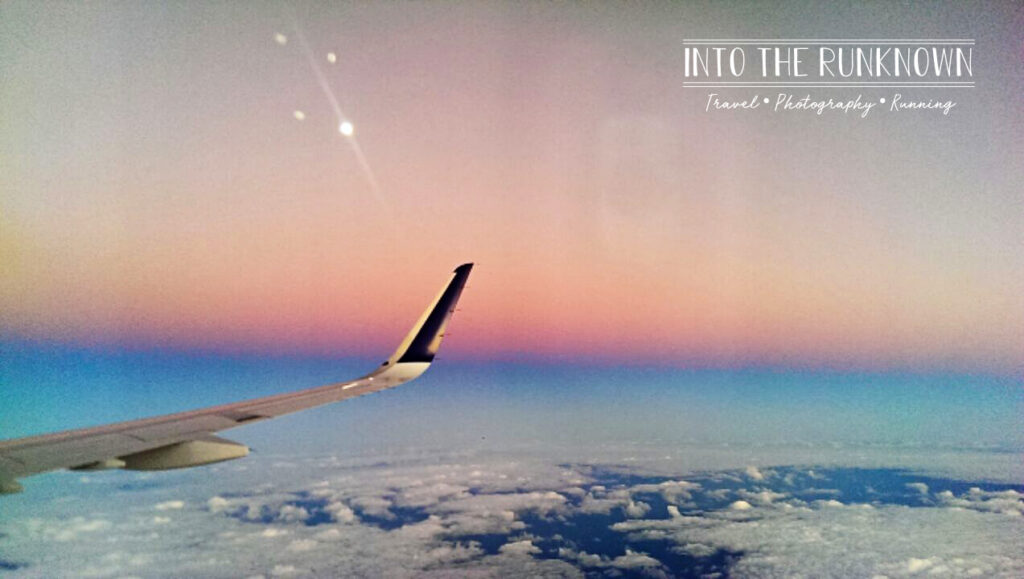 We were exhausted at this point. There was no face glued to the windows for the final glimpse of Cuba. I took one quick photo of the sunset, then the only thing I was watching at this point were the inside of my eyelids.
A short 45 minute nap later, we were touching down in Fort Lauderdale and back in the United States. Well, unofficially anyway.
Our plane taxied down the runway and was headed towards the gates when the pilot came on and informed us that customs was so backed up from other flights, it was going to be at least 30 minutes until we could be let off the plane and into the airport.
So we sat, and we sat, and we sat. At least on the brightside we had cell service again and more than a week's worth of emails, text messages and social media alerts to scroll through. On the downside however, we did have a connecting flight back to Philadelphia scheduled to leave at 8:30 pm.
If you recall from my former posts, Fort Lauderdale airport may be one of most absurd airports to clear customs in. It can take literal hours to make it through all of the processing zones, putting passengers at major risk for missing connecting flights to their next destination.
I had suggested to both Kelly and Philip that they sign up for Global Entry, knowing we were flying through Fort Lauderdale, and knowing what a mess it usually is.
Kelly decided to go for it but Philip did not.
They finally let us off the plane, and as we made the turn out of the jetway, we saw the sea of people that were waiting in line. I am not even exaggerating when I say there had to have been close to thousand people in line for the regular processing area.
We had a super quick conversation as to how to proceed, if Philip was not able to make it through customs by the time our plane was scheduled to take off. Having traveled with him internationally a number of times before, this was not our first time having this conversation.
I almost had the delight of solo chaperoning fifteen college students back from London on a school trip many years ago. A few students never showed up at the gate. He had to backtrack so far through the depths of Heathrow airport looking for them, that he ended up outside the security perimeter and had to clear everything again. That was back before they installed the fancy face recognition software and clearing security took almost as long as customs in Fort Lauderdale.
Usual rules applied though. Those who make it to the plane get on and get home, and those who do not are left behind to sort out the next flight options solo.
Does it totally suck to leave your fellow passengers stranded alone in the airport? Yes, but, it's much easier to re-book travel for one person than it is an entire group.
Kelly and I left him in the never ending line, and followed the signage for the Global Entry section. If you are unfamiliar, because they have already done a thorough background check on you, you just need to check in at a kiosk rather than have a whole discussion with a custom's agent. Well, usually anyway.
Being Kelly's first time I helped her through the kiosk process, then jumped on the one next to her to start my own check in.
Our form printed out and mine had a big X across it. Her's did not.
Rut roah.
Off she went down the escalator to claim her luggage and exit into the main area of the airport. I was not so lucky.
I took my paper over to the customs agent who informed me there was an issue processing my information and I would need to get in line and speak with a customs agent.
I'm certain I almost popped my eyes out of my head from rolling them so hard. After a full exhausting day of sitting in the Havana airport, I was not in the mood to stand in line for hours then get grilled by a customs agent on why we were in Cuba.
Friendly reminder, this trip was not exactly on the up and up rules wise.
I of course asked the customs agent if this meant I had to go all the way to the back of the line. Thankfully she said no, just go right to the front and you can go to the next open officer.
Hooray!
Wait, no, not hooray.
Cutting in front of a few hundred, equally tired and impatient travelers may end my life. Buuuuut I also paid a lot of money for Global Entry to avoid this whole line thing.
Yes I know, first world problems, especially after where I just spent the week. Still didn't mean I was going to the end of the line though.
I looked at the agent and politely asked her to escort me to the front of the line, so the angry mob didn't come after me with pitchforks. Yes, those were my literal words in my request to her.
She laughed and escorted me over to the front of the line and waited until the next agent was free.
I didn't dare turn around, but could feel the stare down from everyone I just cut in front of.
I handed the agent at the counter my passport and form with the big X across it, and the questioning began.
I have been through my fair share of custom's interrogations over the years, but this was by far the most intimidating.
Agent: Where are you coming from?
Me: Cuba
Agent: (Raises eyebrow and looks up from my paperwork)
Me: (Stares back at him with a nervous smile)
Agent: Why were you in Cuba?
Me: Educational Trip
Agent: Explain
Me: Ya know, the whole People to People thing where you go and learn about another culture.
Agent: (Continues to stare me down silently)
Agent: That's not a thing
Me: It is a thing. We went to museums and learned about the Cuban people and the revolution. (Digging myself deeper in the hole)
Agent: What specifically did you learn about the Revolution?
Me: Um.
Agent: (Continues to stare me down silently)
Me: These guys, Castro and Che, they overturned the government and took over.
Agent: (Continues to stare me down silently)
Me: (Stares back silently, now sweating profusely)
Agent: And?
Me: (Stares back silently and shrugs my shoulders. Seriously total brain freeze.)
Me: Um. That's all I can remember right now.
Agent: You were in Cuba a week and that's all you learned?
Me: No, sir. I just, I'm really tired. We have been travelling since very early this morning. I've barely eaten and I am starving.
Agent: (Continues to stare me down silently)
Agent: (Finally stamps my passport and holds it up for me to take back)
Agent: (Continues to stare me down silently)
Me: Thank you, sir. I will pay better attention next time!
Agent: (Continues to stare me down silently)
Me: (Grabs passport and bolts out of customs)
Phew, I 100% did not think I was going to be let back in the country!
Once I collected my bag, I went in search of Kelly, so we could re-check our bags and find something to eat, that maybe followed standard food storage guidelines.
Re-checking our bags required going downstairs and back into the unsecured area, which was a bit of an eerie feeling. Only a couple of days earlier, in the middle of our trip, a gunman went on a shooting spree in the baggage claim area, killing 5 people and wounding at least 6 others.
We learned about this via texts from family at home, but didn't have much in the way of details on exactly what happened and where in the airport. Security was on high alert though and extra police were everywhere. We saw a couple getting into it with some TSA agents while trying to come through security. Pretty safe to say they weren't making their flights.
With as much as I travel, this wasn't the first time my family has notified me of a close call with terrorism. I was in London just weeks before terrorists set off bombs in the London Tube in 2005. Our hotel was just up the street from the Kings Cross St Pancras station, where one of the trains with a bomb originated from. I used that station and train numerous times during our stay there.
We quickly checked our bags back in, then made our way back upstairs to the departures area to find some dinner and check our flight status. Thankfully due to all of the delays in customs and security, many of the airlines were pushing back the final flights out for the night to give everyone time to get to their respective gates. Our 8:30 pm flight was now leaving closer to midnight.
We were both starving, and now thanks to our very extended layover, we had time to sit down for a proper dinner at a restaurant versus grabbing fast food.
We found a spot near our gate that had tables practically out in the walkway of the terminal, making it easy for us to spot Philip once he made his way from customs.
I ordered a hamburger with your standard toppings and some French fries, and scarfed it all down in record speed.
We hung out at the restaurant for a while chatting and reflecting on our trip, then eventually made our way over to the gate to find seats and wait out the remainder of our time in the Fort Lauderdale airport.
This is around the time things started to go awry.
My stomach started making a lot of churning noises, and I started to feel quite uncomfortable and a bit sweaty. I just chalked it up to gas from not eating all day, and the fact that I just scarfed down red meat and a bunch of greasy french fries, which I rarely eat.
I made a couple of attempts at using the bathroom in hopes that would help things feel better before our long flight, but no luck.
Finally it was time to board the plane. I had no choice but to get on board and settle in for the two plus hour flight to Philadelphia.
As we taxied down the runway for takeoff, my stomach was only feeling worse, not better. The second the fasten seatbelt sign was turned off, I made a beeline for the restroom. I will spare you the details, but sorry to anyone who was seated nearby.
I felt a little better, but not 100%, so I returned to my seat to try and take a nap. The flight attendants came around with drinks and I requested a ginger ale to try and settle my stomach.
I took all of maybe two sips and my stomach decided to revolt.
I climbed over a sound asleep Philip, as there was no time to wake him up and wait for him to move, and went running down the aisle for the thankfully open bathroom and got sick.
At this point I was still in denial. It had to be from the grease. It was definitely not from consuming all the ice in the frozen daiquiris all week or the room temperature sandwich for lunch.
I hung out in the restroom for a while and felt well enough to vacate, but didn't trust going back to my seat. I found one of the flight attendants in the back of the plane and told her I wasn't feeling well and asked if it was okay if I hung out back near the restrooms for a while. She happily agreed and got me some antacids to take, in hopes that would help. It did not.
After spending the better portion of an hour and a half in the back of the plane, standing near the bathrooms feeling horrible, the captain much to my dismay put the fasten seatbelt sign back on to prepare for landing.
The flight attendant, knowing this would be torture for me, had no choice but to send me back to my seat for the duration of the flight.
It was around 2am when we landed, and I still felt horrible. I filled Kelly and Philip in on my not so pleasant flight, that they thankfully like the rest of the passengers slept through.
In an attempt to get me home quickly, we rushed to collect our bags and took the shuttle back to the park and ride where we had left the car, then made the 40 minute drive home. I slept the entire ride.
Kelly dropped Philip and I off at my house, where minutes later, my stomach decided to revolt again. It was then that I decided this was definitely not just from the greasy hamburger and fries.
I spent most of that evening asleep, sitting upright on the floor of my bathroom, leaned against the tub.
Around 6am I sent everyone at work an email that despite having just been out close to two weeks between the New Year's holiday and my week vacation, that I would in fact not be coming in to work that day.
Only twice in the almost fourteen years at that job had I ever had to call out sick. Both times were for the stomach bug.
Yes folks, I was lucky enough to bring home the Norovirus as a souvenir from my vacation in Cuba.
Looking back, it's not overly surprising I ended up with this illness. Traveling in the height of cold and flu season, combined with a complete lack of running water in restaurant bathrooms for proper hygiene, combined with the hordes of tourists coming off of cruise ships and touching the same railings etc. at various attractions. It was basically tempting fate.
Thankfully after about 24 hours of feeling like total garbage, things turned around for the better. I opted to take one more day off of work to be safe, and in the process managed to use up more than half of my vacation days for the year all by January 12th.
Going into this trip, we had no idea what to expect, but the people of Cuba were so warm and welcoming and genuinely made us feel like it was our home away from home for the week. It was also a very eye opening peek into a completely different culture, which as we know is not really rainbows and sunshine for those that live there.
Illness aside, I had a wonderful time in Cuba and would gladly go back if the opportunity arose…ideally with some better language skills!
I hope you enjoyed following along with my journey! Stay tuned as there are many more adventures to come.