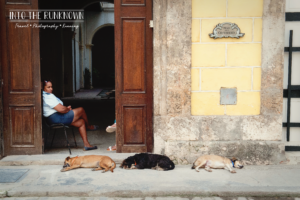 Hello and welcome to my blog, Into the Runknown, a little play on Into the Unknown…which is a REALLY expensive domain name, in case anyone was wondering!
I have been contemplating starting a travel blog for a couple of years now, but never got around to it, thanks in part to a full-time job, two side businesses and oh right, that pesky half and full marathon training schedule. It's a little hard to write blog pieces when you are comatose on your couch after a 20+ mile run.
Friends and family are constantly asking for (okay, sometimes getting unsolicited) advice or tips on various placed I have travelled to. Up until 2017though, most of my trips have been to Europe. While still exciting, Europe already has a plethora of blog posts about it, so no real motivation to add to that. A weeklong trip to Cuba in January of 2017 changed that mindset though. Upon doing my own research pre-trip I was able to find some tips but not much. Being a foreign destination (literally and figuratively) to Americans, there wasn't much out there so we had to sort of pave our own way.
With a small window of opportunity between presidential administrations, there was a mass tourism boom to the small Caribbean country, and people wanted info! How did you get there, where did you stay, how was the food, etc. For the most part, I just forwarded my trip notes to friends in an email to pass along to their friends. Getting this information online though may benefit even more travelers who are lucky enough to make their way to the little slice of paradise, mostly frozen in time.
Now that was over a year and a half ago, so what happened? Life. Life and a a little thing called the Noro Virus. You see, when you bring back the stomach bug as a souvenir from your Cuba trip, you tend you use up all of your vacation/sick days for the year, in the first two weeks of the year. If you are going to have a travel blog, it helps to actually travel places to have something to blog about.
Insert a cross country road trip this summer (2018) with college friends, a handful of destination races and other small trips, and a blog was finally born!
Feel free to check out the about me page which will give you a better idea of what to expect on here and of course feel free to reach out via the contact page with any questions or just to say hello!
Thanks, and Happy Travels!
-Katrina