If you have read the formerly posted piece, Runners On Your Mark, you may already know that never in my life did I think I would run "competitively" (I use that term loosely) again after college, let alone a half marathon. I was more of a mid-distance runner, maxing out at the 6k in college cross country (which was admittedly a bit short for me) and ran 800m and 1500m on the track. Runs over 4-5 miles were complete torture to me, so the thought of doing 13.1 was near impossible.
After a 7-ish year hiatus from regular running, and my weight hitting the highest it's ever been, something needed to change. On a group text with a couple of friends from college, it was jokingly suggested that Jana and I who live in Pennsylvania should go visit Matt who lived in California at the time and run a half marathon while there.
Ha! I won't even run a 5K for fear of embarrassing myself, a half marathon flat out isn't happening! But after many discussions, I reluctantly agreed and we all signed up for the Monterey Bay Half Marathon in Monterey, California, which was taking place November 8, 2015.
Seeing as how we were spending a lot of money for flights, hotels etc. I had no choice this time but to get out the door for runs, one slow painful mile at a time. I loosely used one of the Hal Higdon training plans and started out doing a 3-mile route near my house. It was fairly hilly and required a lot of walking at first, but I eventually worked my way up to a couple of 7-10 mile runs that weren't completely awful.
Finally, after what seemed like an eternity of training, race week arrived! Because we wanted to enjoy our time out there and not tire our legs out before the race, we booked flights that should have gotten us to San Jose two days prior to race day. "Should have" being the key words! To no major surprise, we had delays leaving Philadelphia and in turn missed our connecting flight through Minneapolis to San Jose. Being the last flight out for the night we had no choice but to get a new flight for the morning and book a hotel room, spending the night in Minnesota. Unfortunately for us this meant we were now arriving the day before the race, and still had at least a 3 hour drive down to Monterey to pick up our packets and get settled in.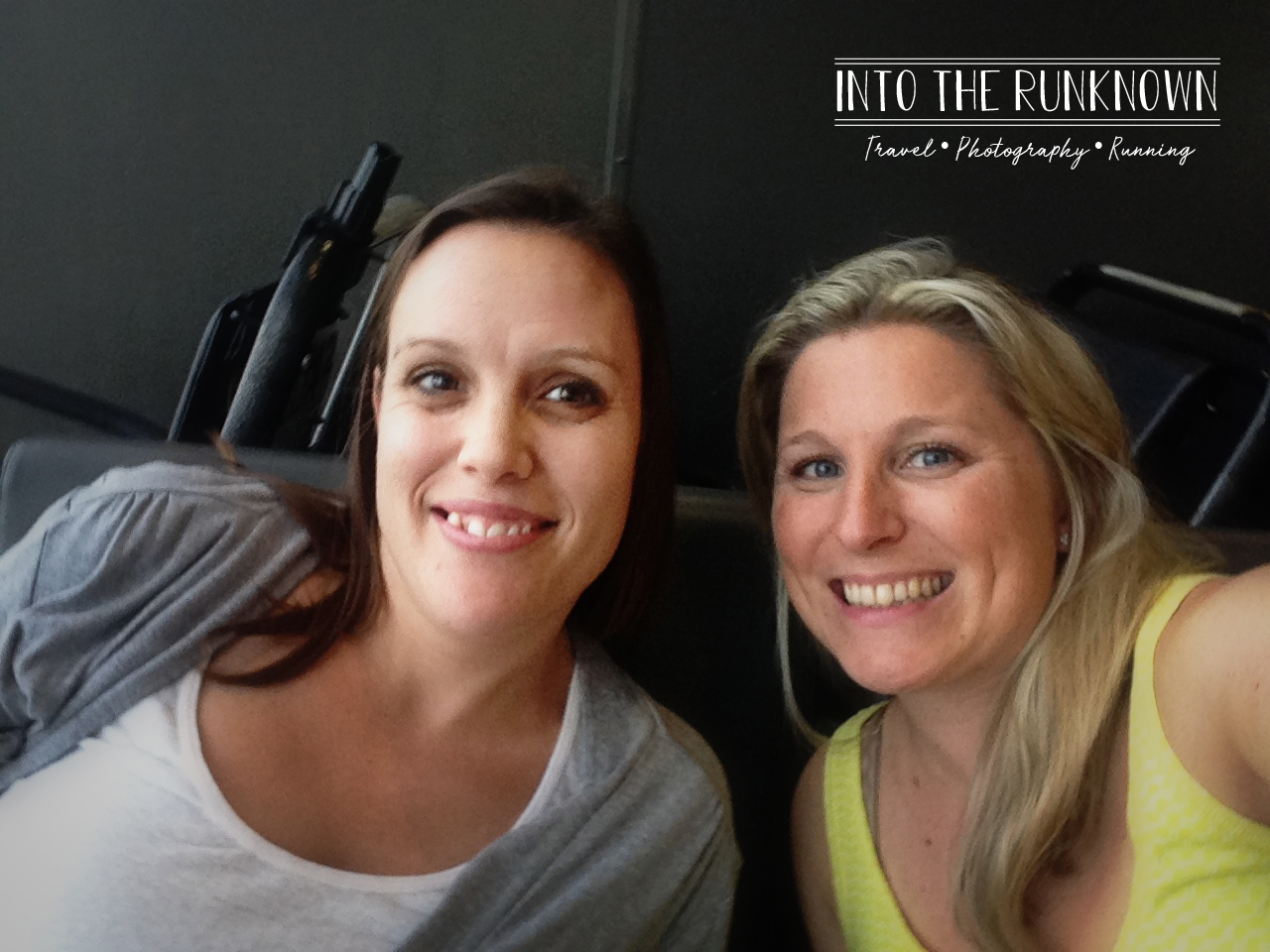 The only option for a new flight that would get us in somewhat on time was a flight to San Francisco, which was technically continuing on to another city. We of course got off at San Francisco and Matt picked us up at the arrivals area to make the drive down to Monterey.
Being crunched for time, we checked into the hotel and immediately left for the race expo in downtown Monterey to get our packets. Like any big race they had everything organized by bib number and shirt size then had vendors in a separate larger room where you could buy running gear or fuel from. It's admittedly been a while since that race, and it was long before I knew I would be doing the 50 states challenge or writing a blog, so I didn't keep good notes on the exact details of these things. I do recall it being super crowded and having a ton of vendors though compared to other races I have run since.
Once we had our packets secured, we wandered around the waterfront area for a while checking out the finish line that was already setup, as well as the pier which had what we lovingly referred to as "mammal swimmies" swimming about. They were sea otters as we learned later – no one could agree on a specific animal type, hence the nickname "mammal swimmies". The pier had quite a few restaurants and gift shops but with most being a bit fancy and crowded, we decided it was best to find a spot to eat closer to our hotel.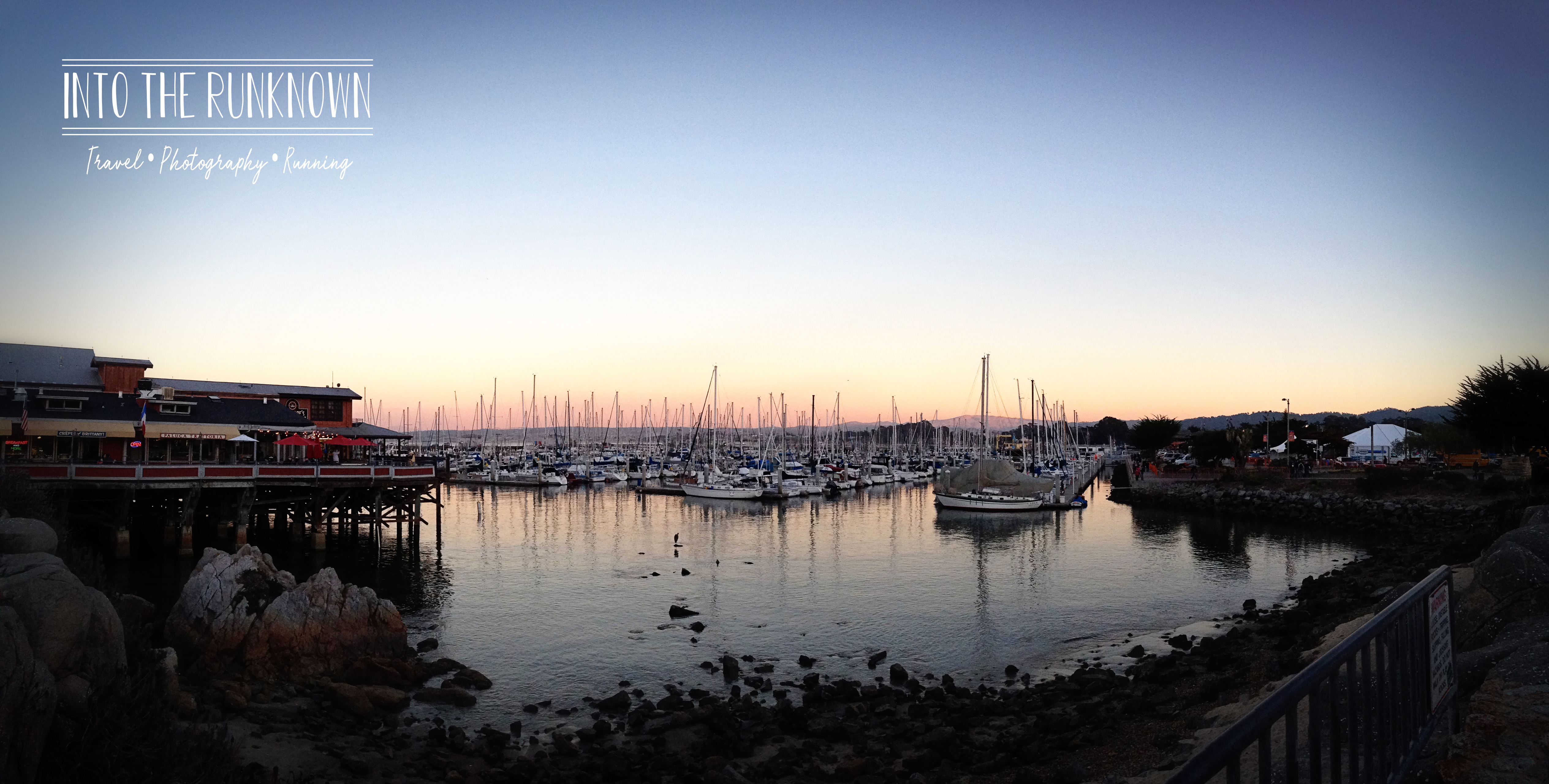 We headed back and found a nice Italian place a few blocks up the street to load up on pasta and get everything ready for the big race the next morning. We stayed at a hotel which was about a two-mile walk to the race. Note I am intentionally not mentioning the name haha! The current Tripadvisor reviews indicate live rodents as a snuggle buddy feature for bed time.
The room setup was nice, as it had 3 Queen sized beds in it. Jana and I shared the back bedroom and the guys (one of Matt's friends signed up to run as well and was staying with us) had their own beds in the area up front, which was great as we were both on East Coast time and the guys were on West Coast time and planned to stay up much later than us.
I don't know if it was the nerves or the jet lag or both, but Jana and I were both awake at what turned out to be 4am local time and could not fall back asleep. We laid in bed for a while until we decided enough was enough and got up and started getting ready…three hours before the race started!
The walk to the start line from the hotel seemed much longer than it actually was. The sun hadn't come up yet and we were tired and disoriented. Thankfully the guys knew the way, so we followed them. I was so nervous I seriously thought I was going to either get sick or poop myself and don't think I even spoke words along the walk. Just head nods or mumbled uh-huh's in response to the conversation that was occurring.
Then it happened, Olympian Kara Goucher came running past us on her warm up at a pace that I maybe could have kept up with in my college days for like 50 feet. We knew from the race brochure that she was scheduled to run, but didn't think we would even see her, let alone have her come running right past us. It didn't at all help the nerves, but was awesome to know I was running the same race as someone who I have looked up to as an athlete and watched race on TV!
As we got closer to the start line, we noticed a theme. Everyone was bundled up like it was about to snow. We had checked the weather numerous times and the forecast was high 40's to start but mid to high 50's by the end of the race. Coming from Pennsylvania we found the level of layers to be hilarious, as this was a good bit warmer than we were used to for that time of year. We all comfortably ran in tank tops and shorts in case you were wondering.
The start area was crowded but nothing too overwhelming. There was a long row of portable toilets right next to the starting corrals with lines that were moving at a reasonable pace for the number of people. We stood in line but despite our insanely early wake up, we were for some reason now cutting it sort of close to the start of the race. With only a few people in line ahead of us the national anthem played and shortly after, the gun went off for the first wave of runners.
Not having run a race this large before, Jana and I quickly decided to bail on the last-minute bathroom break and nervously climbed over the fencing into the corrals, afraid we would miss the start.
Corrals, for you non-running friends who follow the blog, are just large designated areas within the start line area where you group together by your intended pace. The corrals closest to the start line are for the fastest runners and the last corral at the end is for the slower runners or those intending to walk. They are usually marked with pace signs or colored flags, so you know which one to stand in. It keeps the race organized once out on the course, so everyone around you is running at a similar speed. Some races have a wave start, where each corral moves up and waits for its own individual start to the race, and some races have a waterfall start, where the gun goes off and every runner just moves forward at the same time across the start line with no break between pace groups. We had no clue what type of start this race was having, hence our panic to not miss it. Your timing chip doesn't start until you physically cross the start line whether that be with your designated corral or a slower corral further back. As it turned out, this race has a wave start so we would have been fine!
We took a quick selfie to post to Facebook, mainly to show everyone back home we were in fact going through with this charade. Just that quickly, the gun for our wave went off and we were off and running.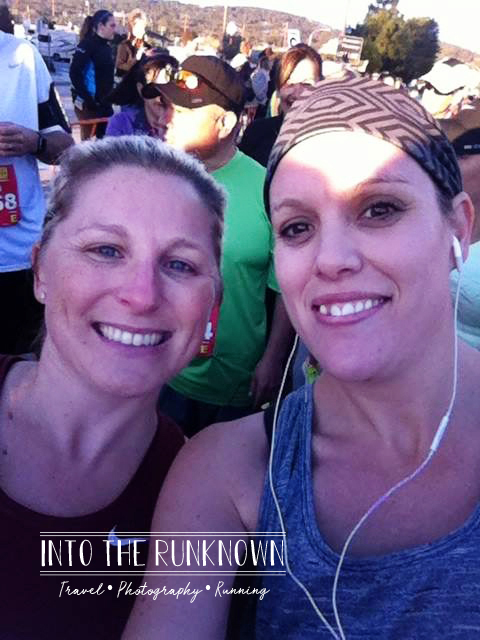 In our early days of planning, a requirement of my doing this race was that we all run the entire thing together and leave no man or woman (aka me) stranded on their own. As training progressed though, it became obvious that was not going to be possible, as we are all "old" now, and don't quite run at the same pace we used to back in our college days (again me).
Within two blocks of the start line I had already lost Jana in the crowd, and the guys, well we hadn't seen them since the walk to the start area. So, this was happening. 13.1 miles all by my lonesome, give or take about 6,500 other runners.
The course is a scenic out and back, starting off with a short loop through a neighborhood past Lake El Estero, which eventually winds its way out to what is essentially Ocean View Boulevard (the road that runs right along the coast). For the next mile or so, you are completely distracted by the view of the bright blue ocean waves crashing along the cliffs to your right, that you almost forget how painful this running this is and that you still have roughly 12 miles to go.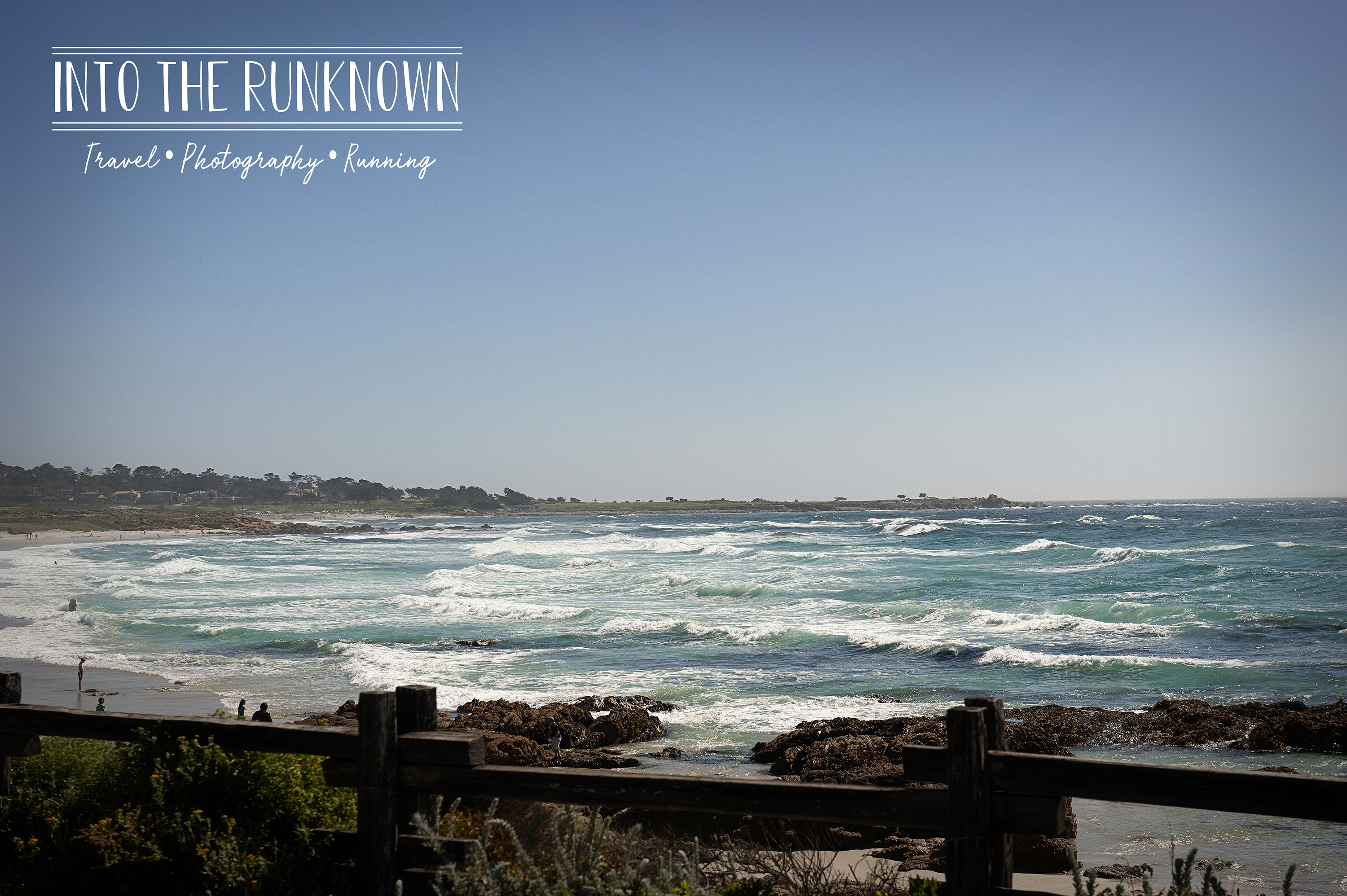 Mile two takes you through the charming Cannery Row area and past the Monterey Bay Aquarium, before you regain sight of that sparkling ocean view again for another mile. Because I had started in a corral further back, I had the delight of elite and sub elite level runners coming back past me as they headed into the finish line while I was only at mile three.
Knowing Kara Goucher was running, I of course immediately had my eyes peeled for her to zoom past, but no sign of her. Wondering for the rest of the race if she had dropped out, I later found out not only had she not dropped out, she won. So yes, before I even approached mile four, she had already ran the entire course and was likely approaching if not already crossing the finish line.
It's a good thing I had all of this to distract me, as this folks is where the reality check of what I had signed up for kicked in. Just shy of mile four you make a left turn UP Fountain Ave. And when I say up, I really mean UP! The majority of the course is fairly flat or very minor rolling hills that aren't super noticeable, but this particular hill was a bit soul crushing if you hadn't been training or prepared for it. It is roughly 75 feet of elevation gain in the span of about four blocks, which is pretty steep. I am happy to report that while my pace did slow down a good three minutes per mile, I did not walk up it! Shout out to Garmin stats for the proof on that!
At the top of the hill we made a right and looped around heading back down to Ocean Drive and our pretty view of the waves. At this point, we were now running out along the left lane of the fairly flat roadway, while hordes of runners who had already made the turn around the cones at mile 7.5 were running back towards us on the opposite lane.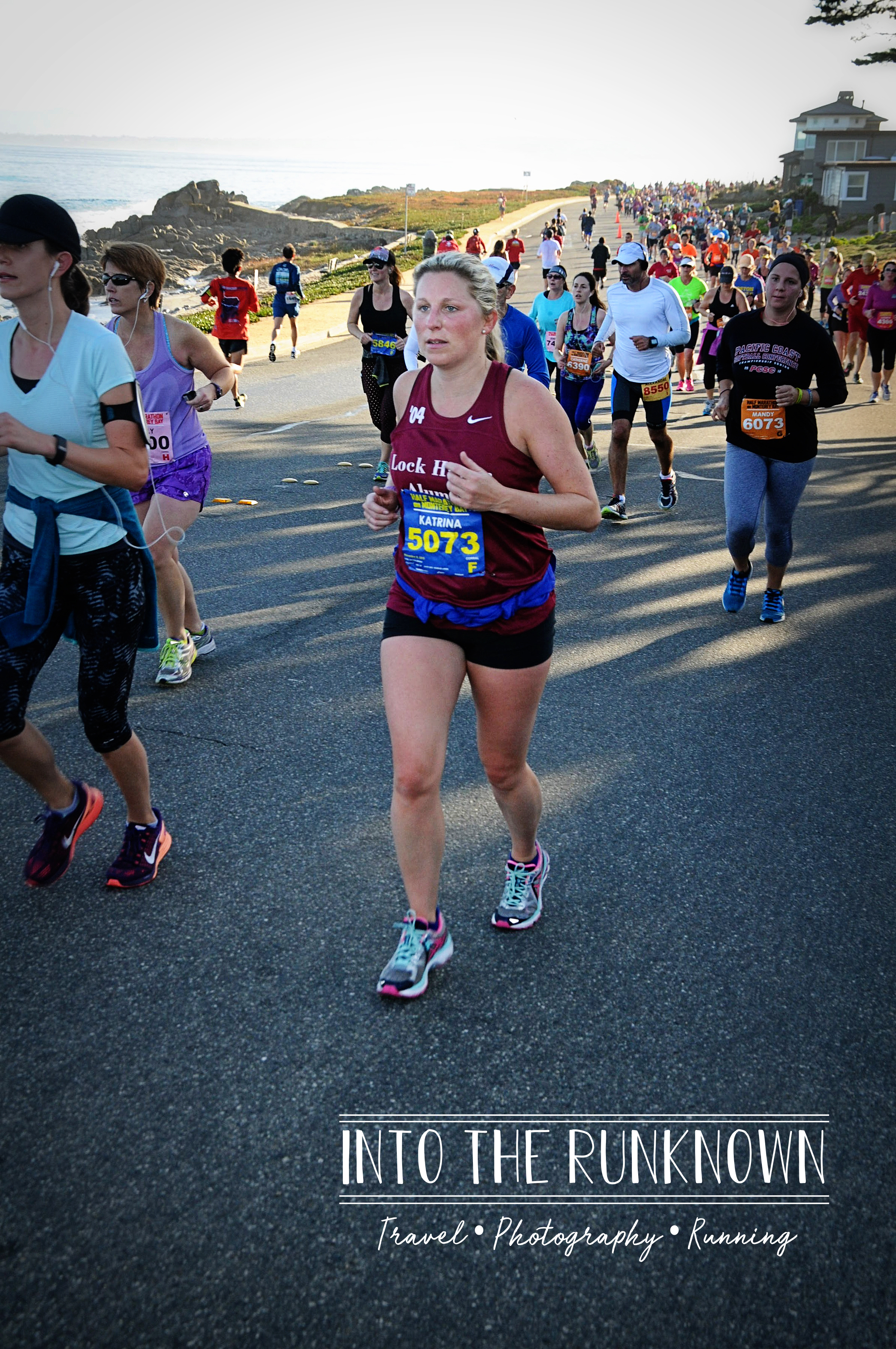 Having been fairly new to the running scene again and very new to races of this distance, I was so insanely un-prepared for this in so many ways, all of which started to catch up with me around this point. For starters, simple things like a pair of sunglasses would have come in super handy, as the late fall, early morning sun was very low in the sky and the reflection off the ocean made it almost impossible to see. Proper fuel (or any fuel) would have also been helpful. While I am admittedly a lunatic and still run most half marathons without stopping for fuel, the lack of proper meals in the days leading up to the race really did me in but I had no choice but to keep moving forward.
After what felt like the longest stretch of never-ending roadway, I finally saw the turnaround point and made my way around the cones and on to the opposite side of the roadway. I was now just over halfway through the race and at least on the side that is heading to the finish line.
I was still plugging along at a decent pace and was very much enjoying the entertainment that was out on the course. It ranged from local high school cheer squads yelling everyone's names from their bibs as they went by to local bands and even a guy playing drums solo. Plus all of the spectators of course!
With the mile 10 flag in sight, I now had a mere 5k to go! My legs were tired though. So, so tired! I thought maybe shutting down the pace to a walk would be a good idea to give them a short break. I was wrong. Your legs and body tend to do this funny thing when you try to push it to run distances further than you have trained for, they stop participating. I quickly realized within a couple of steps that the only reason I was still moving forward at this point was sheer momentum. The pain of what was occurring hit me like a brick wall. My butt tightened up, my legs which I could barely feel tightened up. I made the immediate decision to ease back into a run so I could try and gut out the next 3 miles and finish in one piece.
Going into this race I didn't really have any major goals in my head other than to of course finish, but being a very competitive person, my real goal was to finish in under 2 hours and 30 mins, a time I had come up with based on my pace during long run training. This meant little to no walking and definitely no stopping at the numerous selfie points they had setup on the course. Stopping to take pictures in the middle of a race is a foreign concept to me anyway, but with views like the ones along the Monterey coastline, I strongly considered it (and recommend it if you aren't focused on a particular finish time)!
After a quick glance at my watch and a quick calculation of my pace and how far I had left to run, I knew I was going to be cutting it close and had to keep moving.
I made my way back past the aquarium and through Cannery Row, passing the mile 12 flag, at which point you transition off the roadway and onto to the paved walking/bike trail directly along the water. I knew I was within a mile from the finish line, and the closer you got, the sound of the announcers and people cheering got louder and louder. With the finish line finally in sight, I kicked it up a notch and ran across the timing mats stopping my watch at 2:24:36.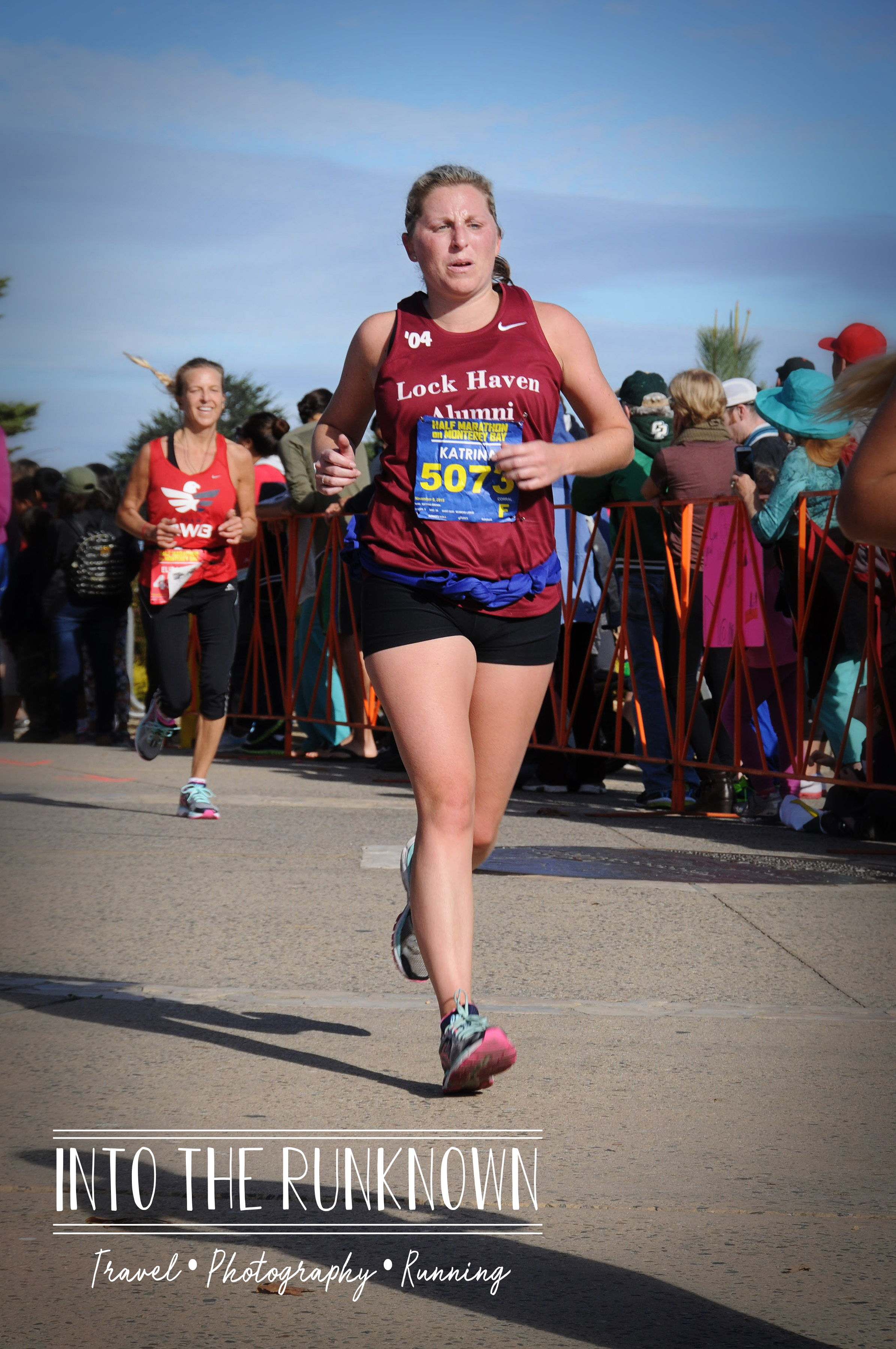 OH. EM. GEE. It happened. I ran my first half marathon and survived to tell the tale!
Almost immediately upon crossing the finish line you are awarded your medal, which I of course proudly put around my neck. I then made my way through the maze of fencing towards the silver Mylar warming blankets and food tent, in search of my friends who had all undoubtedly finished ahead of me.
I was beyond exhausted and wobbling all over the place but happy to have completed such a giant task and within my secret goal time.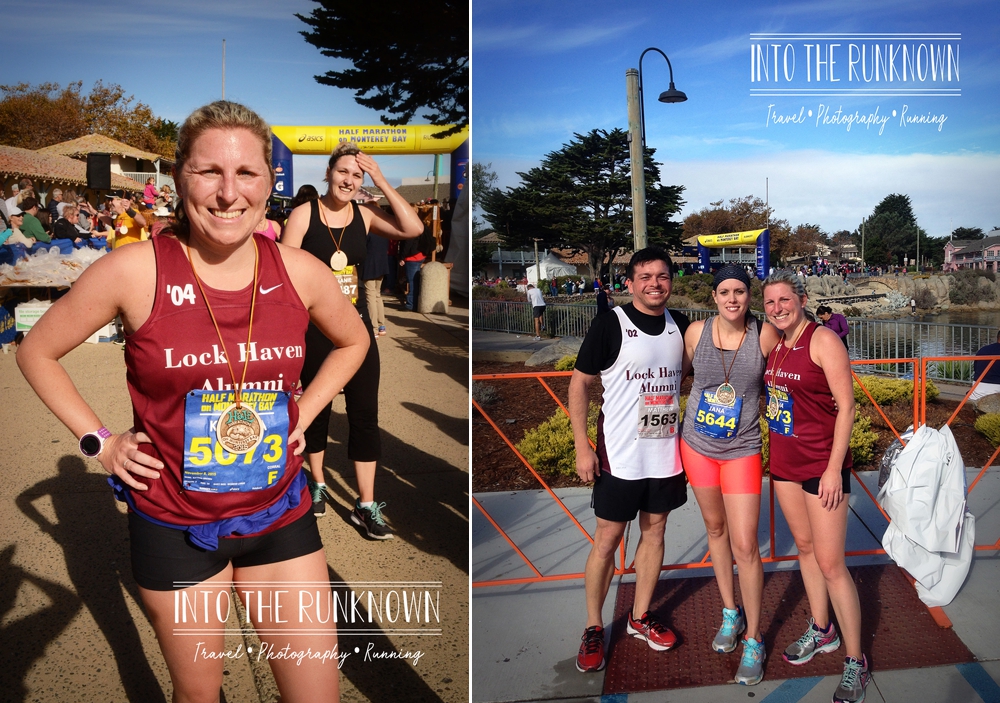 After a ton of photos in front of the finish line area, we started the two-mile trek back to the hotel, shuffling our way through town wrapped up in our warming blankets like tired little burritos. Looking back on this, the two mile walk probably did wonders for our cramping legs compared to had we opted to take one of the shuttle buses back, but at the time it was pure torture. The air temperature was in the low 50's and damp due to a storm approaching. It was a long cold walk back in our sweaty running clothing.
We finally made it to the hotel and took turns getting showered so we could go eat. Because we had requested a late checkout, the hotel staff was already well into the process of cleaning the rooms and had every washer in the hotel running at once. The shower water switched back and forth from ice cold to scalding hot with nothing in between. Let me tell you how much fun that was to quickly maneuver in and out of with tired cramped up muscles. Any further questions on why this hotel isn't being recommended?
By the time everyone was cleaned up and packed to head out, the rain had finally rolled in and it was absolutely pouring outside. Our original plans were to eat lunch then head further south to Big Sur and camp for the weekend, stopping along the course to take the missed selfies, but the sheer amount of rain after months and months of a drought resulted in unsafe conditions and the campsites were all closed. We instead opted to head back up to San Jose and take some day trips from there to Big Basin Redwood State Park, Santa Cruz and San Francisco where we walked across the Golden Gate Bridge.
If you are considering signing up for this race, do it! It was really well organized and the scenery can't be beat! If you are able, stay an extra couple days and check out some of the suggested activities below!
Logistics
Race Website: Monterey Bay Half Marathon
Course Map: CLICK HERE
Race Hotel: I would recommend one checking the list of hotels on the race website that provide discounts.
Airports: San Jose (SJC) is the closest at 70 miles from Monterey with San Francisco (SFO) and Oakland (OAK) 120 miles away. Los Angeles (LAX) is also an option but is a much longer drive at 320 miles.
Things to do between San Francisco and Monterey:
Monterey Bay Aquarium – Monterey, CA
I have been to quite a few large aquariums around the country and Monterey Bay Aquarium is hands down my favorite! The aquarium is two floors loaded with exhibits and includes numerous balconies off the back with breathtaking views of the Pacific Ocean and their tide pool below. Some favorite exhibits include the giant Pacific Octopus, Penguins, Sea Otters and the Open Sea tank loaded with Sharks, Sea Turtles and Stingrays!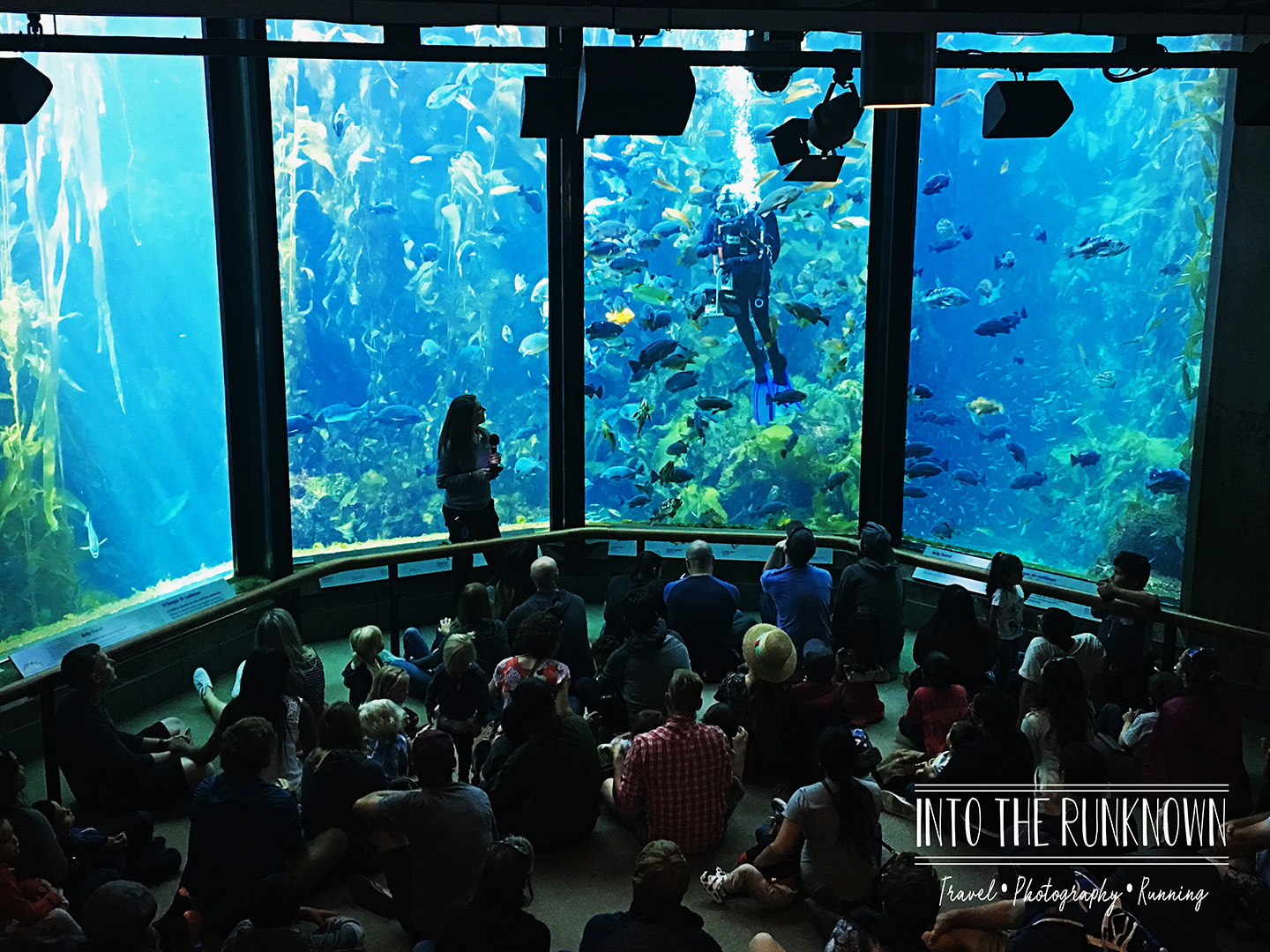 Cannery Row – Monterey, CA
Along Cannery Row, you can find a number of cute shops, cafes, restaurants and bars.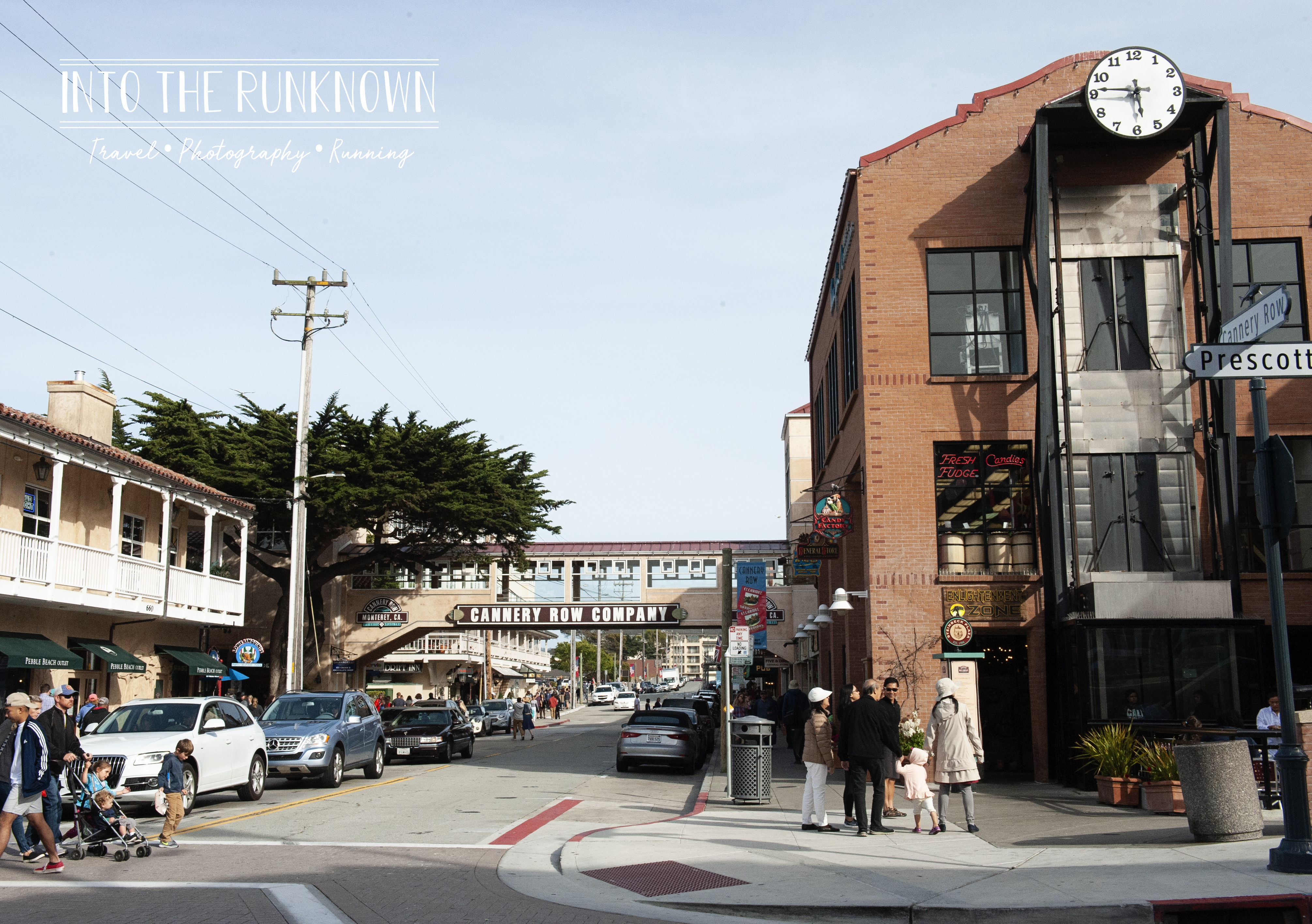 Big Basin Red Woods State Park – Boulder Creek, CA
While it may not be as large and popular as some of the other Redwood parks, Big Basin still has a lot to offer especially if you are just looking for a short day trip. They have a number of trails ranging from a 1/2 mile to 12.5 miles. We typically walk the short 1/2 mile Redwood Trail. It is jam packed with the tallest Redwood trees in the park and and for $0.25 you can buy a map at the trail head telling you about each of the numbered stops along the way. This trail is conveniently located just across from the welcome station. Be sure to keep an eye out for the Banana Slugs!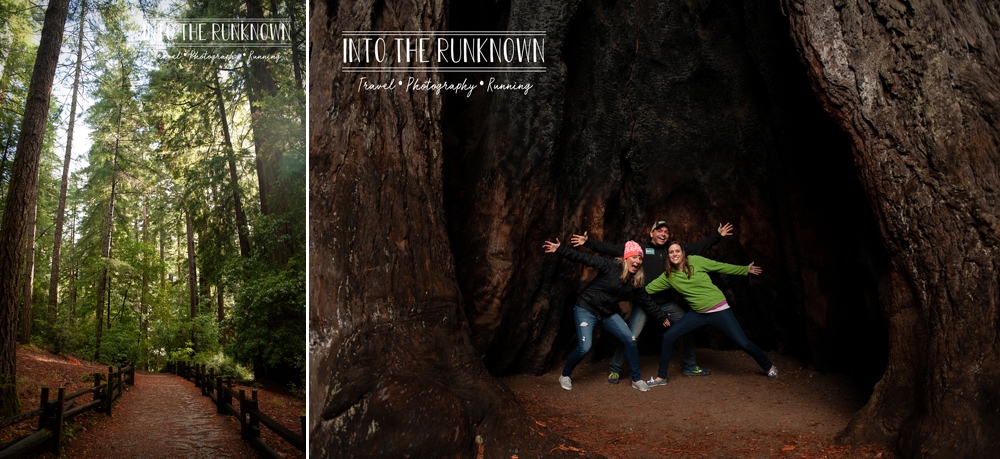 Santa Cruz
Santa Cruz is a typical California beach town with lots of beach homes, a big amusement park on the boardwalk and my favorite, a pier loaded with mammal swimmies aka Sea Lions! They like to hang out under the pier up on the rafters.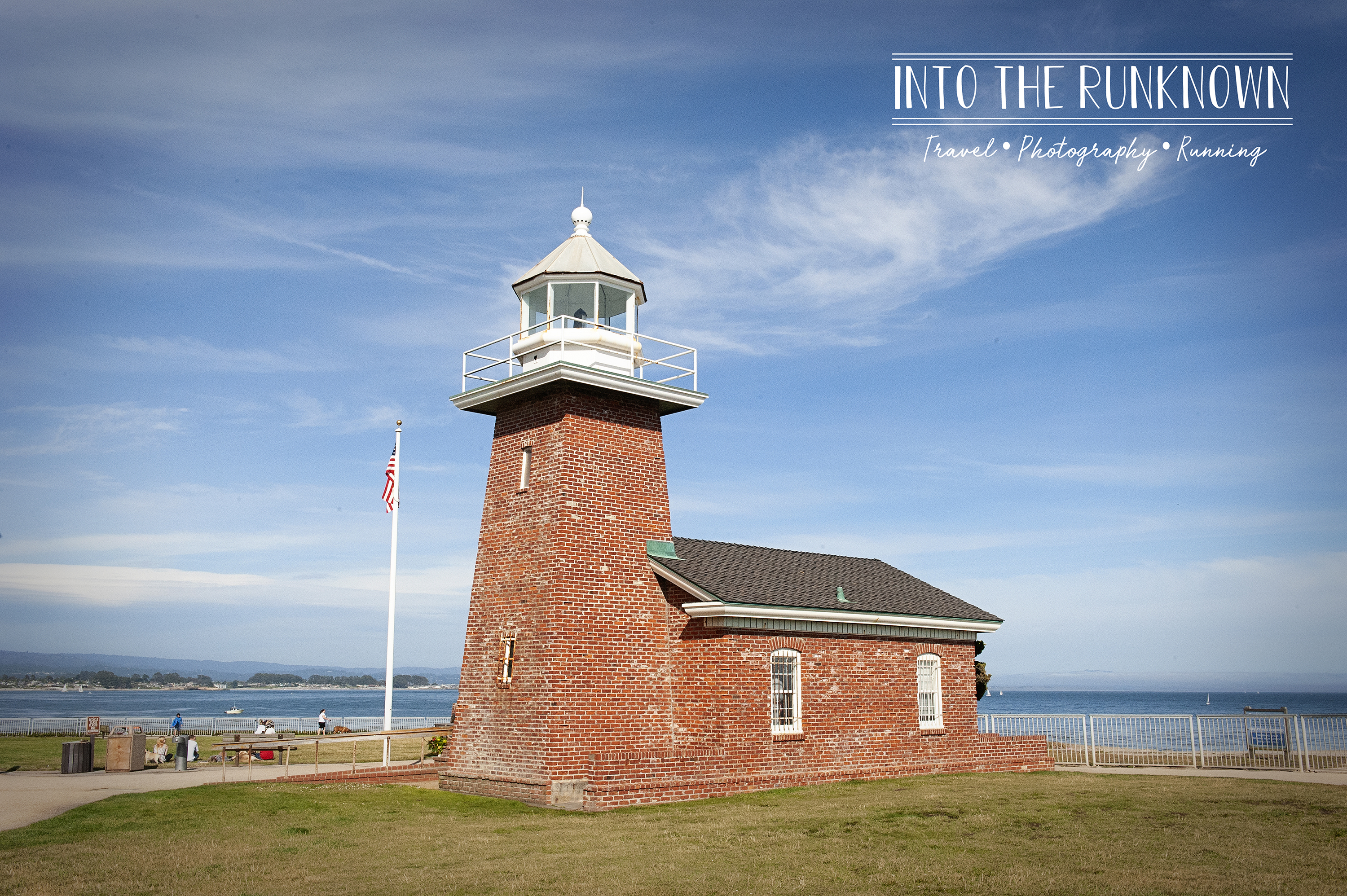 Bike the Golden Gate Bridge
Rent Bikes from Sports Basement and Ride the Golden Gate Bridge – The sporting goods store which is a small chain in the Bay Area is loaded with all things running, biking, swimming, camping, snow sports etc! A trip to one of their stores in itself is a recommended adventure! They have a store located walking, or in this case biking, distance from the Golden Gate Bridge. You can rent bikes from them, ride through the park around the bridge, grab lunch at the small cafe along the water and live out your Full House dreams bike style, with a cruise across the Golden Gate Bridge.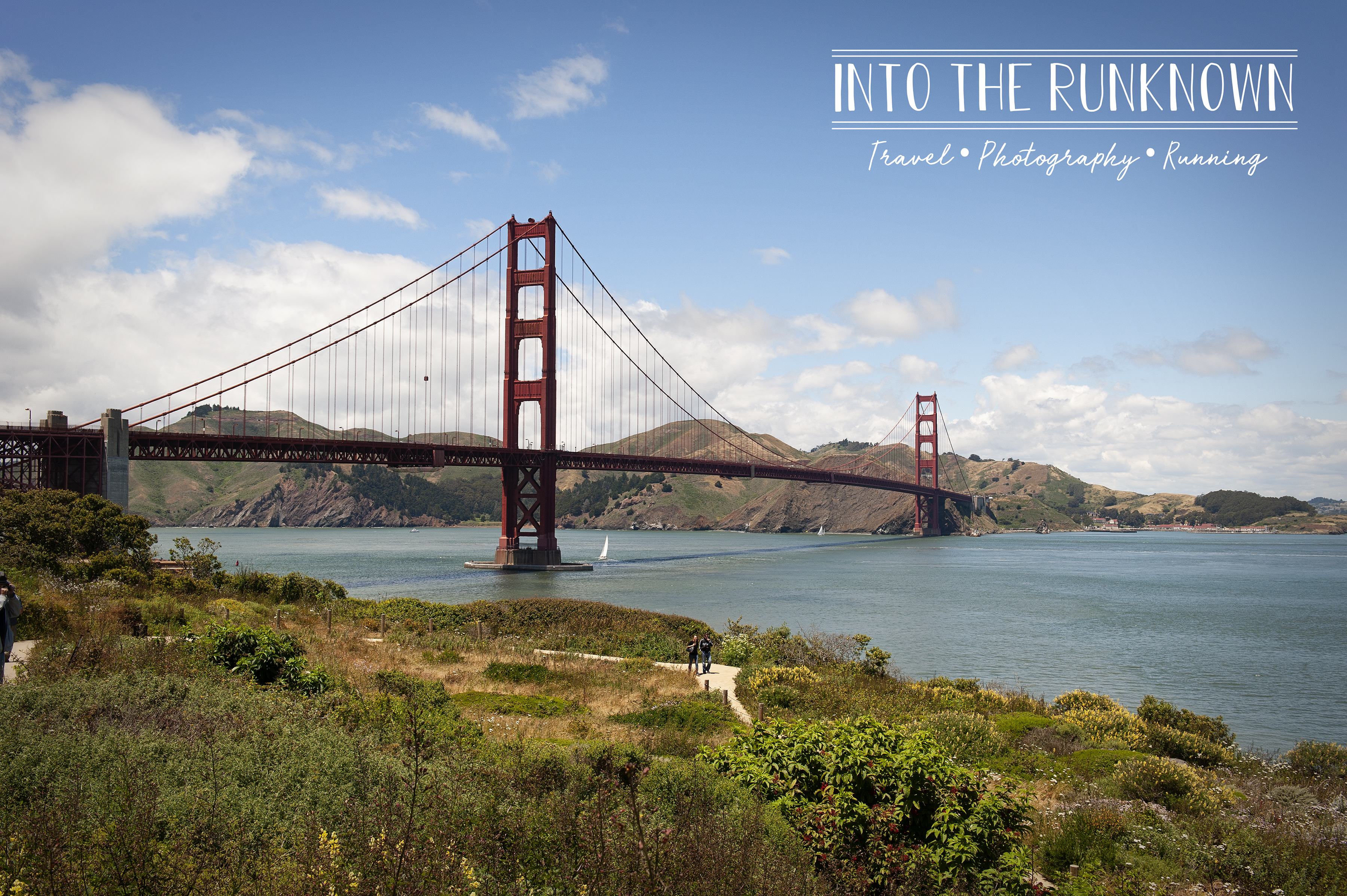 Tour Alcatraz
If you have time, take a tour of Alcatraz! The night tour is especially fun and spooky, just make sure you stay with the group or you could find yourself accidentally alone in the solitary confinement area and running for your mommy!