Health & Safety Note: This adventure occurred long before the current COVID-19 pandemic. Please be aware of, and follow, all local safety and health guidelines if you choose to travel during this time. 
Current regulations for American citizens traveling to Cuba can be found here.
Day four started out with another early wake up. Partially thanks to the Rooster again, and partially because we wanted to take a day trip out to Viñales Valley, where the tobacco is grown and cigars are made. The weather later in the week was looking a bit cold and rainy, so we were trying to cram in all outside activities while it was still warm and sunny.
From our many prior trips to the Hotel Nacional, we already knew they had day tours that left from there each morning to various other areas of Cuba. We stopped off at a local bakery we had found near our apartment, and grabbed some pastries to munch on for breakfast. 
We arrived at the hotel well before the listed tour time on the sign and found the desk to purchase our tickets. Only one problem, the tour was already sold out for that day. Womp womp!
They let us know tomorrow's tour still had availability however, so we each purchased tickets for tomorrow, and came up with a plan B for the day.
Yep, this means you have to wait for one more blog post to learn about all things Viñales Valley, and trust me you will want to come back for that one! 
Philip, who had chosen not to go with us as he was still working through his photography assignment, had planned to be in Old Havana (La Habana Vieja in Spanish) that morning, so we decided to go try and track him down. As we learned from our lengthy walk on day two, Old Havana was a bit of a hike on foot from the Hotel Nacional. Since it was still quite warm outside, we decided to take a taxi there instead of walking. No need to be sweating to death immediately after showering.
Since we weren't able to text or call Philip, we went old school with our search plans. We plopped ourselves down in the shade, across the plaza from the Cathedral de la Habana San Cristobal, and people watched in hopes of seeing him cross through. It took all of maybe fifteen minutes until we decided we were bored and opted to explore instead.
First we backtracked around the corner to see what all of the commotion was along the side of the building. Have you ever seen that iconic photo of a woman against a yellow wall in traditional Cuban clothing, with a big fat cigar hanging from her mouth? I came across it numerous times when researching before the trip, and as a photographer thought to myself, how cool would it be to come across some Cuban ladies strolling the streets with their cigars and flowers in their hair for a similar photo opportunity.
Welp, turns out all you need is some loose change and a camera, and bam, there she is posted in the alley way just like the costumed street performers in New York City or London.
I'm not going to lie, I was a bit heartbroken that it was all a paid setup. Not heartbroken enough though to walk away without taking her photo!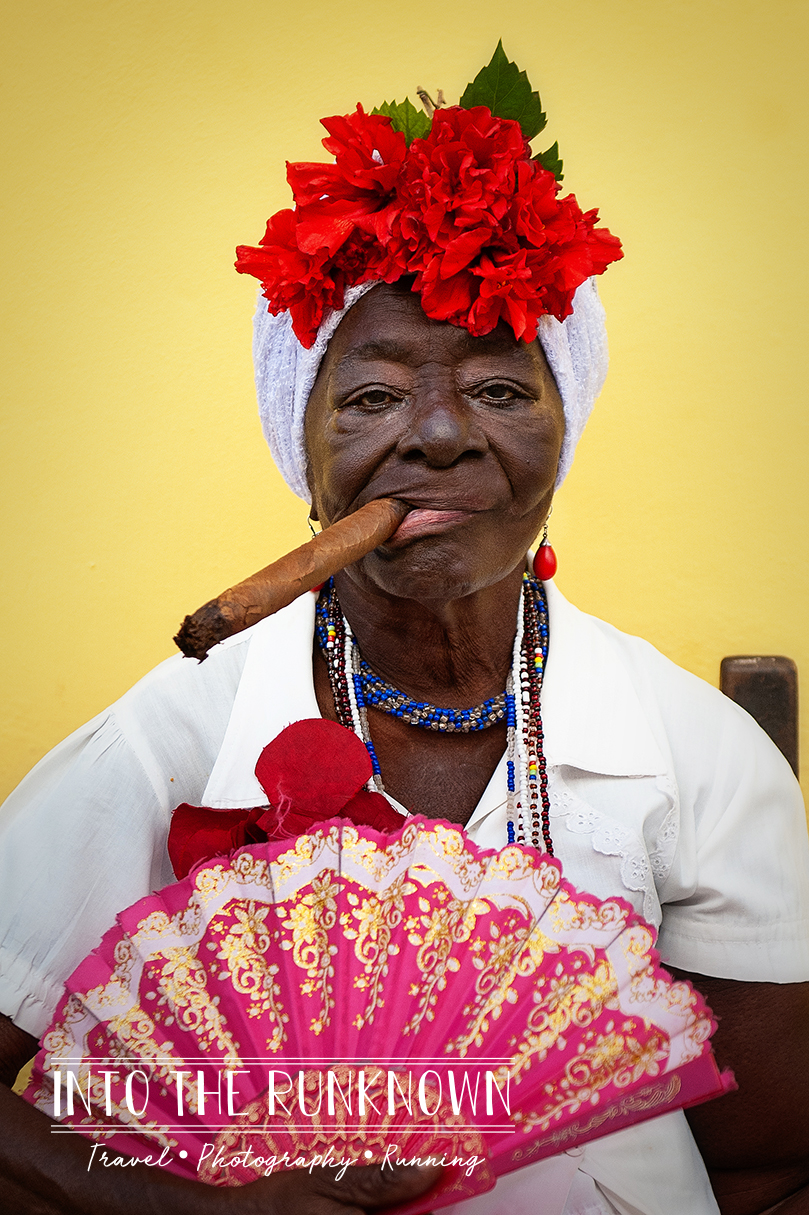 We walked back towards the Cathedral and still no signs of Philip, so we decided to go in and take a quick tour. As I quickly found out by way of polite yelling and charades, my shorts were too short to be in the Cathedral.
The gentleman working the entryway handed me a silk wrap to make a skirt out of and cover my bare legs. This of course required a photo of me laughing hysterically, with my new shiny green skirt.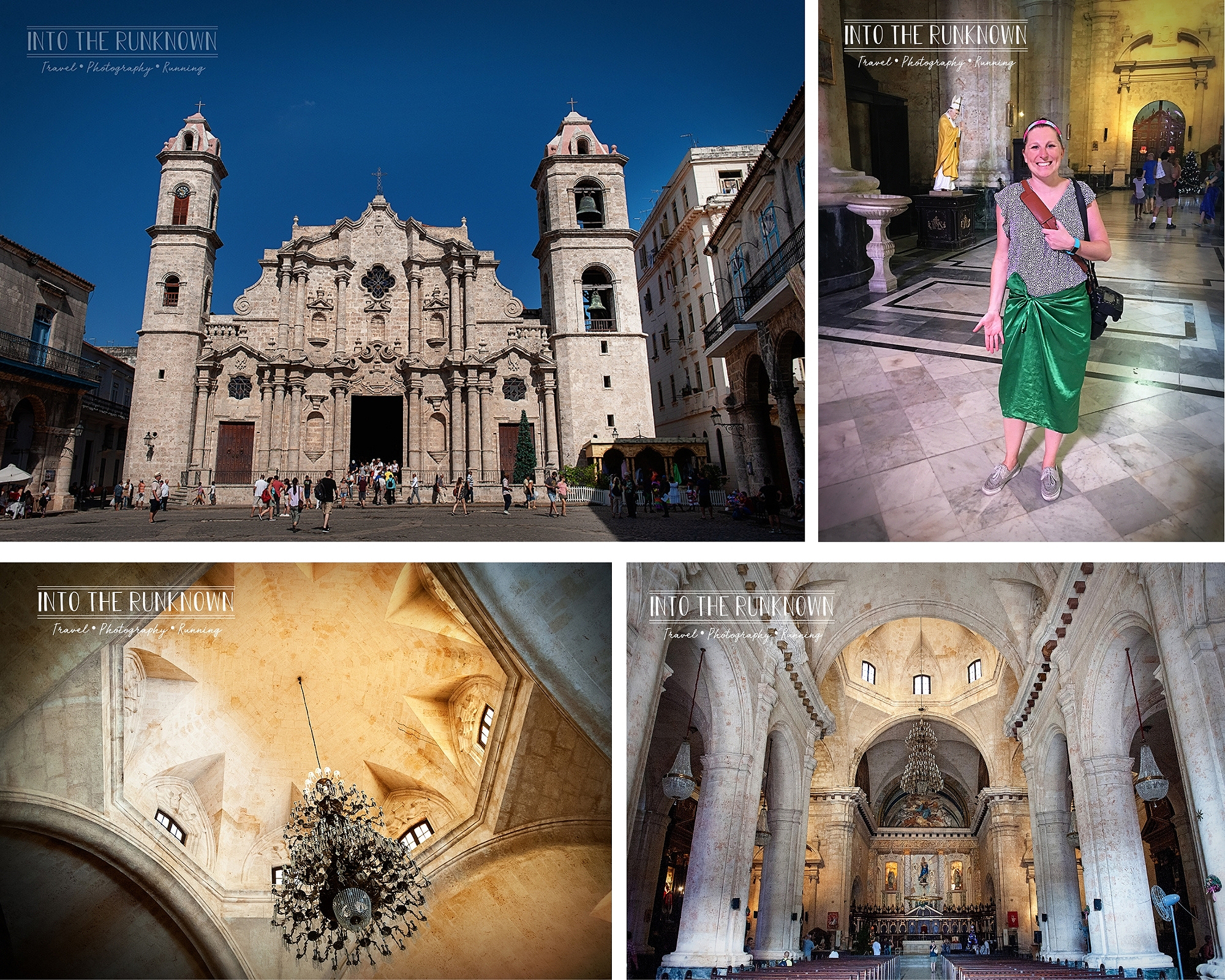 It was pretty, but a quick loop through was enough for me, then I was back outside. Not being a religious person, I can appreciate the architecture of big cathedrals, but have no real investment to hang around for a long period of time. 
They did have an option to climb the bell tower, but we were trying to be quick so we didn't miss Philip walking past. Well, we should have gone up the bell tower, because guess where Philip was!
We ran into each other shortly after in the square, and explained to him that our Trip to Viñales was now delayed a day, so we were going to explore locally instead.
The steps we had been sitting on earlier just happened to belong to the Museo de Arte Colonial, so we decided to check it out. We honestly had no idea what this place was, but for a measly $3 pesos we were willing to find out! 
From the outside it didn't look like much, a tall stone facade with an arcade (covered walkway with decorative arches and pillars) and tall dungeon-like wood doors with wrought iron lamps on either side of them. Inside however was a different story! The building, originally built in 1720, was quite elegant.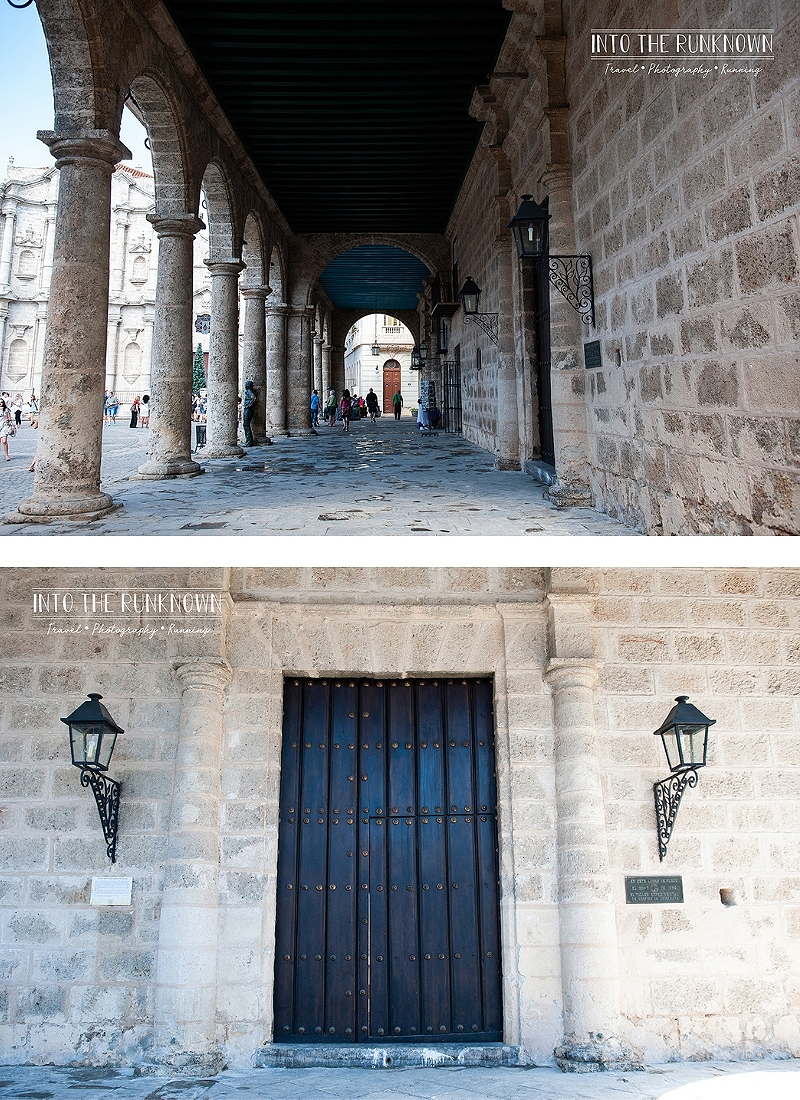 The first part of the tour was self guided and led you through a couple of rooms with grouped displays of architectural pieces from old homes. One room was old painted wood doors, another had ornate door knockers and decorative brass keyhole covers. Another was filled with large stained glass windows that they had lit from behind. The last was filled with old brass lanterns, that would have likely been either lit by gas or candle light. I think it was meant to be a bit of a look into the past.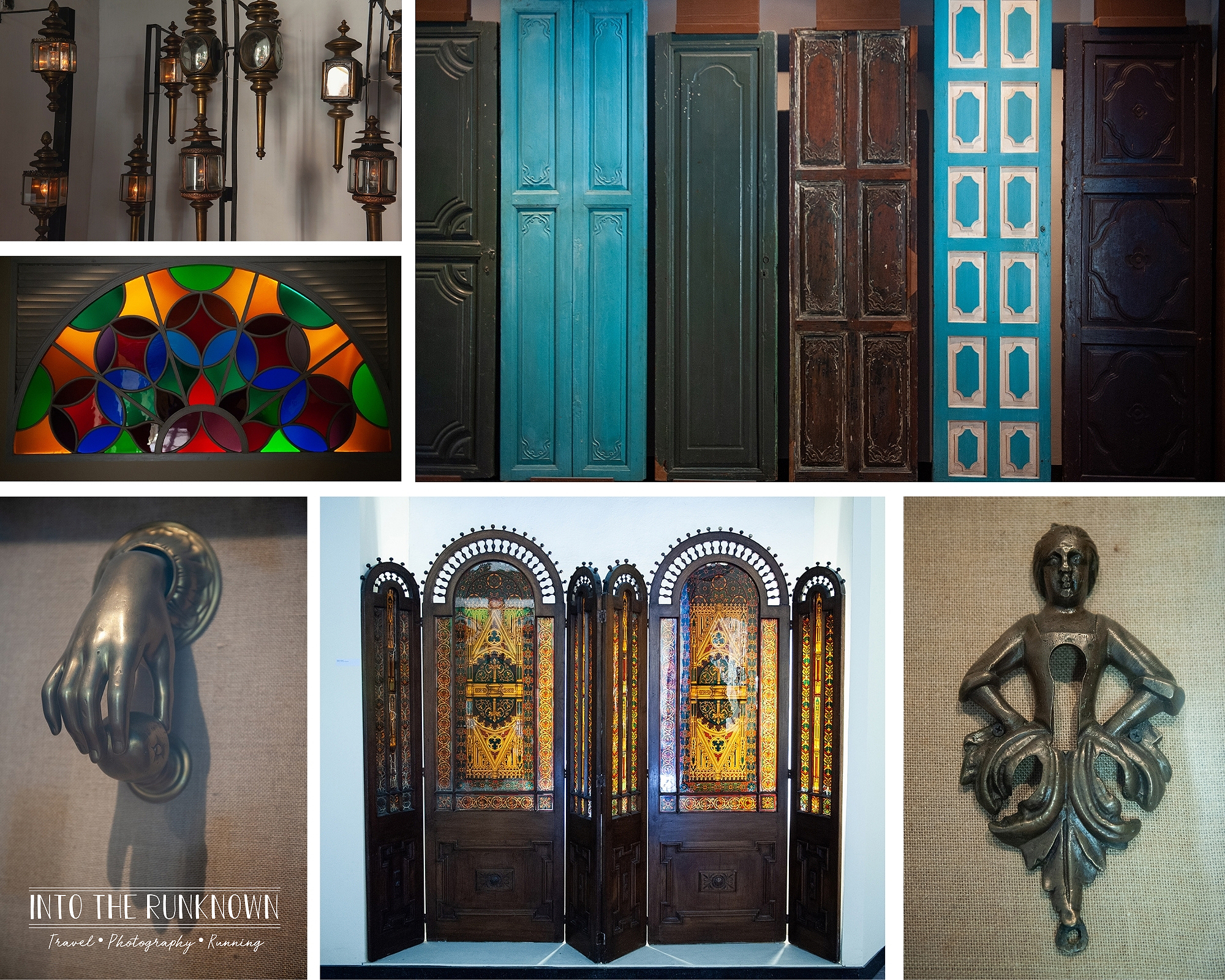 Those couple of rooms alone were already worth the $3 entry fee, but the tour only got better from there!
We exited the self tour area into the center courtyard, and were a bit blown away at how well maintained and fancy it was. This was completely unexpected, considering how run down all of the other buildings in that part of Havana are. 
The exterior walls were a combination of old weathered brick and a bright sunshine yellow paint. The wood ceilings above the walkways, as well as other wood trim, were all painted a bright blue, similar to the sky that was visible from the center.
Unlike other buildings around the city, there was no noticeable cracking or crumbling of walls, and the courtyard garden was very well maintained. It felt a little bit like stepping through the spare wardrobe into Narnia, minus the lions of course.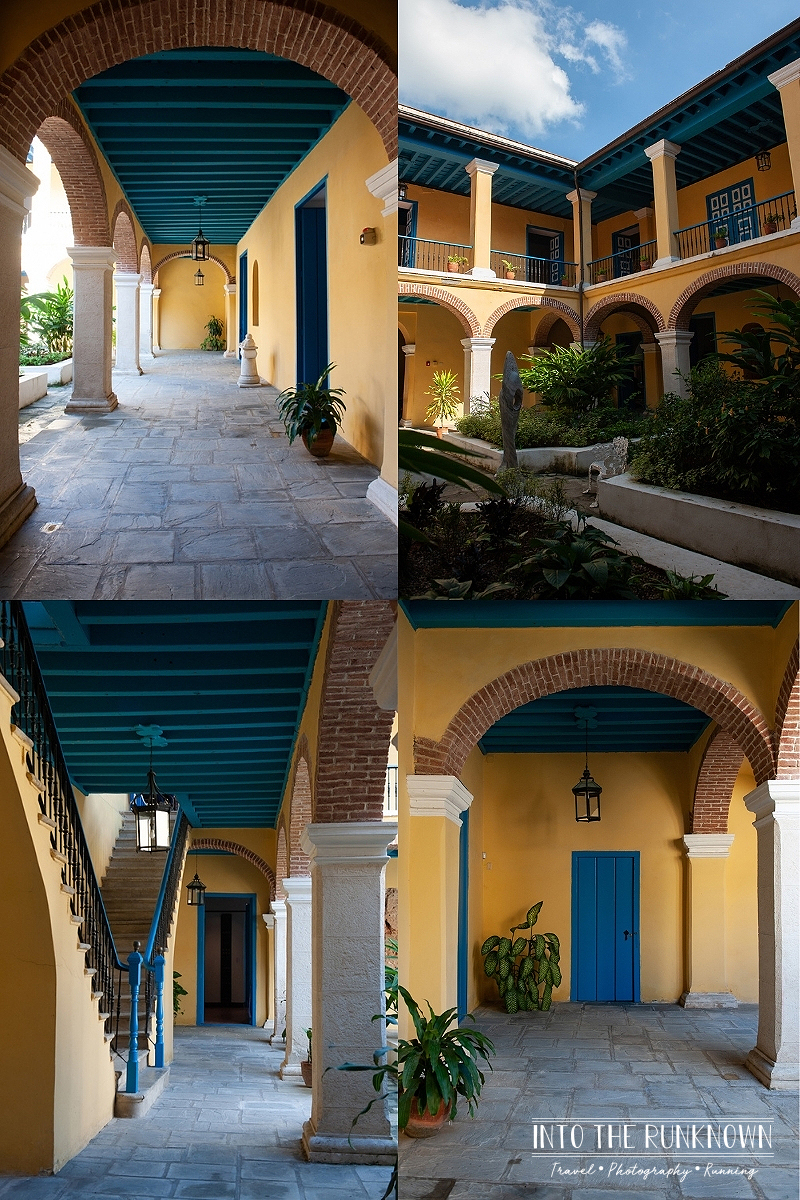 We were quickly greeted by a woman who instructed us to head upstairs to the second floor, to begin our tour of the home. As it turned out, this entire building was the former home of a royal count early on, then a wealthy cigar family in more recent years. This quickly explained the extreme level of luxury compared to the surrounding buildings. 
Another woman met us at the top of the steps with a big smile on her face and asked us what language we spoke. She wanted to make sure she gave the tour in the appropriate one. We of course said English, and she politely explained she spoke some, but not much, and would do her best to make sure we understood the tour.  
She led us around the various rooms which were all lined with very expensive looking ornate vases, clocks, statues and hand carved wood furniture. Despite the language barrier, she did an amazing job of explaining things and this ended up being one of my favorite museums in Cuba!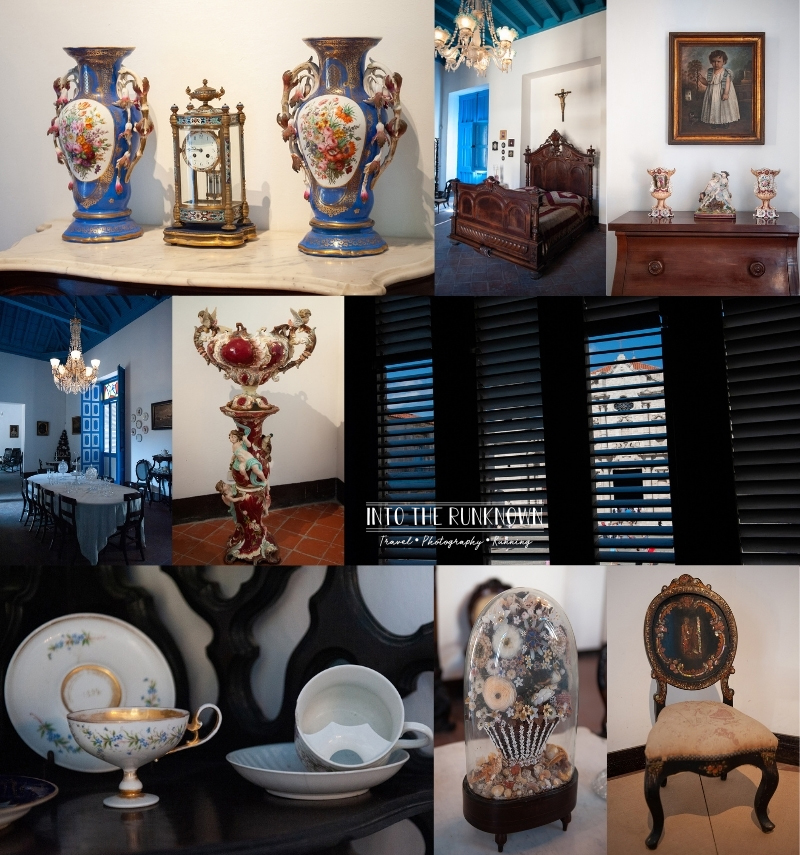 After the museum, we parted ways with Philip, as we both were on a mission to take some photographs, but in different areas of the city.
Kelly and I strolled down the Empedrado where la Bodeguita del Medio resides, the most popular mojito bar in Havana. It's claim to fame is allegedly having created the first ever mojito, and that Ernest Hemingway and a number of other well known names used to hang out there.
It's honestly a complete tourist trap and totally packed to the gills at all times, but still fun to walk past for a quick peek. Both the inside and outside walls are covered with signatures of people from all over the world who have visited.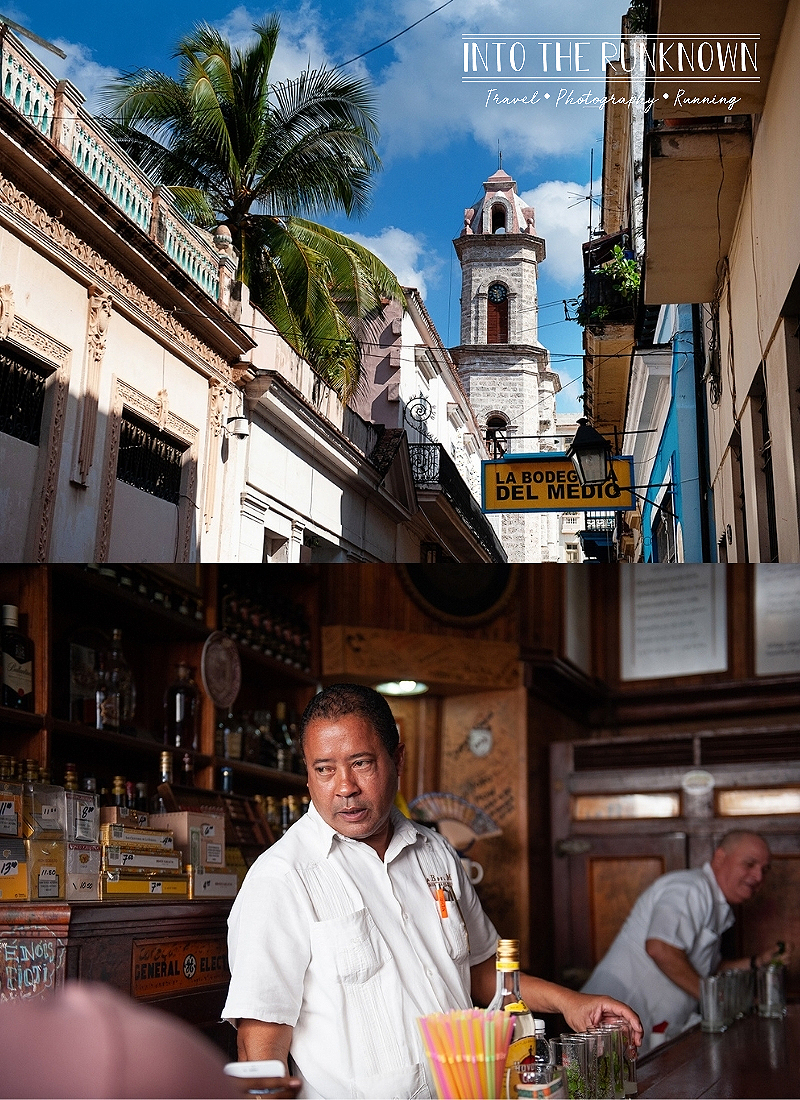 We were getting hungry and decided to try and find a restaurant to get lunch, and maybe a mojito that didn't require being crammed in like a sardine to enjoy.
We wandered into a little area nearby that is part of Old Havana and had an abundance of restaurants. A large pink building had caught our eye on an earlier stroll through. It is the Hotel Ambos Mundos and is also famous, thanks to Ernest Hemingway who lived there for about seven years in the 1930's. Built in 1924, it has maintained its 20's vibe, even in current times.
The restaurant was lined with dark wood, emerald green floors, and grand pianos, that sat in front of the floor to ceiling wood shuttered doors which were all open, to let fresh air and sunlight in.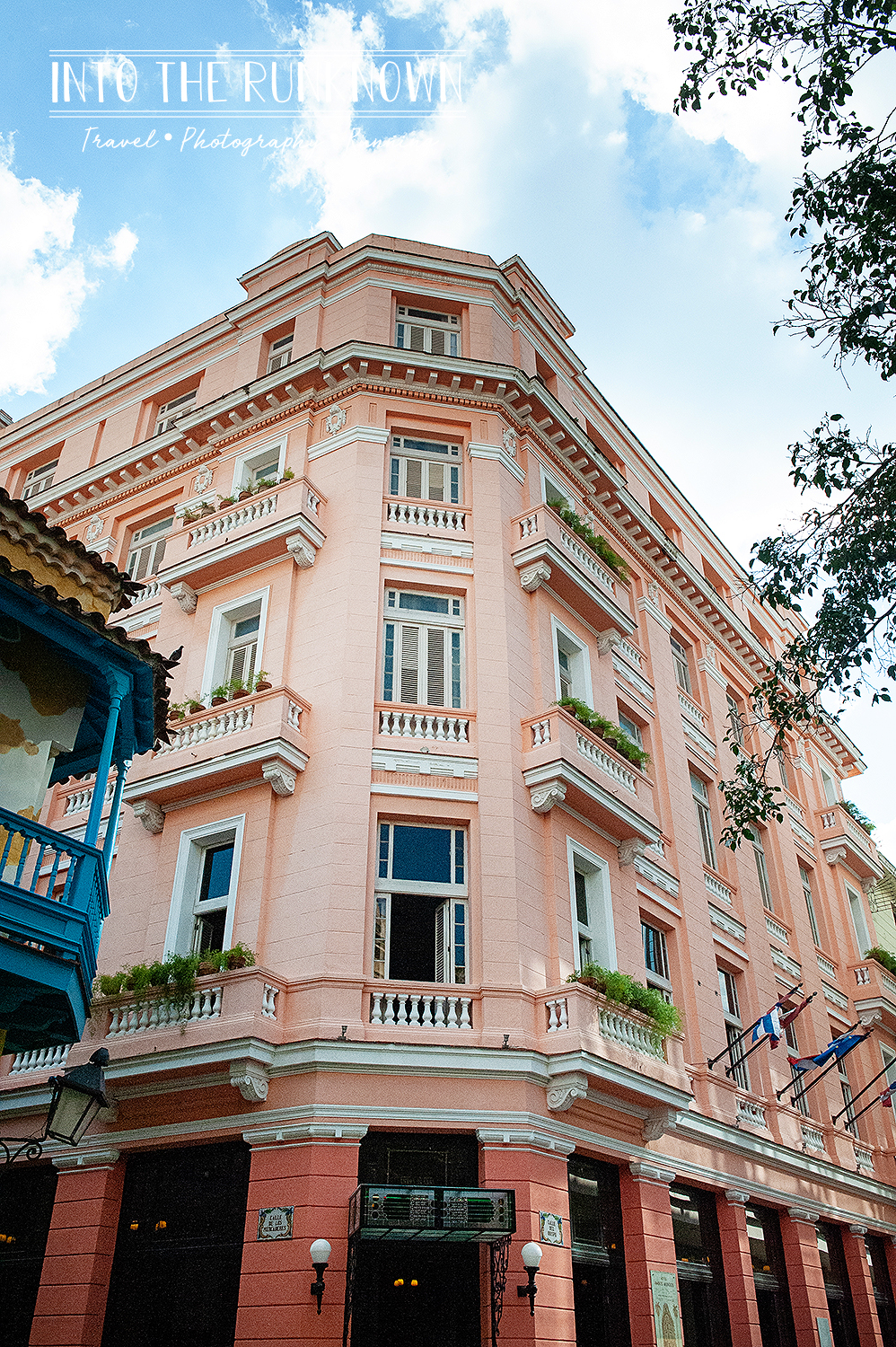 That unfortunately is about where the excitement ended. We both ordered a cuban sandwich and mojito, because when in Rome, right? The sandwich was okay. Not great, just okay. The mojito was awful though. Honestly one of the worst I have ever had in my life. We will call this lesson number one on avoiding the touristy restaurants in Havana.
We finished up and took turns using the ladies room before continuing our stroll. In typical fashion though, the ladies room had an attendant who you paid, and received about 4 squares of single-ply toilet paper.
Not quite sure how it works if you needed to go #2, but I am glad I didn't need to find out.
Also in what we were finding to be typical fashion, there was no soap to wash your hands with. Yep, restaurant bathroom, no soap. We can add this to the post trip list called "ways I likely contracted the Noro-Virus while in Cuba". Thankfully I had packed a ton of hand sanitizer wet wipes, and used those to wipe my hands down back at the table.
After our lunch adventure, we continued to stroll around Old Havana in some of the more residential, less touristy areas. This led to a good amount of just hanging out on sidewalks, taking photos, and people watching.
As previously mentioned, I was a bit nervous at first to take strangers photos on the street. As the trip went on, I became more comfortable and even began asking people if I could take their photo. Since I don't speak Spanish, this usually occured by pointing at my camera and then pointing at them and flashing a big smile. I was surprised at how many people agreed!
While I could have just taken people's photos close up without their permission, that is quite rude to do, and is never suggested!

We had decided that we had enough people watching and wanted to keep exploring other areas. We decided to head east towards the water into a more touristy area. This is where the cruise ships are docked and we knew there were more museums to explore. 
During the stroll, we came across a couple of large storefront windows on calle Obispo. They were filled with old pharmaceutical glass vials and jars, so we stopped to take a look.
Through the window you could see a wall full of old ceramic jars on shelves and people inside. We realized the front door was open, so we headed in to see what this place was. Turns out it was an old pharmacy that is now a museum.
It is called the Drogueria Johnson and opened in 1914 by Dr. Manuel Serafin Johnson Larralde, a pharmacist who started his business in 1886.
He opened it as a way to give back to the community, by selling the pharmaceuticals and other products they made, to people in the neighborhood.
We were very intrigued by the Johnson name and wondered the whole time if there was a relation to Johnson & Johnson here in the United States. As it turns out, there is not, just coincidentally the same last name.
The museum was pretty neat nonetheless, and worth a quick pop in, as it is free admission!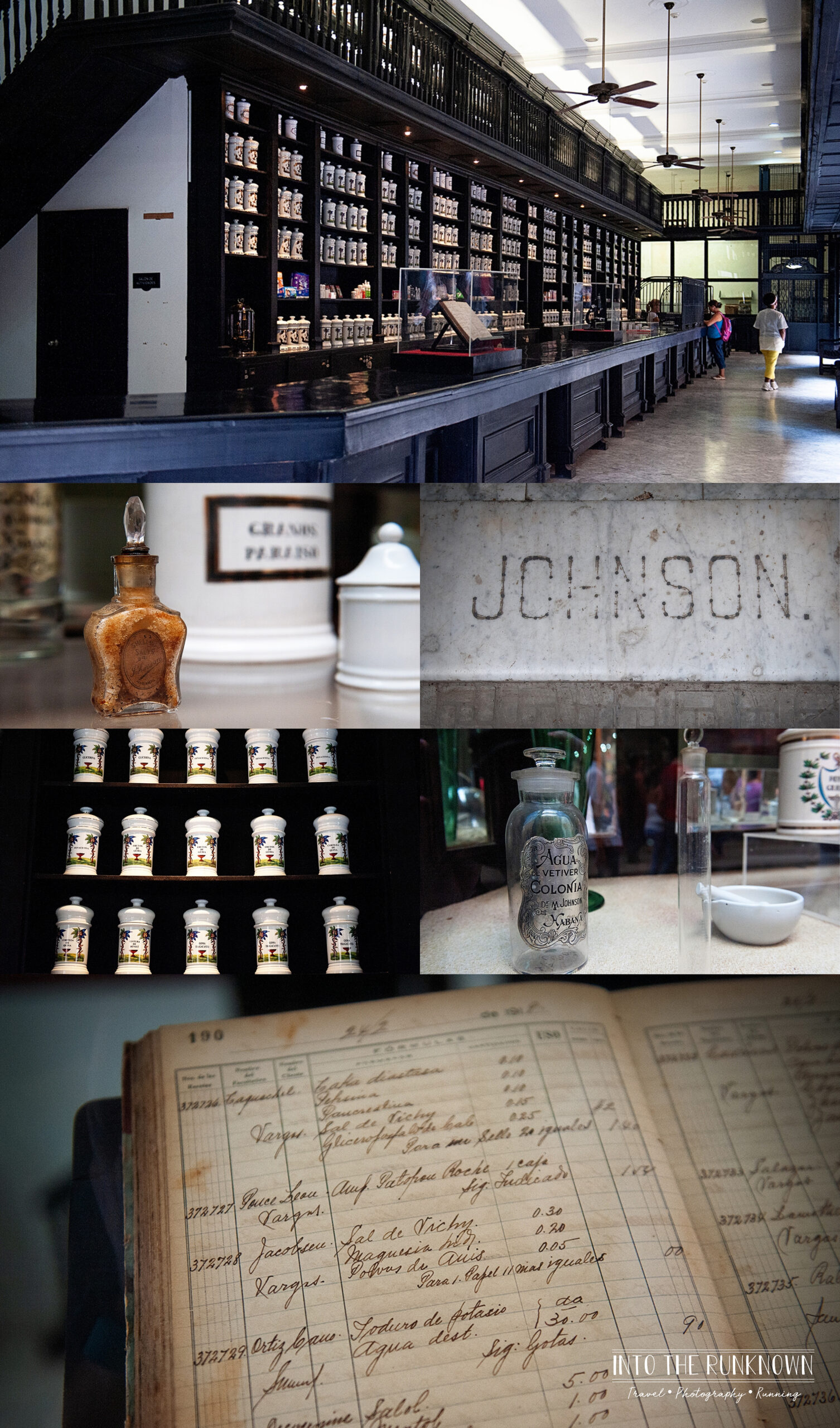 We kept walking down calle Obispo, as our real destination was Plaza de Armas, the oldest square in the city laid out in 1519.
The square was originally called Plaza de la Iglesia, named after a church that stood there until 1741. A bolt of lightning hit the mast of an English war ship that was sitting in the harbor across the street, it exploded, and the mast came down and destroyed the church.
The square was re-named Plaza de Armas, which roughly translates to Parade Ground. The square was used regularly for military parades and concerts, hence the name.
It was quite pretty, with extensive landscaping and wrought iron fencing along each of the paths, which all met in the center, at a tall statue of Carlos Manuel de Céspedes.
Carlos initiated the Cuban War of Independence from the Spanish Government in 1868, and in the process, declared freedom for all of the slaves working on his sugar plantation. 
We wandered up the sides of the square to see what the various fancy buildings were. The one that caught our eye most, was the Palacio de los Capitanes Generales.
It is a very historical building, having been home to 65 Governors between 1791 and 1898. It now houses the Museo de la Ciudad de la Habana, or the City of Havana Museum in English.
Sadly we arrived just after 4:30pm, the final entry for the day, so we were only able to get a quick peek at the courtyard. 
When walking around the city, I had gotten in the habit of looking down, as their streets and walkways were quite worn down and uneven. Upon strolling back out to the street, I noticed the road way was paved with blocks of wood, instead of stone like the other old streets.
It turns out this was done intentionally to try and soften the noise of the carriage wheels at night, as to not wake the sleeping Governor.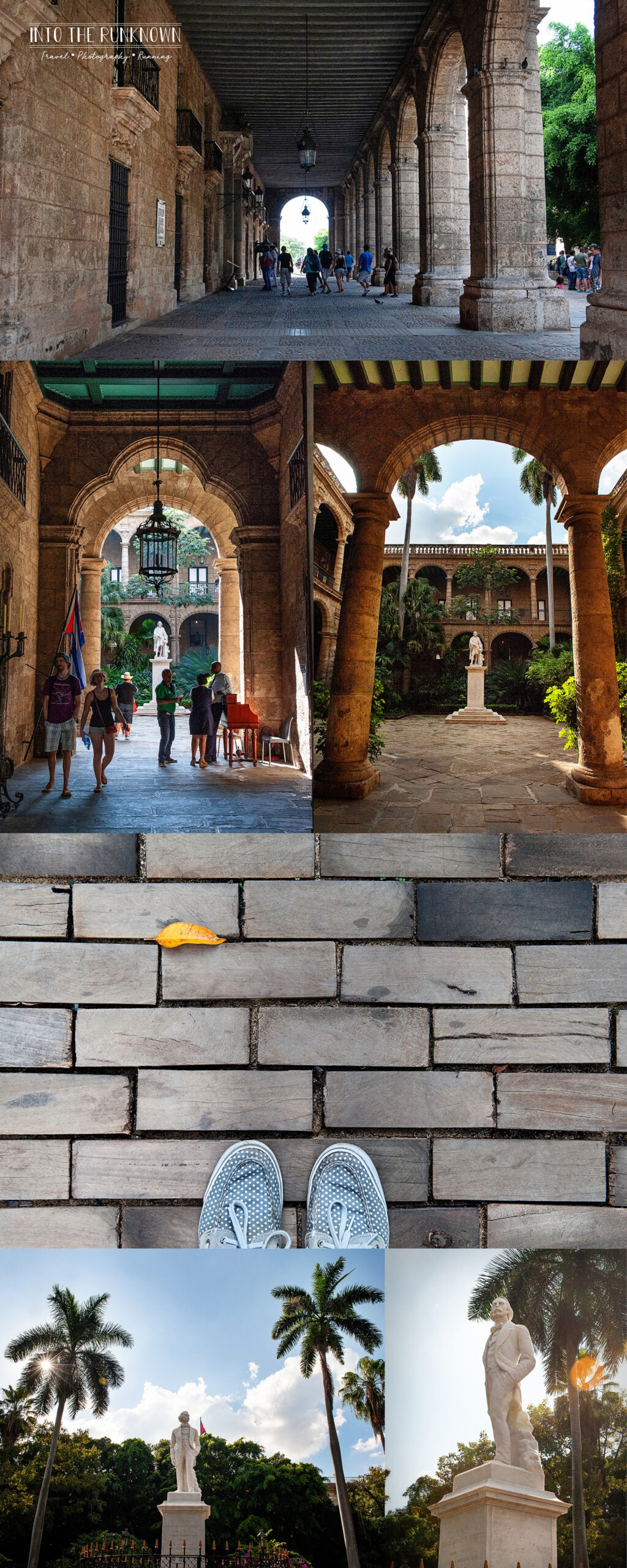 On the far side of the square was a large stone building that was clearly a fort. If it wasn't a fort, someone just really liked to decorate with cannons and a drawbridge!
While taking photos of the cannons and drawbridge in the entryway, we heard what appeared to be a large group of people in the street singing and playing music.
Since we had not yet paid to go in, we decided to go see what was happening and found what appeared to be a small parade.
 It turned out it wasn't a parade, but was actually the Gigantería, a group of street performers that walk the streets of Old Havana daily. They do this in a combined effort with the City Historians Office, to preserve Cuban culture and bring joy to the people of the city. 
It is made up of both adults and children, all dressed in costume. Some are walking on stilts (which is pretty impressive considering the cobblestone streets), some were juggling, and others were playing music.
They were all having a great time, dancing down the street with locals and tourists alike, who create quite the large crowd following along.
To no surprise, guess where we found Philip! Dancing along with the parade taking photos. We stopped to watch for a little while, then the three of us headed over to the fort to take our tour.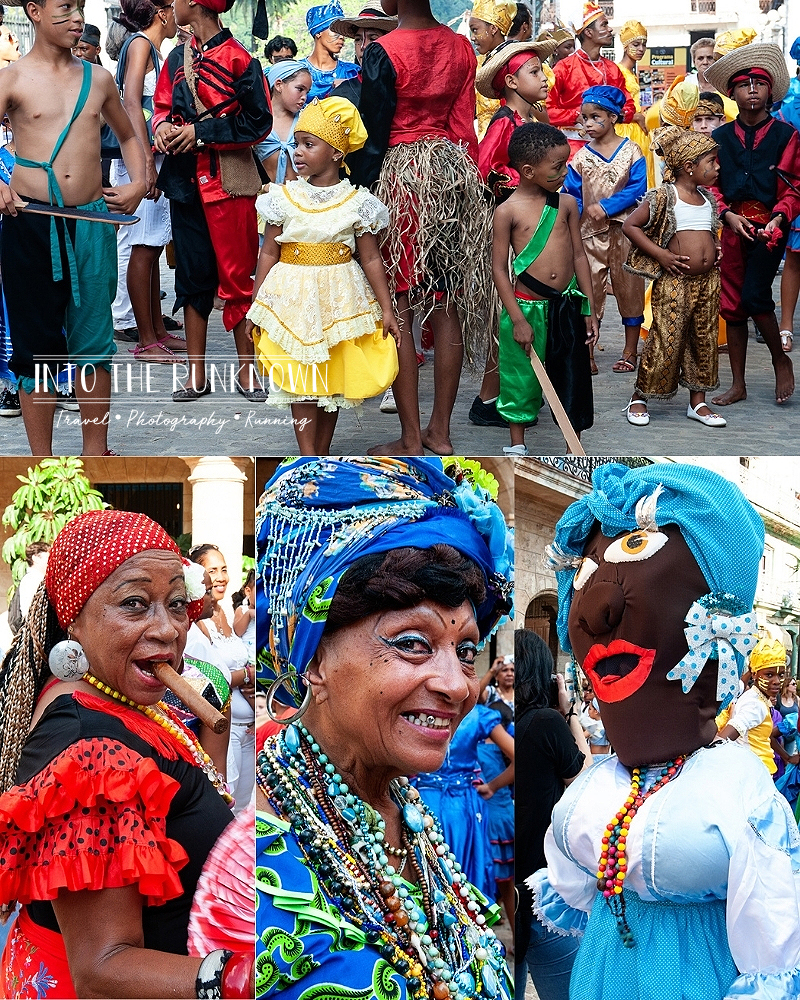 Being a city on the water, Havana has four forts, all built along its northern harbor to protect it from attacks by ship.
This particular fort turned out to be the Castillo de la Real Fuerza. It is fairly small as far as forts are concerned, but took 19 years to build.
Construction started in 1558 and was not completed until 1577. It is built following the traditional plan of medieval forts in Spain, and has walls that are almost 20 feet thick and 65 feet tall!
It's location in the middle of other buildings, far from the mouth of the harbor, makes it a terrible location for self defense. It did work well to house political heads for a couple hundred years, as well as store gold, before it was loaded on ships for transport back to Spain.
Currently it houses a Naval Museum, loaded with artifacts from the days of pirates like gold bars, precious jewels, and a 13 foot long replica of the Santisima Trinidad, a battle ship loaded with 130 cannons that was sunk in battle in 1805. 
I wouldn't necessarily go out of my way to visit this fort, but for $2 pesos it is well worth a look if you are already in the area. 

What is well worth going out of your way for however is the Castillo de Los Tres Reyes del Morro (Castle of the Three Kings of the Headland), that is situated at the entrance of the harbor. More on that on day 6!
It was now getting late in the afternoon, and we were quite a distance from the apartment, so we decided to get a taxi back to our neighborhood to get showered for dinner.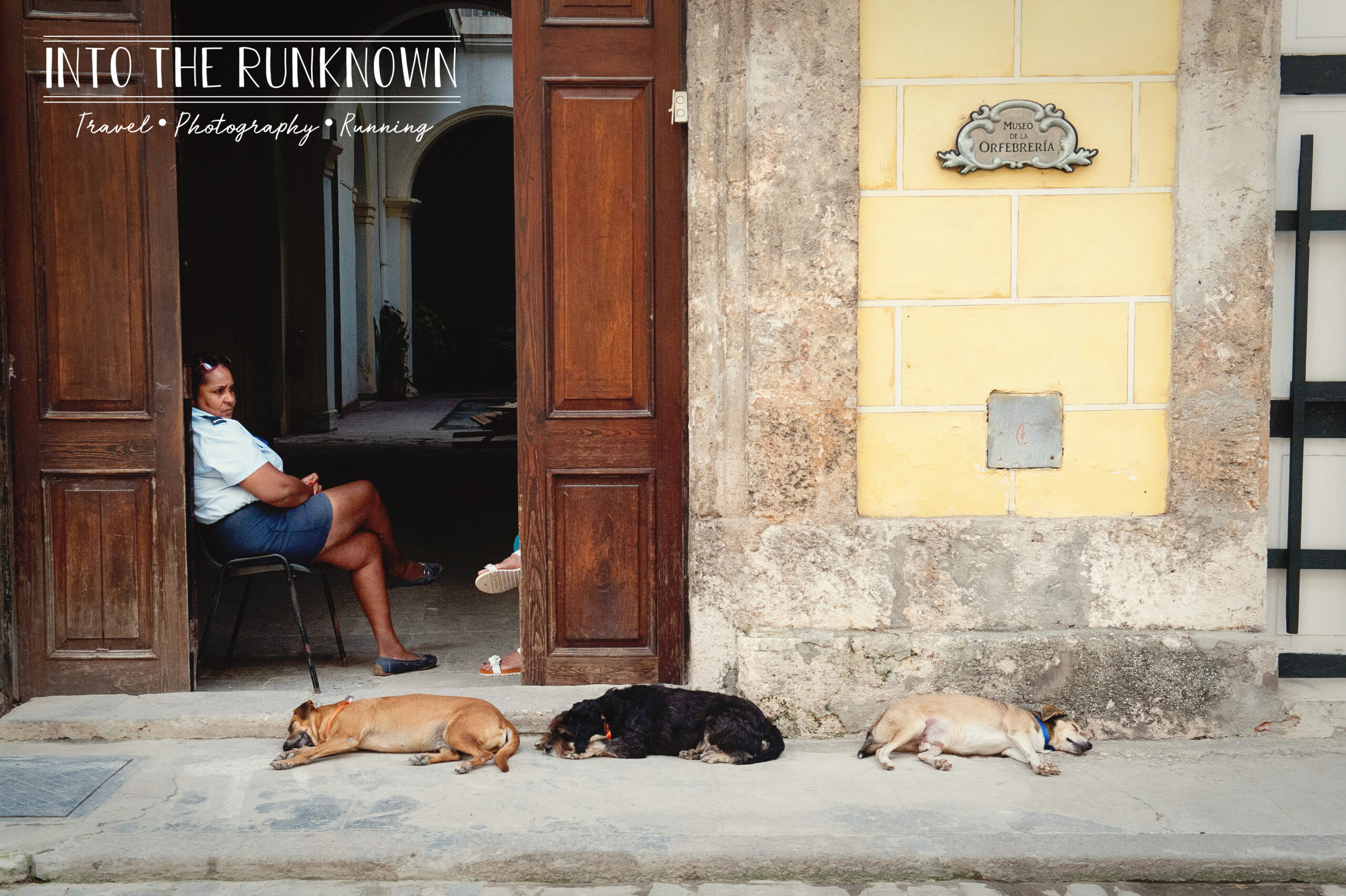 Along the way, our driver went past a large open stadium with really neat architecture. A group was on the field playing a casual game of soccer, so we asked to be let out there instead, so we could take a look.
The roof had a scalloped design and the bleachers were all concrete, painted in a variety of pastel colors.
We watched for a little while then meandered, or hobbled in my case, back to our apartment. My feet were still a painful blistered mess, from day one's poor shoe choice.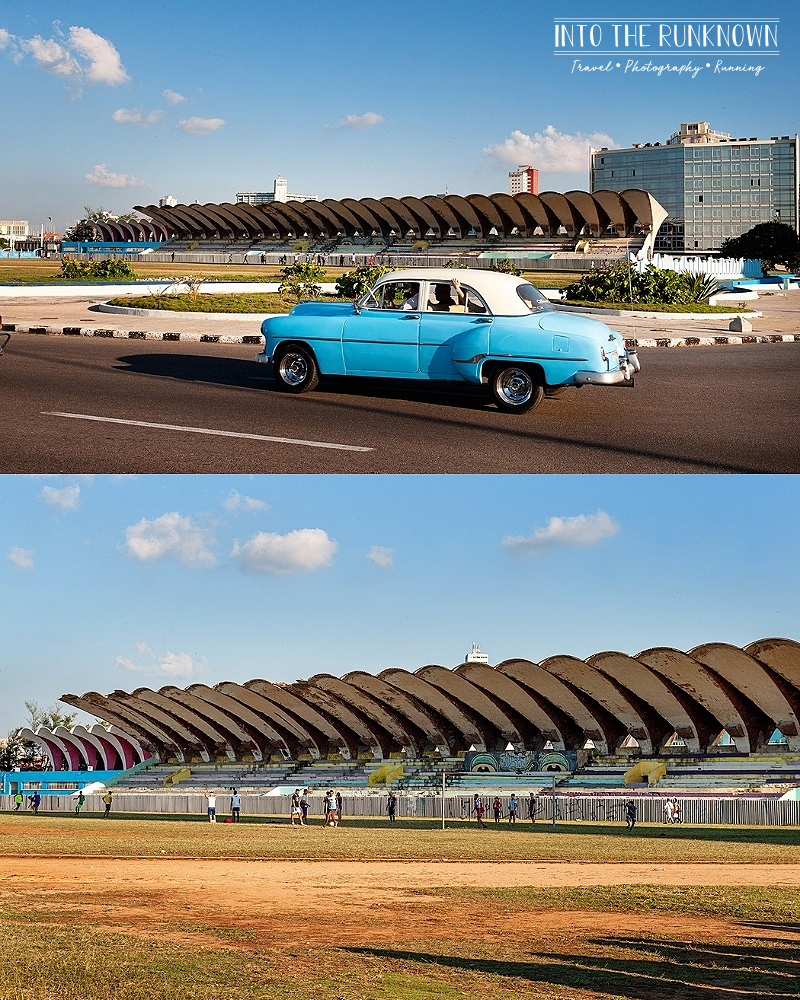 We had decided earlier in the trip to go out for one nice dinner while in Havana. Many of the high end hotels had fancier restaurants, with more upscale menus than the $2 pizzas and pasta we had been eating for dinner other nights.
We decided on the Hotel Presidente and their Restaurante Chez Merito, so off we went in the cooler but still humid night air, dressed up for a fancy dinner. 
The inside had a very banquet hall vibe with the blue and white painted ceiling and columns. Tall floor to ceiling fabric drapes on the windows and large crystal chandeliers added to the vibe.
They were only using the outside seating area that evening, so we were escorted out to our table on the patio. Most tables were empty, which should have been our first clue. We chalked it up to being a weird time of night for dinner.
The service however was painfully slow, for only having a couple of tables to manage. Clue number two. 
I ordered a seafood medley which consisted of a filet of salmon, a local caribbean lobster tail and shrimp. Most meals typically come with sides, so I opted not to order any additional sides, figuring it would be too much food.
Well, that was a bad choice. It wasn't too much food per say, as much as it was horribly cooked food. The salmon was beyond well done and dry, the lobster tail was okay, but the shrimp, oh the shrimp. They were staring back at me, because they were cooked and presented as WHOLE shrimp. Eyeballs and all!
Plucking their sad little heads off, I could get past. The fact that they were also not de-veined, I could not get past.
To my luck, this also came with zero sides. Just a bunch of seafood on a plate.
Thankfully Philip and Kelly had ordered some extra rice, so they shared that with me. I also had my staple of a frozen daiquiri to fill my belly. 
Lesson of the day though, fancier doesn't always mean better, and don't assume your meal will come with sides. 
With a belly full of rice and tequila it was time to go rest up, as tomorrow was finally our big Viñales Valley tour!